Moore's law says that we should get GPUs twice as fast every two years (GPUs are inherently parallel so adding more transistors should add performance). Huang's law says that GPUs get 3X faster every two years.
Because everything desirable in this world is being scooped up by the Bitcoin enthusiasts, my seven-year-old desktop PC makes due with a seven-year-old ASUS STRIX GTX980 graphics card. It was purchased in April 2015 for $556 from Newegg.
A similar-priced card today, exactly seven years later, should be at least 10X faster, right?
The 2015 card's benchmark: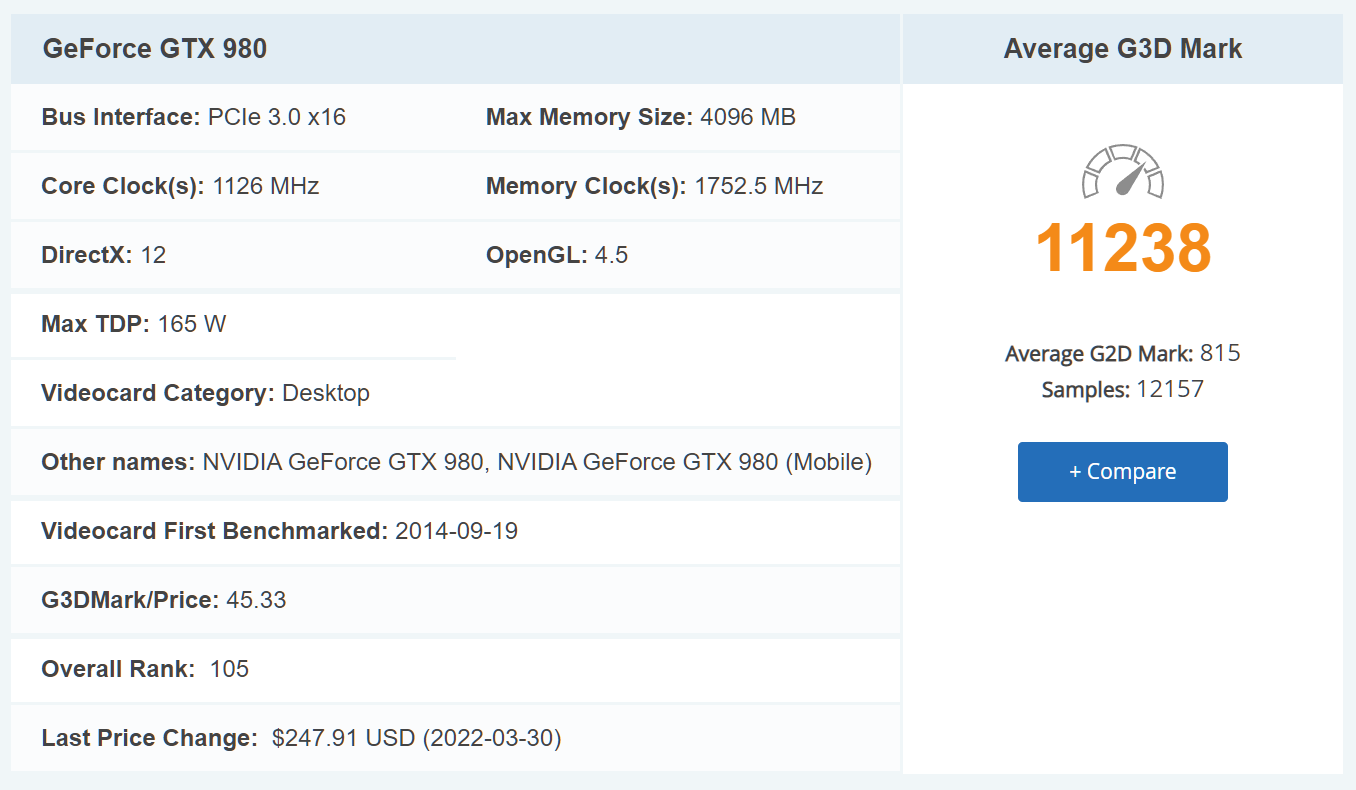 It can do 47 frames per second with DirectX 12.
Let's look at the $1,050 RTX 3080 for comparison. Using the same inflation rate as Palm Beach County real estate, $1,050 today is a little less than $556 in 2015 dollars.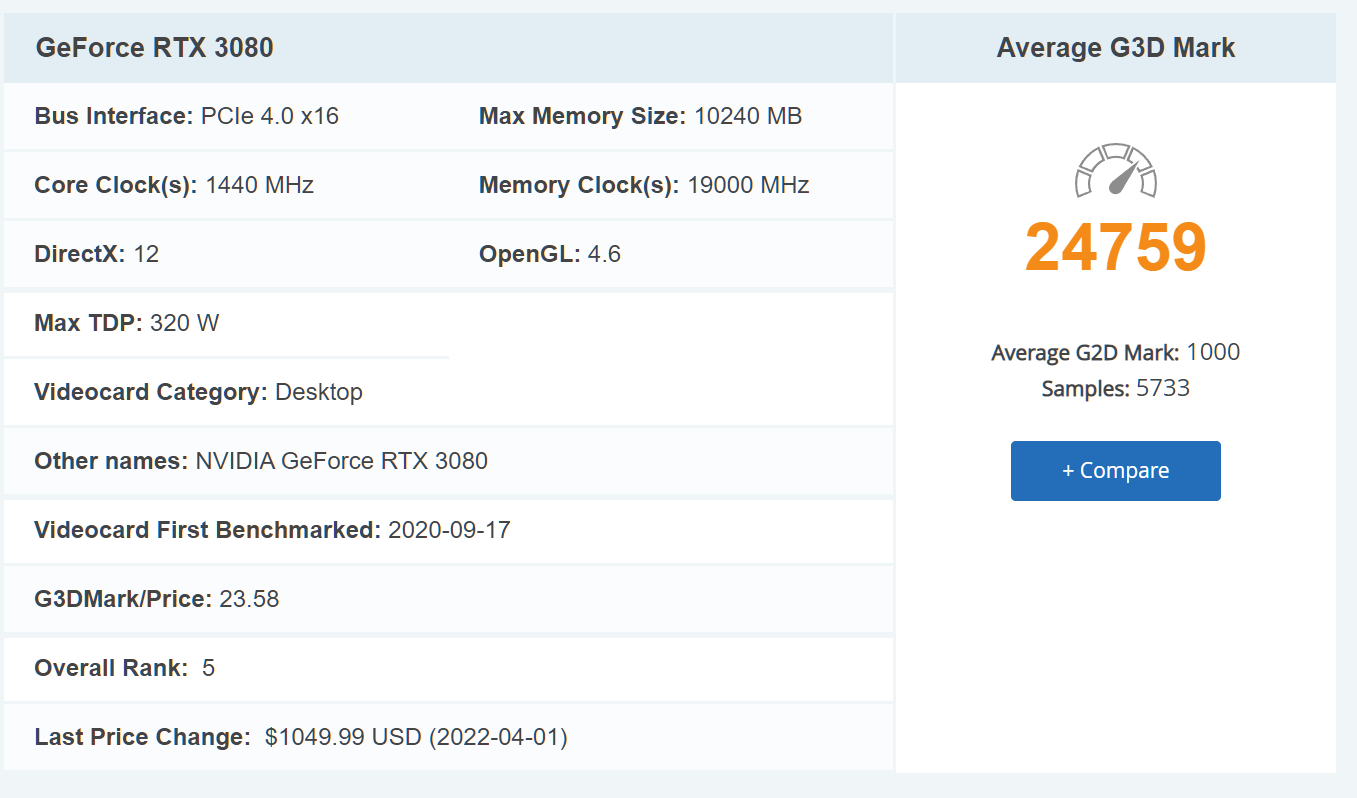 It can do 98 frames per second with DirectX 12. Even the cards that sell for $2,000+ are only slightly faster than the RTX 3080.
I pride myself on asking the world's dumbest questions so here goes… if building a new PC for activities other than gaming or video editing, why not use the integrated graphics on the motherboard? The latest motherboards will drive 4K monitors. The latest CPUs have a lot of cores, especially AMD's, so they should be competent at tasks that are easy to parallelize. Back in 2020, at least, a graphics card was only about 2X the speed of AMD's integrated graphics (Tom's Hardware). Intel, it seems, skimps in this department.
One argument against this idea for those who want a fast desktop PC is that the fastest CPUs don't seem to come with any integrated graphics. The AMD Threadrippers, for example, say "discrete graphics card required". The Intel Core i9 CPUs with up to 16 cores do generally have "processor graphics", but does it make sense to buy Intel? AMD's CEO is frequently celebrated for identifying as a "woman" (example from IEEE, which does not cite any biologists) while Intel's CEO identifies as a surplus white male. Tom's Hardware says that the latest Intel CPUs are actually faster for gaming: "Intel holds the lead in all critical price bands … In terms of integrated graphics performance, there's no beating AMD. The company's current-gen Cezanne APUs offer the best performance available from integrated graphics with the Ryzen 7 5700G and Ryzen 5 5600G."
Is the right strategy for building a new PC, then, to get the Ryzen 7 Pro 5750G (available only in OEM PCs; the 5700G is the home-builder's version) and then upgrade to a discrete graphics card if one needs more than 4K resolution and/or if the Bitcoin craze ever subsides? The Ryzen 7 fits into an AM4 CPU socket so it won't ever be possible to swap in a Threadripper. This CPU benchmarks in at 3337 (single thread)/25.045 (the 5700G is just a hair slower and can be bought at Newegg for $300). The absolute top-end Threadripper PRO (maybe $10,000?) is no faster for a single thread, but can run 4X faster if all 128 threads are occupied. What about the Intel i7 5820K that I bought in 2015 for $390? Its benchmark is 2011 for a single thread and 9,808 if all 12 threads are occupied.
(For haters who are willing to pass up chips from a company led by a strong independent woman, the Intel i9-12900KS is about $600 and includes "processor graphics" capable of driving monitors up to 7680×4320 (8K) via DisplayPort. It can run up to 24 threads.)
These seem like feeble improvements considering the seven years that have elapsed. I guess a new PC could be faster due to the faster bandwidth that is now available between the CPU and the M.2 SSDs that the latest motherboards support. But why are people in such a fever to buy new PCs if, for example, they already have a PC that is SSD-based? Is it that they're using the home PC 14 hours per day because they don't go to work anymore?
Related:
Best Integrated Graphics (from Feb 2022; AMD Vega 11 is the winner)
ASUS "gaming desktop" with the Ryzen 7 5700G and also a GTX 3060 graphics card (could this ever make sense? Is there any software that can use both the GPU packaged with the CPU and simultaneously the GPU that is in the graphics card?)
William Shockley, who needs to be written out of transistor history: "Shockley argued that a higher rate of reproduction among the less intelligent was having a dysgenic effect, and that a drop in average intelligence would ultimately lead to a decline in civilization. … Shockley also proposed that individuals with IQs below 100 be paid to undergo voluntary sterilization"