An American friend lives in locked-down Shanghai and I recently checked in with her. Below are some of her text messages.
We were locked in apartment for somewhere between two and three weeks (forgot exact dates) and now we are allowed to roam inside the compound courtyard area (which is actually quite nice, and now, with this lockdown, rather social outdoors).
The Western press we read about the Shanghai lockdown seems completely wrong. The lockdown (and management of it) are in some ways rather better than it says, and in some ways worse. But that's not really the axis…the whole tone of the US and Euro press we see just seems like it is talking about some completely different planet that has nothing to do with the good and bad things we hear/see/think as lived experience here.
[in response to my question about whether you can just get food delivered] At first, no regular delivery services. Those are just starting to be allowed back in very limited ways. The first few days just some government rations (cabbage), but [husband] and I had some food around and also, it's really not that bad to eat less for a while…the main thing is a lot of people got justifiably worried because the private businesses in the supply and delivery chain weren't allowed to really do enough, the transport blocks made the supply chain somewhat concerning, and the government rations were completely random and quite unequal in different districts.
After a few days this huge phenomenon called "group buying" came whooshing in, and a lot of people were able to distribute the food through that and the large majority of people supplement the government food with that. Now some individual buying is happening as more business owners get permission…
We were very lucky because our compound is actually more commercial buildings than residential. The analogy in US terms seems to be "commercially zoned". This makes it vastly more complicated and ambiguous for the building management to figure out how to manage us as residences (lockdown rules, level of lockdown, placement of the testing lines, etc.) but it did allow them to give permission for the proprietor of the office building's cafeteria to live in the cafeteria with a few employees, and within a few days they got some supply chain and started up a meal service. They made an agreement with the management that the health volunteers (the ones who are allowed to wear hazmat suits and get tested twice a day instead of once and walk around to deliver rations and essentials), that those volunteers were allowed to drop off a hot cooked lunch or dinner outside the apartment doors. At first, the cafeteria didn't know how much it could source and supply, so it was word of mouth but I heard of it when it was producing for about 70-ish meals and ordered one meal some of the days. They successfully ramped up and since they expose their spreadsheet every day, they now supply meals to about 400 or 500 a day which is as much as 30% of the apartments here. So that's been really luxurious when we don't feel like cooking the too-much rice and cabbage supplied by the gummint.
[In response to my question about censorship and suppression of dissent] The culture of China is to have vastly more local protesting than I had understood. So there is a ton of that. It helps keep local officials accountable.
Many interesting and rapid local developments happen here to try and deal with this situation. Once we were allowed to roam (courtyard and the three building lobbies, also I think people in one building can visit each other. Not visit apartments in the other buildings, although I have no interest in visiting anyone inside a building at all. I meet people outside. Government gave out some flour, and I traded a lemon (outdoors) to a colleague for a little packet of yeast she had.
[She also described an apartment building lobby swap table where people put out food that they don't want, including government-supplied canned fish, oranges, etc.]
---
My gastronomic experience in Shanghai, November 2019, was a little different. Here are some examples: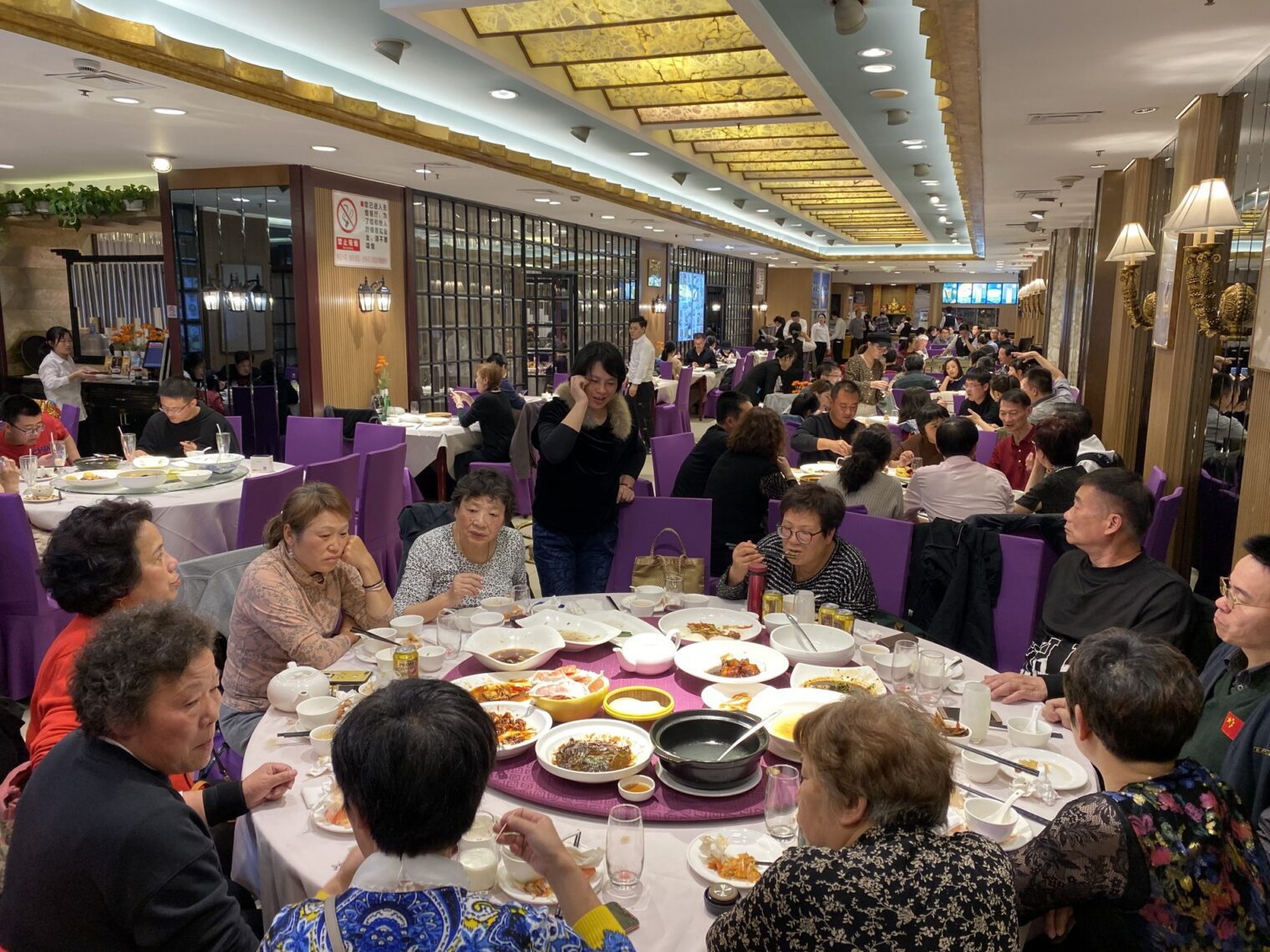 Top left: a restaurant for locals, about 14 floors up in an office building. Bottom: the breakfast buffet at the Four Seasons.