This is a report on the coronapanic level during a late April trip to Washington, D.C. and Bethesda, Maryland (see previous post regarding the flight itself).
First, if coronapanic ever does end, the government invites you to think about all of the other bad things that could happen and "Make an Emergency Plan":
But coronapanic hasn't ended. In Northeast D.C., where shootings are a daily occurrence, faith in masks remains strong (nobody has read "Correlation Between Mask Compliance and COVID-19 Outcomes in Europe"?):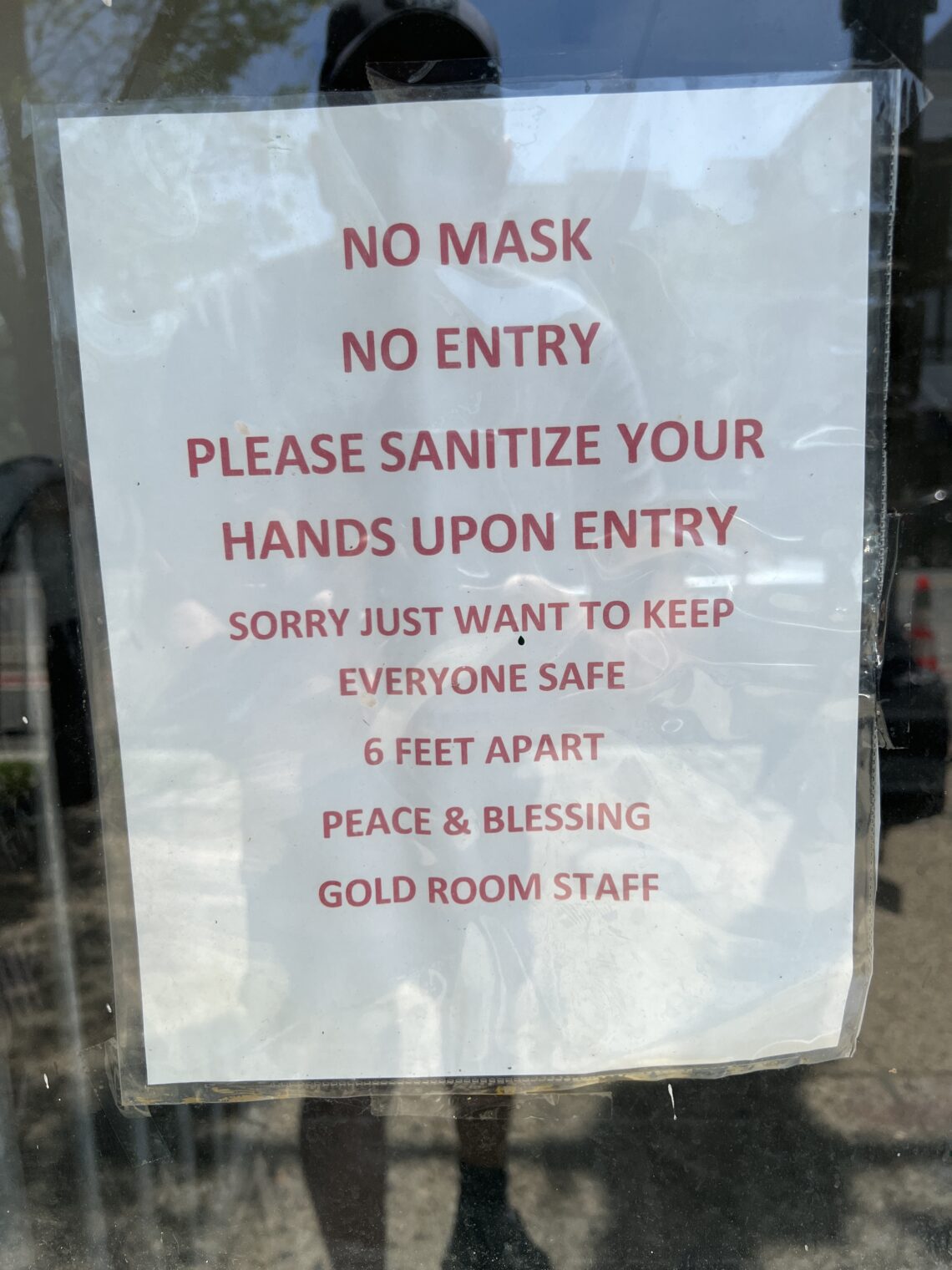 Here's an establishment serving healthful beer, wine, and mixed drinks in an environment that is perfect for spreading SARS-CoV-2 variants. They explain that they enjoyed checking vaccine papers so much that they're going to continue doing it ("Gotta give the Freedom Fighting Anti Vaxxers Something to Whine About") even though it is no longer required by mayoral order.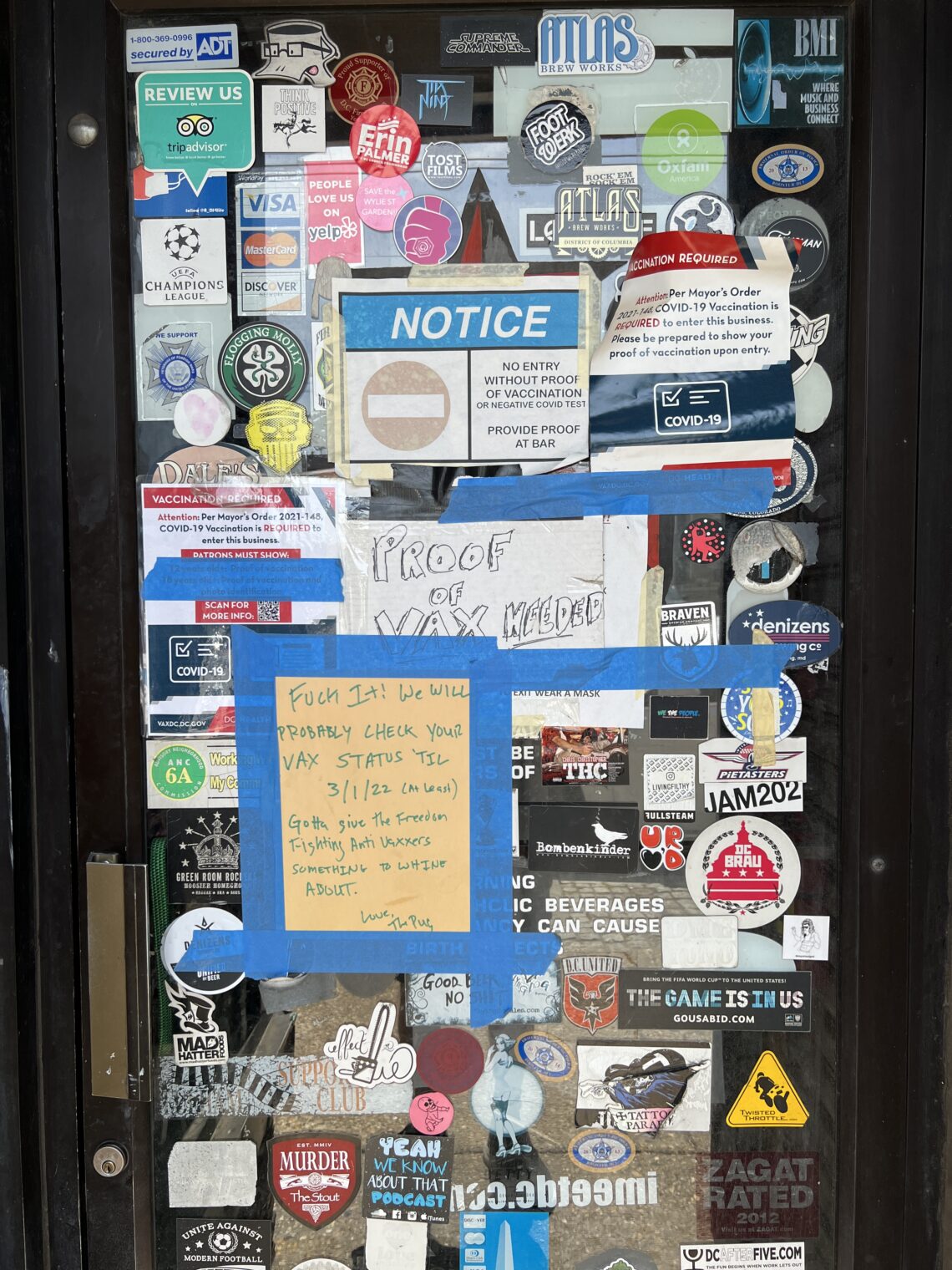 Folks in DC and suburban Maryland have so many masks that they had trouble keeping track of them. Masks were some of the most common street litter in various locales.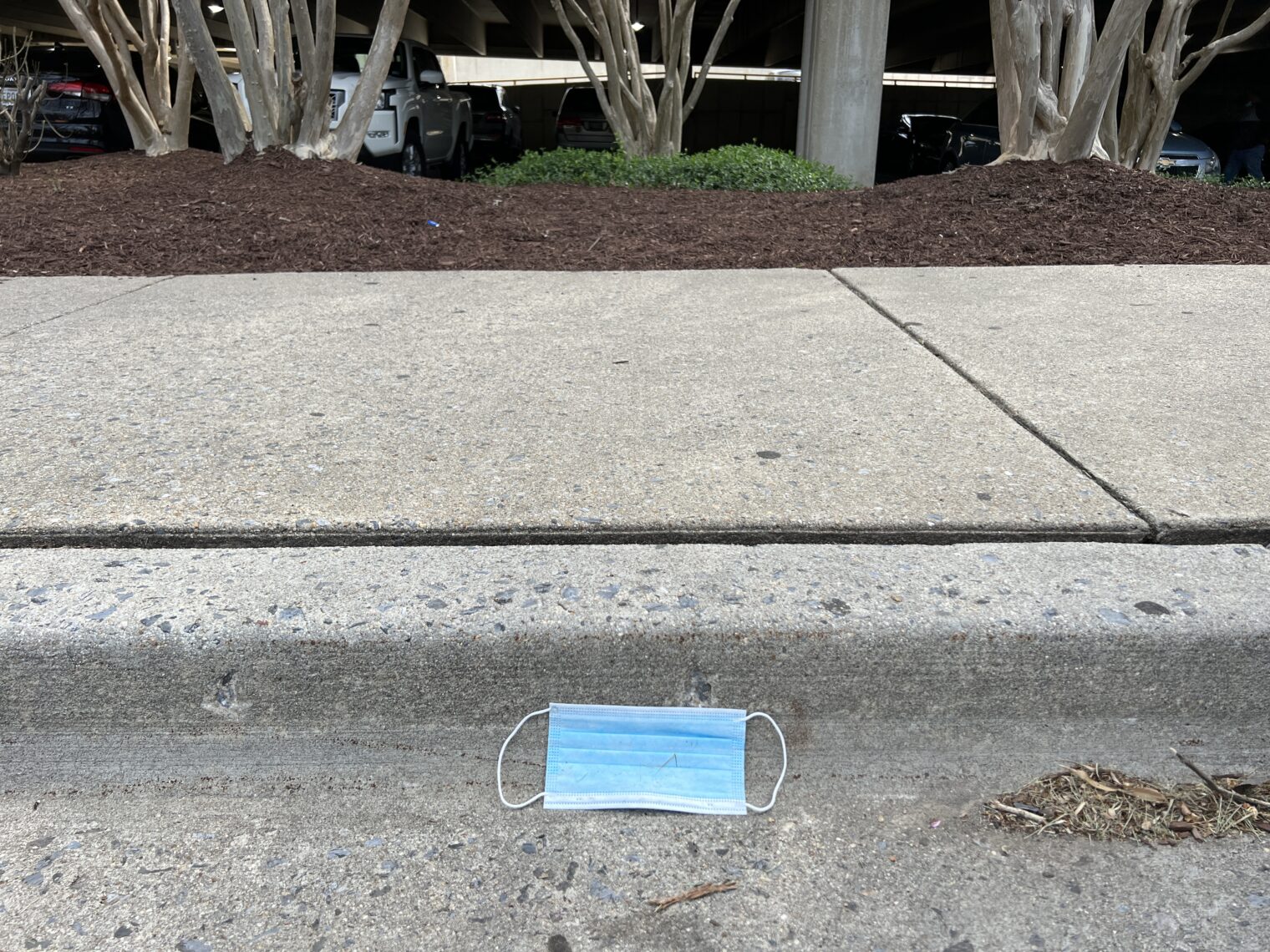 What about in Northwest D.C.? Here are some photos from the Mt. Pleasant neighborhood (houses: $1-3 million). First, a street dining venue that is technically "outdoors" but also reminded customers that masks are required (between bites?):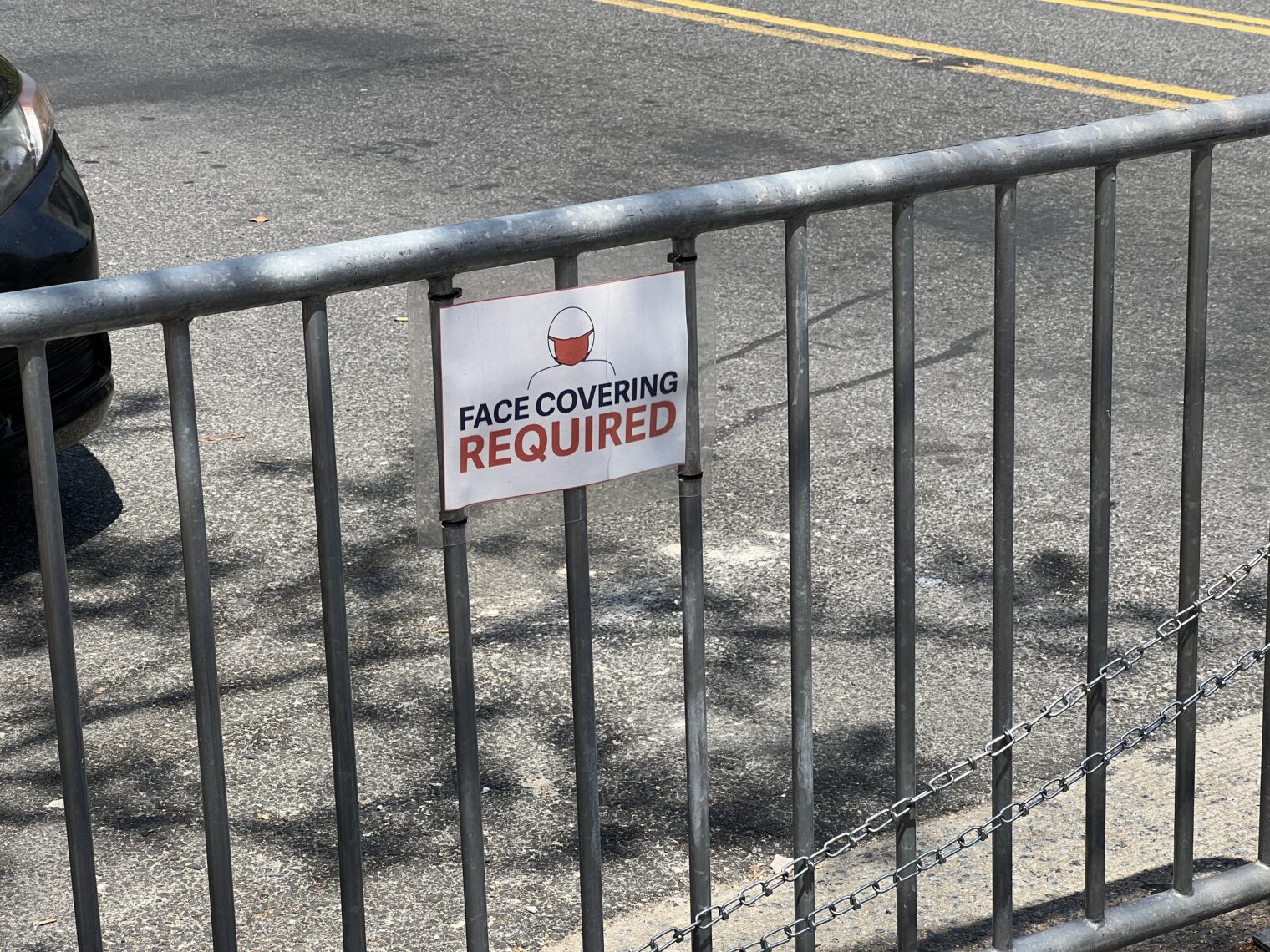 The typical shop front door had signs in both English and Spanish, often referring to a government order from July 31, 2021. Here a worker cleaning the front door wears a mask in the outdoor heat (over 80 degrees):
Some miscellaneous images from the same neighborhood.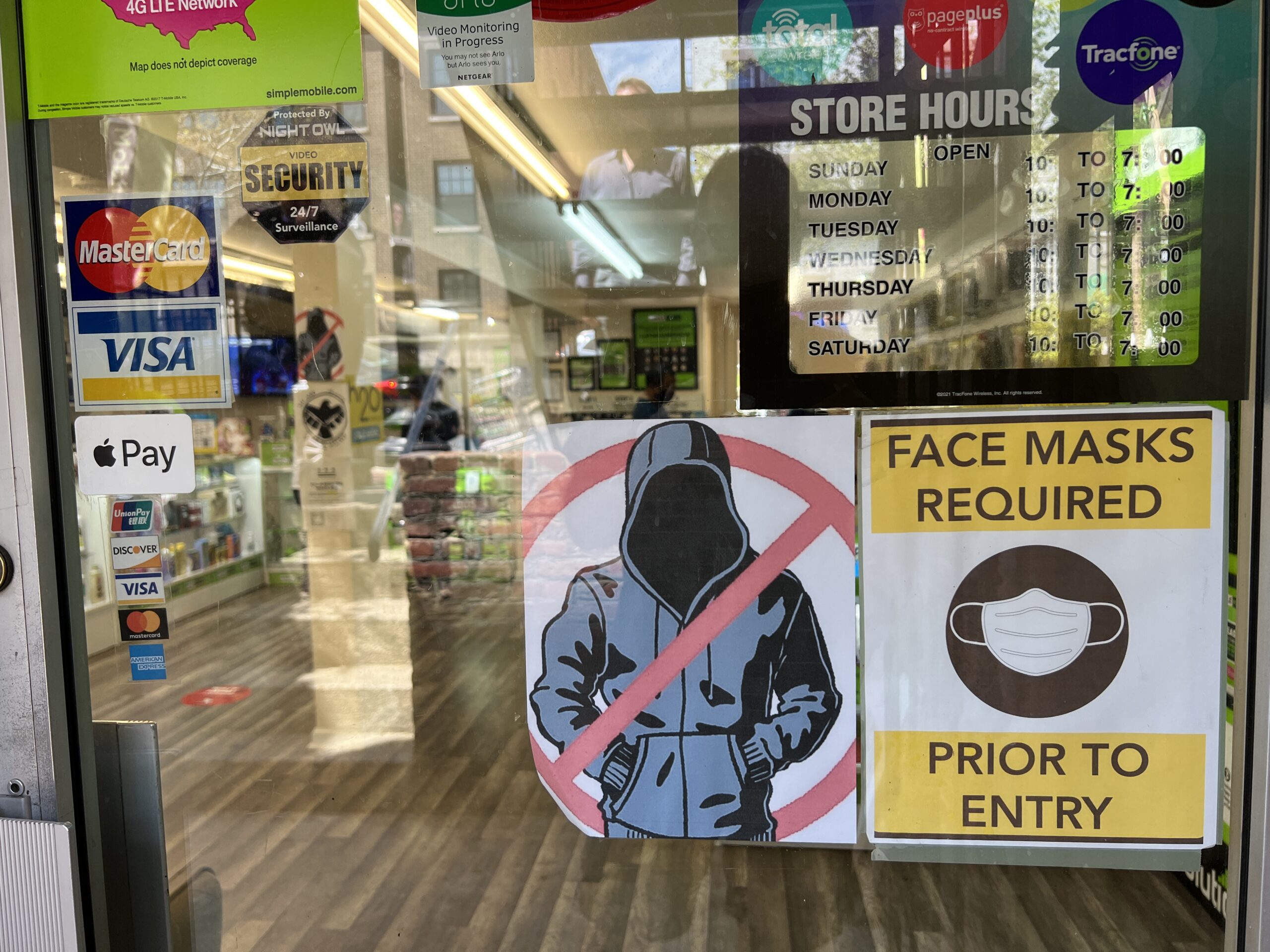 Despite the love of mask-wearing, COVID-19 seems to be raging among the Followers of Science right now. A cousin who is a clinical psychologist in D.C. restricted her practice to Zoom more than two years ago and has barely left her house. She explained that she couldn't meet us because… she has COVID-19 right now. Her symptoms are similar in nature and severity to what unvaccinated friends suffered in 2020, but she attributes her survival to having been vaccinated. She would share the mystification of the following tweet:
My mom (nearly 88) and I attended what was supposed to be a 100-person Bat Mitzvah celebration. The hostesses put "vaccination required" prominently on the invitation. Nonetheless, multiple D.C.-area people guests failed to show up at the last minute because they were sick with COVID. Masks were not required at the gathering, but roughly half of the invulnerable teenagers attending wore masks (for four hours straight, while dancing, etc.) while only one or two of the older people, all enthusiastic Democrats (and therefore voters for politicians who order mask-wearing), wore masks. For privacy's sake, I don't want to show the kids, but here's an adult with a rainbow mask:
My favorite photo from the trip is this Toyota Sienna with a "MINIVAN" vanity plate:
Related:
now that everyone in D.C. has COVID-19, the public health experts who live there are willing to think the unthinkable: "What Sweden Got Right About COVID" (Washington Monthly, 4/19/2022)
from the same date, "Correlation Between Mask Compliance and COVID-19 Outcomes in Europe": Surprisingly, weak positive correlations were observed when mask compliance was plotted against morbidity (cases/million) or mortality (deaths/million) in each country (Figure 3). … While no cause-effect conclusions could be inferred from this observational analysis, the lack of negative correlations between mask usage and COVID-19 cases and deaths suggest that the widespread use of masks at a time when an effective intervention was most needed, i.e., during the strong 2020-2021 autumn-winter peak, was not able to reduce COVID-19 transmission. Moreover, the moderate positive correlation between mask usage and deaths in Western Europe also suggests that the universal use of masks may have had harmful unintended consequences.
D.C.'s most powerful politician says "everyone encouraged to wear a mask all the time":
#MissionAccomplished! (at least in D.C./MD)