One of the worst things about having moved from an apartment to a single-family house is that we were kicked out of the AT&T fiber 1 Gbps symmetric paradise and plunged into the dark pit of Xfinity cable Internet service (more money, 1/30th the upload speed). The good news is that the xFi Gateway (modem/router/WiFi base station) seems to provide reasonably good service through three walls, at least when one is not experiencing a complete service outage from Comcast. Beyond three walls it gets dicey and our old-school laser printer requires a Cat 5 connection.
Enter the xFi Pods. This is an official ISP-sold and -supported tri-band mesh network. Even more exciting, the pods include RJ45 jacks for dinosaurs who have laser printers requiring Cat 5 connections. At two for $200, the price is lower than shutting down the Xfinity WiFi network and building a new network with Eero or Netgear or similar. Carriers need to make everything idiot-proof so I imagined that setup would take mere minutes.
In case it helps others, this post is to report that the Xfinity system is
about one hour to set up (multiple attempts at configuration and repeating the same process about 6 times finally resulted in the Pods both affiliating with the Gateway)
not great at connecting clients to the closest wireless access point to the point that a phone will drop off WiFi altogether because it was trying to connect to the far-away Gateway and never discovered the alternative of a nearby Pod
prone to complete failures where both Pods will be offline and the only way to fix is to unplug everything, including the Gateway, and apply power sequentially
This is on top of the overall fragility of Xfinity, which fails at unpredictable times and fails hard after brief power outages (power cycling the gateway is insufficient; one needs to call Comcast and have them send a reset signal).
On the plus side, the Xfinity app is easy to use and it is easy to see which devices are connected to which access point (Pod or Gateway). Also, the Xfinity app gives you alerts when someone new connects.
With or without Pods, a deficiency of the whole Xfinity system is that, unlike with AT&T and Verizon fiber standard gear, there is no way to set up a guest network. Every service person who comes to the house will need to be supplied with your private network password (since Verizon doesn't see fit to cover Jupiter, Florida, except on its fictional coverage map).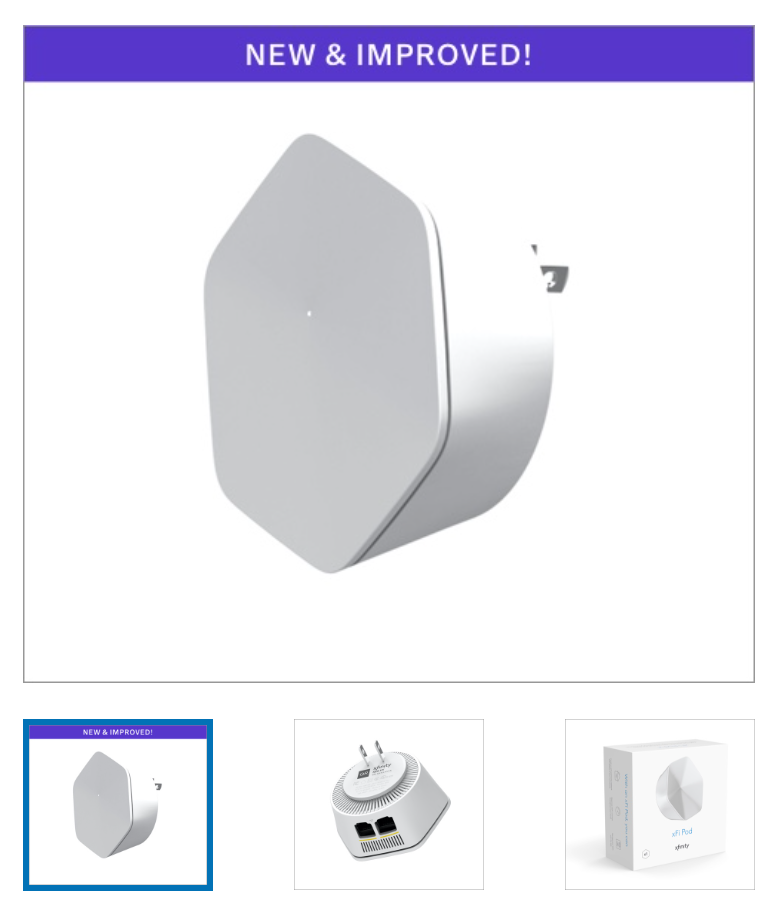 Here's a question for network nerd readers: does the heavily promoted WiFi 6 standard have better protocols for ensuring that a client, e.g., smartphone, is always connected to the best wireless access point in a multi-point (but same SSID) system?
Related:
UniFi versus Araknis versus Ruckus (updated to reflect the fact that a lot of this stuff is certified to work only up to 40 degrees C and therefore shouldn't live in an unairconditioned garage)