From 2012, Best LCD television for use as a digital photo display?:
must be programmable so that it comes on in "photo display" mode so that there is no need to monkey with a remote control after a power failure (or maybe default to photo display mode if a USB stick is plugged in); I have found the deep menus of modern HDTVs to be truly painful
must be programmable to shut itself off at midnight, for example, and back on at 8 am (to save power)
must be daylight-viewable (means LCD is better than plasma?)
must have low power consumption (implies LED-lit)?
[2022 addition] keep each image up for at least a few minutes
From 2010, Why don't people use a small TV as a digital picture frame?
From 2014, Can Google Chromecast do a simple slide show?
What's the answer to these questions today? I talked to some A/V installers who charge over $100,000 for a typical home setup and they couldn't think of any way to have a TV turn itself on at the same time every day and start showing images of the consumer's choice. Their only idea was the LG Gallery TV, but I think that is designed to show art and images from LG's servers, not your own USB stick or local NAS share. Also, supposedly it is impossible to change the settings for transitioning from image to image, including both effects and timing.
I looked at the manual for the latest and great "Evo" LG OLED TV. It seems to have the same limitations as when I looked at Samsung and LG 10 years ago. The TV can turn itself on at the same time every day and tune to a particular channel or display a particular HDMI input.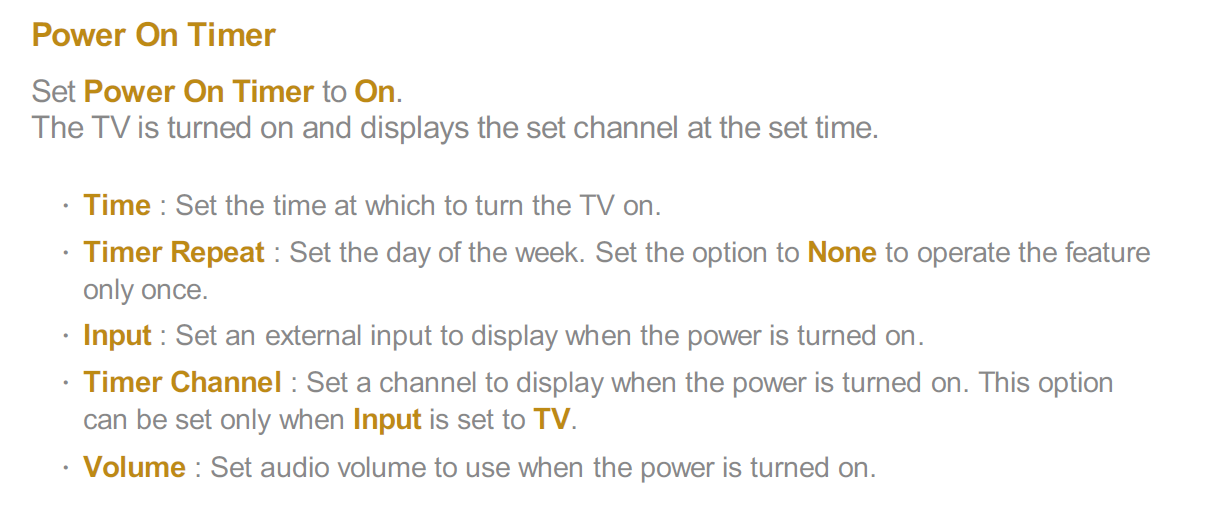 (i.e., if you had a dongle that continuously went through the contents of a USB stick and turned it into 4K video, the TV could be programmed to show it)
How about the $4,300 Samsung "The Frame" TV? It doesn't have an "on timer", only an "off timer." (But in theory it can turn itself on automatically via a motion detector?) It sounds as though displaying your own pictures can be done, but via a tedious importation process of one image at a time.
How about a $7,000 Sony 8K Mini LED TV that isn't even available yet? The web-based manual suggests that it offers the same features as LG, i.e., to turn on and tune to a channel or input.
Since the TVs won't do this for the $thousands that have been handled over by consumers, what about the dongle feeding an HDMI input idea? A December 2020 article on the subject says the dongles are called "media players" and describes the "Micca" product line, but these are limited to a feeble 1080p. The Amazon Fire TV stick might be able to do it with a cheap app that pulls images from Flickr. It will generate a 4K signal. China comes to the rescue with Rikomagic's mini PCs and Android devices, sometimes with various apps, e.g., that can pull from Dropbox. All of Rikomagic's products seem to have 4K HDMI output. I can already feel the pain of more devices to maintain, though, and also see this getting stuck and having to be rebooted. Not to mention lots of extra wires and periodic removal of the TV from the wall to get to the dongle, etc.
At this point, you're thinking "Of course, the TVs can't do this because who besides a handful of digital SLR nerds would ever want this?" In fact, however, a huge number of TVs are purchased for this exact role… in-store advertising, a.k.a., "digital signage." Because, apparently, you can't plug in a USB stick and have the TV do the rest, there are a lot of vendors happy to sell you the few lines of software that Samsung, LG, and Sony left out. Rise Vision is an example and it seems to be priced at about $120 per year per TV (i.e., over the life of a mid-priced mid-sized TV, more will be paid to Rise Vision than to the TV manufacturer).
Related: