"The Hidden Costs of Containerization" (prospect.org,m February 2022) was recently emailed to me by a reader. It contains some fascinating numbers:
According to data from the Marine Exchange of Southern California, as of the first week of January, there were 105 container ships backed up outside the Ports of Los Angeles and Long Beach, by far the busiest ports in the United States. There was more cargo in the water offshore than the ports processed in all of November. Across the world, nearly 400 container vessels have piled up outside U.S. and Chinese ports, carrying 2.4 million containers.
But why? If factory output is lower due to shortages and coronapanic shutdowns, shouldn't we actually expect there to be a smaller number of containers going through the ports and no backlog at all?
By contrast, the crisis's big winners are the nine ocean carrier companies controlling 80 percent of global shipping, which are raking in so much money that they have no reason to fix the problems and end Valeriano's virtual imprisonment. The price of shipping a 40-foot container from China to the United States was once around $2,000. By August, it had soared to a record $20,000, a tenfold increase. By January, rates receded, but only to around $14,000, still enough to produce incredible profits for a concentrated industry. Shippers earned $25 billion in 2020; research consultant Drewry predicted $300 billion for 2021 and 2022.
Making money is a dirty business:
Nearly all cargo ships use low-grade ship bunker diesel combustion engines to power themselves. Some of the biggest tankers can carry approximately 4.5 million gallons of fuel. Ships emit a plethora of toxic substances such as CO2, nitrous oxides, and sulfur oxides, which are known to cause acid rain. The pollution one ship emits produces the same amount of pollution as 50 million cars; emissions from just 15 ships would be the equivalent of all of the cars in the world.
Do we believe this? Cars operate perhaps 2 hours per day while ships run 24 hours per day, so we can divide 50 million by 12 = 4 million. A car engine might be producing 20 horsepower on average, so that's 80 million horsepower continuously from 50 million cars. A big container ship uses an 80,000 horsepower engine (example: the Evergreen A-class). If we assume that the container ship uses 100 percent horsepower at all times, it can pollute more than the 50 million cars only if it produces 1,000 times as much pollution per unit of power.
The rich white people who buy all of the junk in those containers aren't affected, of course:
Port-adjacent communities in Southern California are habitually covered in a blanket of smog emitted from ships and trucks idling in and around the ports. Yale researchers found that a 1 percent increase in vessel tonnage in port "increases pollution concentrations for major air pollutants by 0.3–0.4% within a 25-mile radius of the 27 largest ports in the United States." Black communities are disproportionately located near ports, and Black people are more likely to be hospitalized for port-related illness.

"The communities that are being harmed by shipping activity are not evenly distributed," said Danyluk. "It tends to be low-income communities of color … People who are already being marginalized and exploited for whatever the reason are disproportionately impacted by this activity."
Here's a specialized container ship docked in San Diego that everyone can love… it contains only bananas: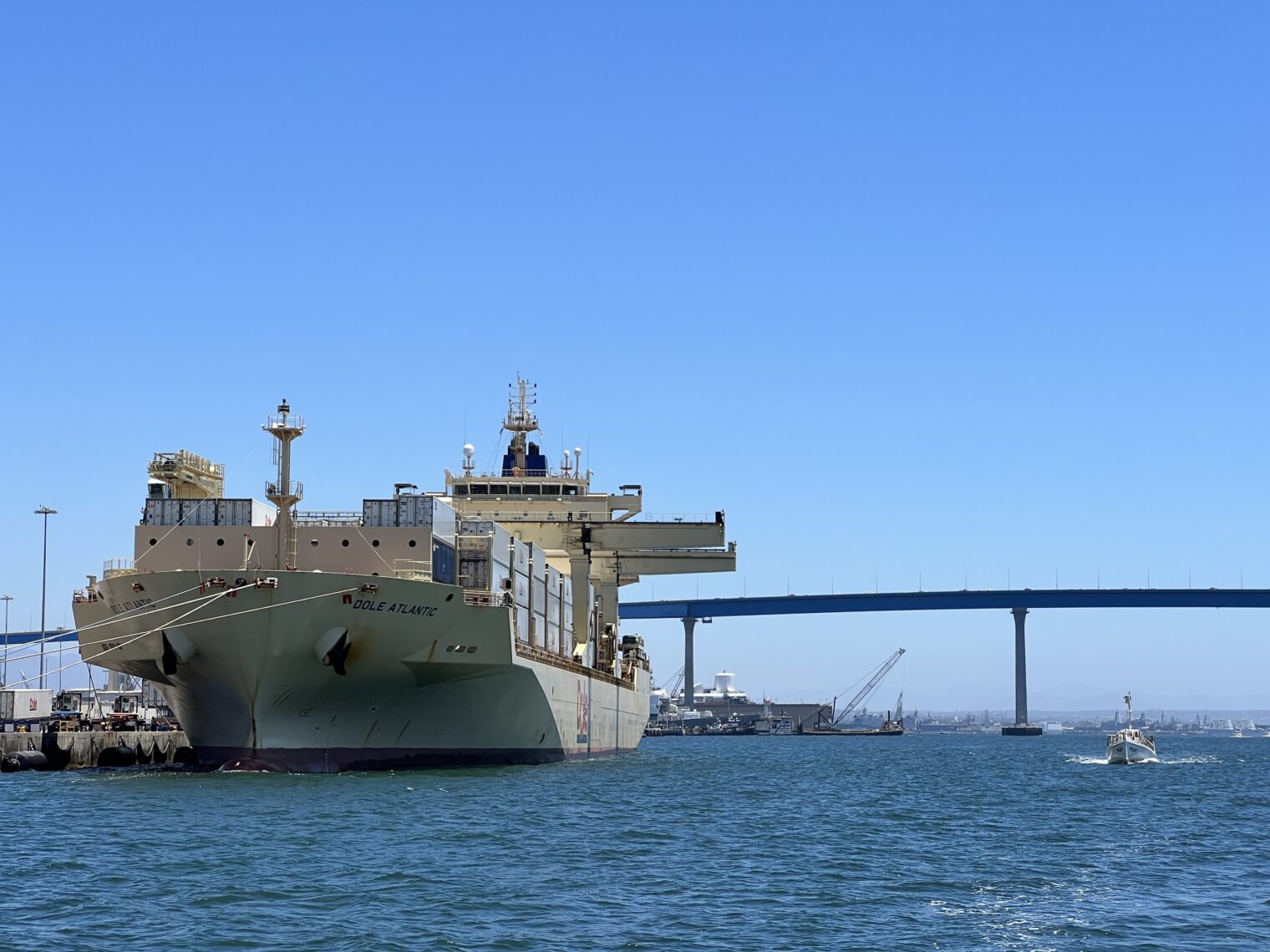 But why is a ship that operates in the Pacific named the Dole Atlantic?