There is a new book from some of America's smartest people. First, the credentials…
GREGG COLBURN is an assistant professor of real estate at the University of Washington's College of Built Environments. … Gregg holds a PhD and an MSW from the University of Minnesota and an MBA from Northwestern University. … Gregg is also a member of the Bill & Melinda Gates Foundation Family Homelessness Evaluation Committee and co-chair of the University of Washington's Homelessness Research Initiative.

CLAYTON PAGE ALDERN is a neuroscientist turned journalist and data scientist based in Seattle. … A Rhodes scholar and a Reynolds Journalism Institute fellow, he holds a master's in neuroscience and a master's in public policy from the University of Oxford. He is also a research affiliate at the Center for Studies in Demography and Ecology at the University of Washington.
What have these mighty brains learned? From Homelessness is a Housing Problem:
the researchers illustrate how absolute rent levels and rental vacancy rates are associated with regional rates of homelessness.
The higher the rent, the higher the rate of people who can't afford the rent: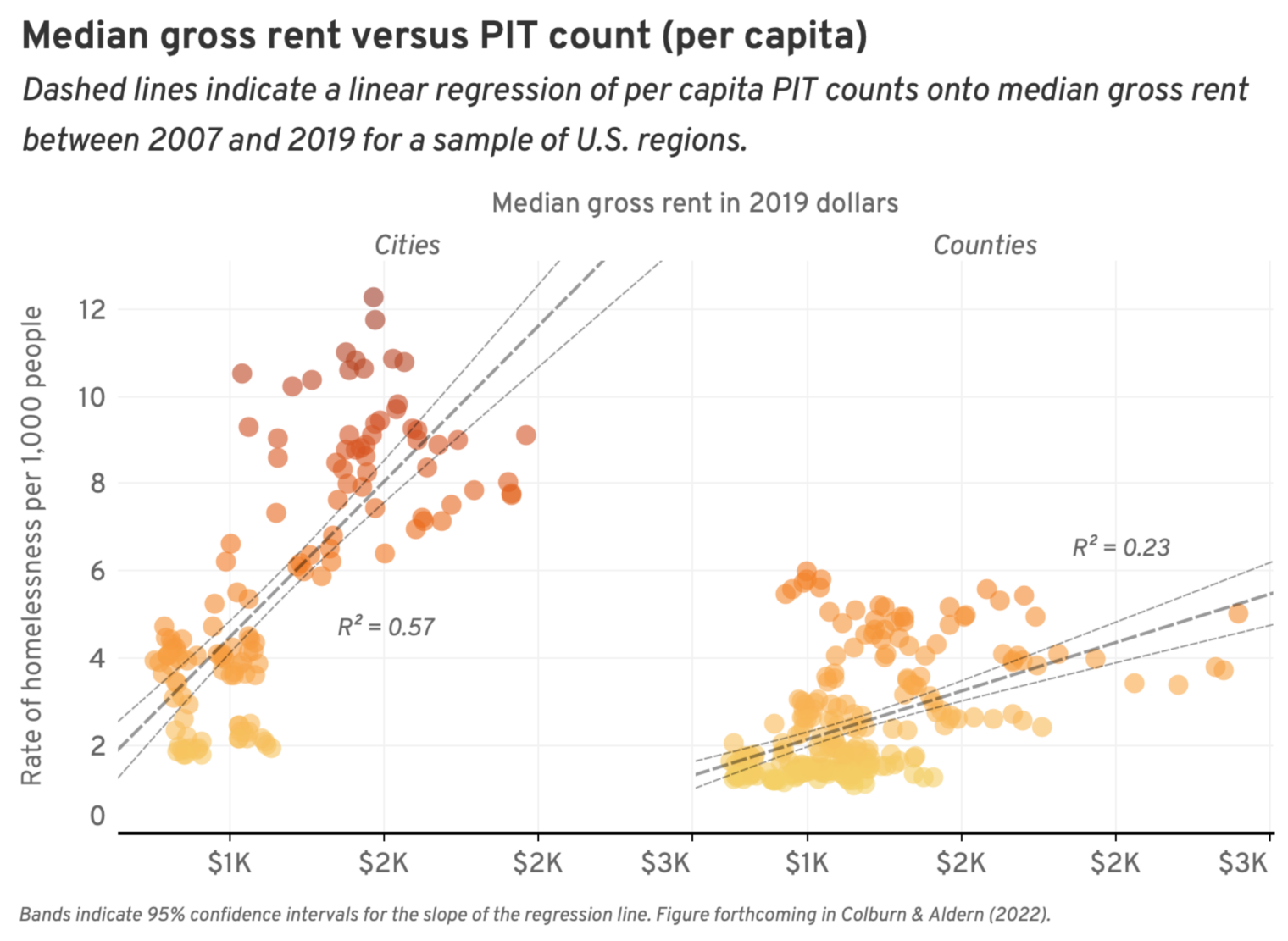 In other words, we aren't wealthy enough to build and maintain the housing to which we believe ourselves entitled.
Meanwhile, more than 200,000 people come over the southern border every month to claim asylum (US CBP stats) and common decency demands that, regardless of whether any can or do work, all be provided with reasonable quality housing. According to a book that I recently finished, The Swamp, there may be a limit to how many of these newcomers can come to South Florida. From a legal point of view, we can't keep robbing the federally-protected Everglades of water. Our abuse of the animals who live there has some limits.
From a newspaper that passionately advocates for expanded low-skill immigration… "The Housing Shortage Isn't Just a Coastal Crisis Anymore" (NYT, July 14):
What once seemed a blue-state coastal problem has increasingly become a national one, with consequences for the quality of life of American families, the health of the national economy and the politics of housing construction.

Freddie Mac has estimated that the nation is short 3.8 million housing units to keep up with household formation.
It is not an expanding population due to immigration that drives up prices in an Econ 101 supply and demand curve intersection, but rather inequality:
Other forces like widening income inequality also worsen housing affordability, said Chris Herbert, managing director of the Harvard Joint Center for Housing Studies. That's because more higher-income households compete for limited housing (prompting builders to build high-end homes).
Our brightest minds are working on this:
The Biden administration also released a long list of ideas this spring for boosting housing supply.
The word "immigration" does not occur in this article.
Related: