In addition to six wall-mounted TVs, the previous owners of our house left with us a $2,000 Wine Enthusiast wine cooler (there is a compressor inside, not a Peltier cooler). Since this isn't made by LG or Samsung, of course it quickly failed (it looks brand new, but is presumably at least a year old). An email to the company's customer service department yielded no response. So I called the company and the robot said that due to COVID-19, people were working from home and therefore wouldn't be able to answer the phone quickly. I recognize that we're still in Year 3 of our state of emergency, but how much longer will consumers fail to consider that it is just as easy for someone at home to answer the phone as it is for someone in an office?
Separately, I think this shows what a great business it is to sell stuff to people who drink a lot of wine. The sticker on the back says it is 6 cubic feet in volume and "Made in China". Home Depot will sell you a 7.3 cu. ft. fridge, not designed for winos, for $275. Maybe the answer is to buy Wine Enthusiast products from Costco and get support from Costco? From the Costco site: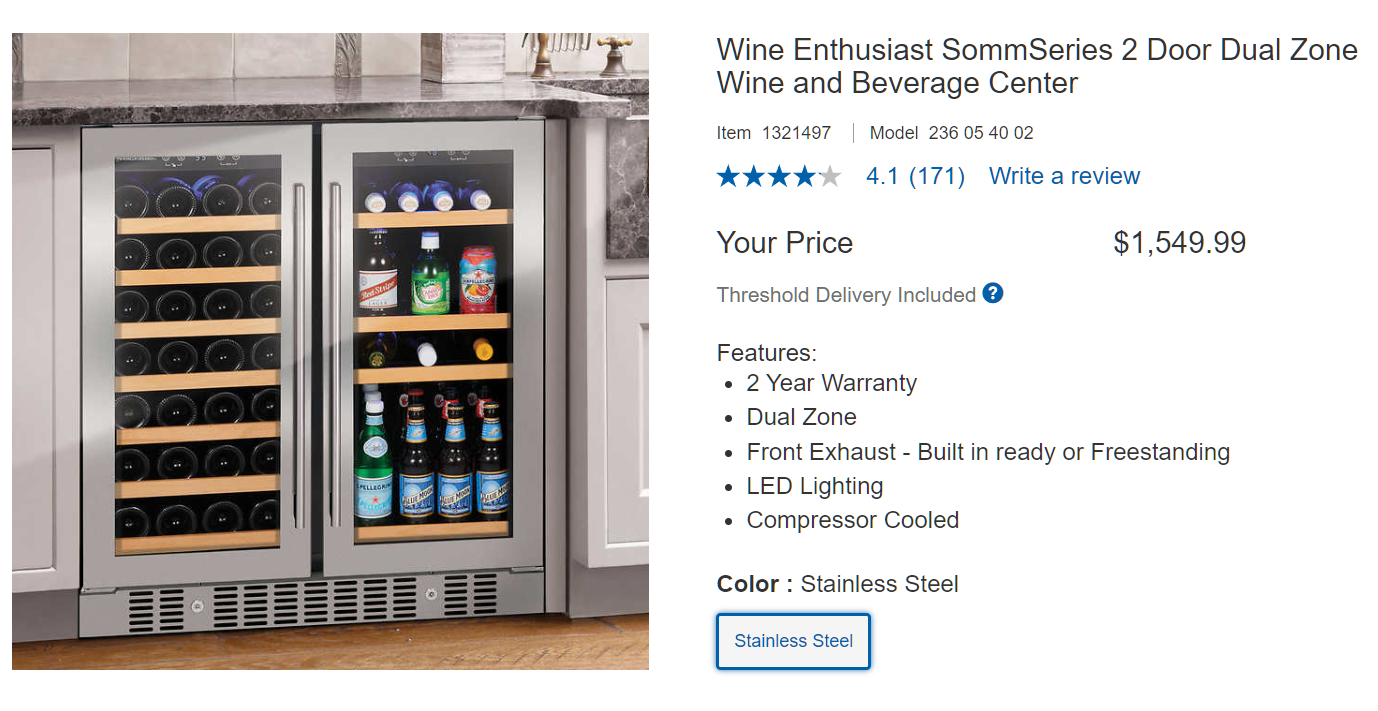 How did the Costco customers enjoy their Wine Enthusiast fridge combined with Costco support?
Nice looking but temperature controls and lights don't work…out of the box!! Tried calling their warranty number but on hold for over an hour and cutoff twice.
we ordered one and we couldn't get it to hold the temps and the blue back lights we not working / we figured well maybe it's defective we will order a 2nd one. The 2nd one was more trouble than the first!
A beautiful, quiet wine refrigerator; however, the controls do not work and the lights do not work. Very disappointed.
Beyond junk. Can't control temperature
Very disappointed to get this all set up in the location but then it didn't cool and neither side got below 66 degrees. Called the manufacturer and after 2-3 minutes on the phone, they said that it was broken beyond repair.
Stopped working after 2 weeks.
At the opposite end of the spectrum, I need to give a shout-out to Baldwin Hardware. Our front door came with a 19-year-old Baldwin Prestige Pistoria handleset. The latch wasn't working perfectly anymore so I called them up to see if I could buy a new latch mechanism. Baldwin answered the phone quickly, did not mention their inability to get off their sofas and put down their Xbox controllers due to COVID-19, and decided that the issue would be covered under their lifetime warranty. They sent out a brand new replacement that arrived within a few days of the call.
On the third hand, maybe I should be inspired by companies like Wine Enthusiast. I can say that COVID-19 is responsible for the low quality of my blog ideas!
[What ultimately happened once I got through to Wine Enthusiast (by phone; they never did answer the email)? They said that they couldn't look up any information regarding the refrigerator based on the serial number. There was no way for them to determine whether the fridge was within warranty, for example, so they would refuse to honor their 1-year warranty. They gave me the name of a local appliance repair service. That company came out, said that the problem was "probably with the sealed system" and that it would cost $500 to do a test of the system, which would take about two hours, and after that another $1,000+ to perform a repair. The ultimate cost to fix the $2,000 fridge would therefore be about $1,700 and they recommended against it. I called Wine Enthusiast and they suggested buying a new one from them at full retail price, plus shipping… $2,200 (no cheaper than switching to a name brand such as LG or Samsung; who sticks with Wine Enthusiast after experiencing a failure like this one?) The good news is that we will be able to free up some space in the living room because we were not passionate about wine to begin with. Because of our Massachusetts heritage, we consider ("essential" during lockdown) cannabis to be far more important. And that raises the question of when we will be able to buy a $2,000+ stainless steel refrigerator to keep cannabis at the ideal temperature for consumption.]