I am back from EAA AirVenture ("Oshkosh") in the Cirrus SR20. It took only 4 days to get from Wisconsin to South Florida by air, a trip that would have taken 22 hours by minivan. The route as mapped by SkyVector: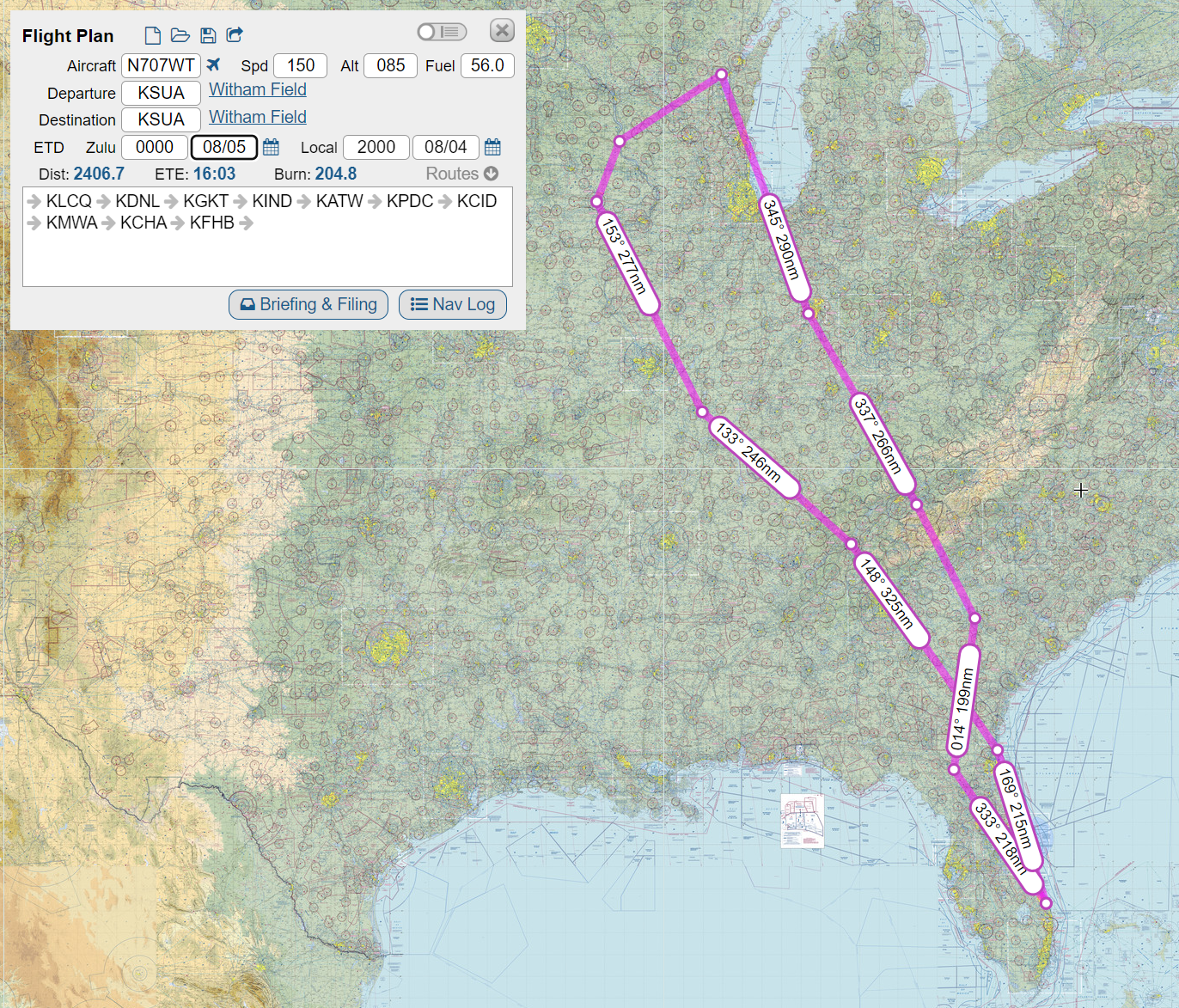 With forecast winds, this should be 16 hours of round-trip flight time according to SkyVector. How long did it actually take? 18.3 hours in the air, according to the meter in the plane.
Amazingly, the 2.5-week trip was done entirely VFR and proceeded almost precisely on the originally planned schedule. A student pilot could have flown all of the legs that we did and been challenged only by a 25-knot crosswind landing at Appleton, Wisconsin (simultaneous landings on two intersecting runways for maximum capacity) and a 25-knot crosswind landing in Cedar Rapids, Iowa (no runway there is oriented into the wind that we encountered). We delayed our departure from Indianapolis up to Appleton (one airport north of actual Oshkosh (KOSH)) due to a line of thunderstorms, but our friend who came in via Southwest to Chicago was delayed over 3 hours due to the same weather. Our family had a good time at the Indiana State Museum while hoping to avoid a long detour around the cells (we ended up adding about 20 minutes of meandering). Instrument flying skills would have been unhelpful to us, just as they were to Southwest, because flying through a thunderstorm isn't a practical transportation strategy.
Most of the trip happened between 7,500′ and 11,500′ due to trying to stay over the bumpy cumulus clouds and avoid roasting to death in the unairconditioned Cirrus.
KDNL in Augusta, Georgia is a great stop due to the Morris Museum of Southern art. If you follow Science and are from Massachusetts or California, you'll like KMWA in Illinois. According to the FBO, the on-field marijuana shop was open every day that the Chicago Public Schools were closed.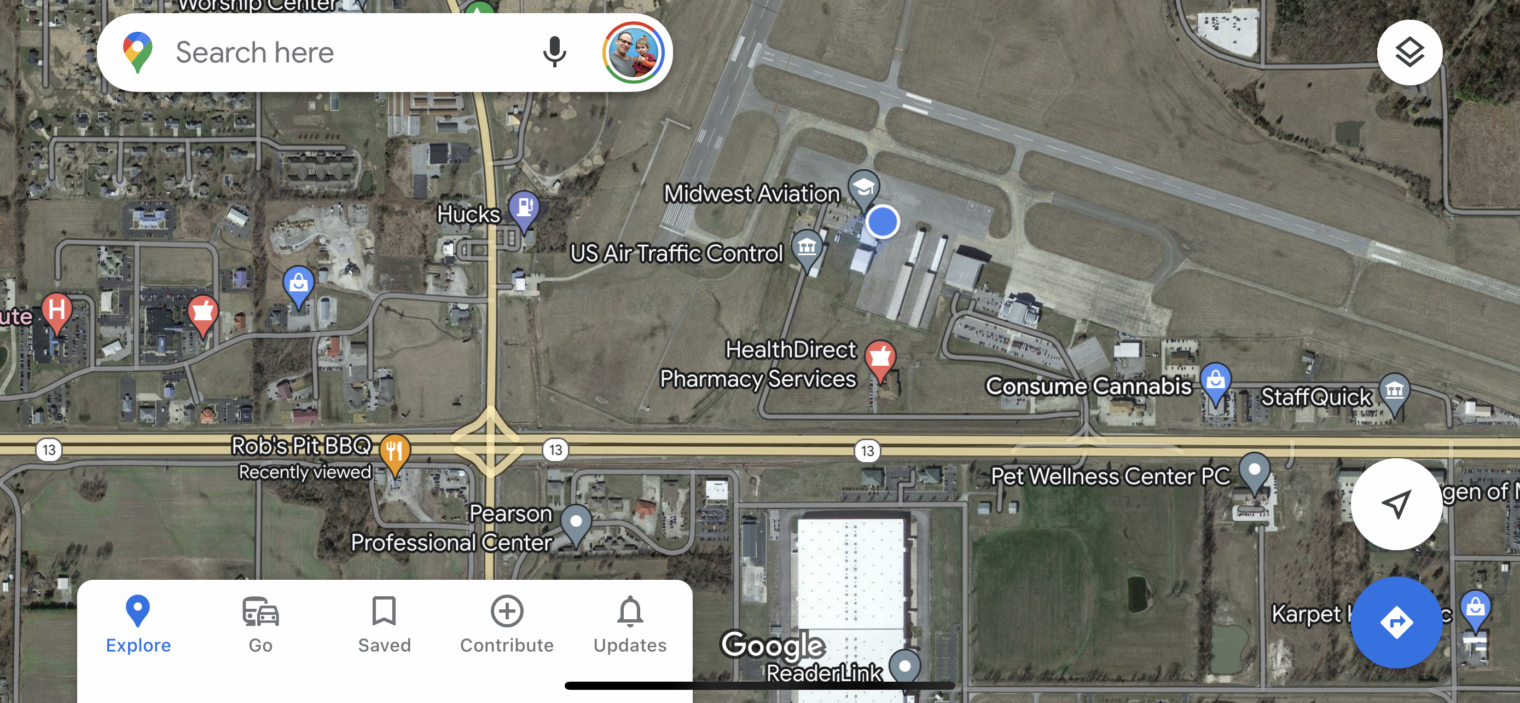 I had a 10:30 am brisket breakfast at Rob's Pit BBQ, which was superb.
The stops that are not self-explanatory are KPDC (Effigy Mounds National Monument; an afternoon hike accessed via the crew car) and KCID (the Amana Colonies; two nights and one full day to tour).
I'll write more about Indianapolis. There are a lot of great museums, especially for kids. We spent two nights there.
Pilot friends will appreciate that the cheapest fuel purchased was from Signature(!) in Cedar Rapids, Iowa where leaded dinosaur blood was dispensed at $6.90 per gallon with the "Oshkosh discount". On the third hand, though I had reserved a "car" at Cedar Rapids, Hertz delivered a Ford Expedition Max: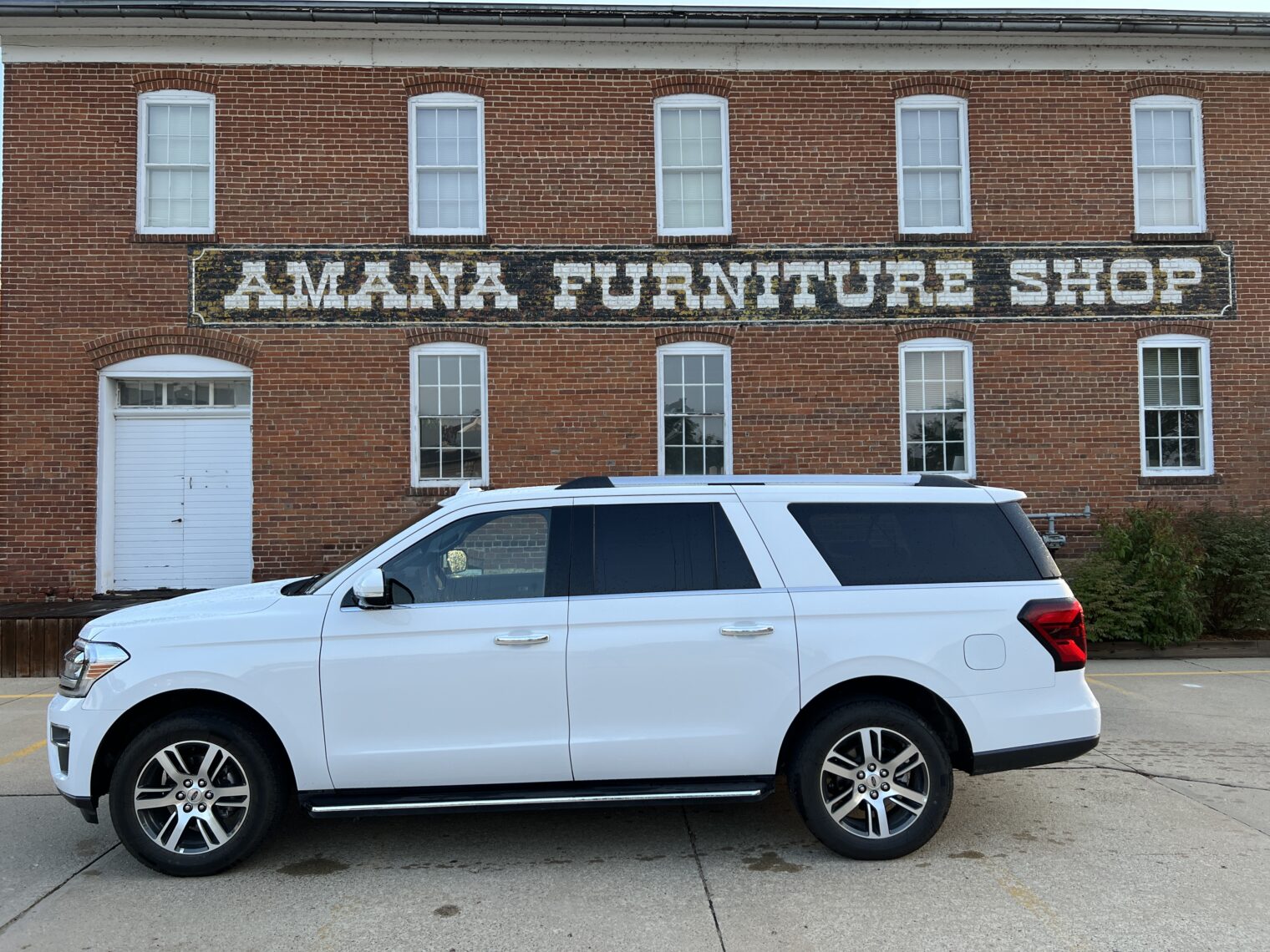 What I saved on 100LL I paid out at the local BP station to feed this uncomfortably bumpy monster.
Thanks to all of the jet charter companies having their best years ever (they and their clients all standing under a shower of federal cash), the level of staffing and service at FBOs is high anywhere that a Gulfstream might land. Air Traffic Control was operating smoothly and provided VFR advisories for the entire trip except for the last 40 miles into the Oshkosh area. The rental car crisis seems to have abated as long as you're willing to pay 100 Bidies per day for a car that used to be $50 per day. Ubers, too, were plentiful (Indianapolis and Chattanooga).
The view out the front approaching our home airport of Stuart, Florida: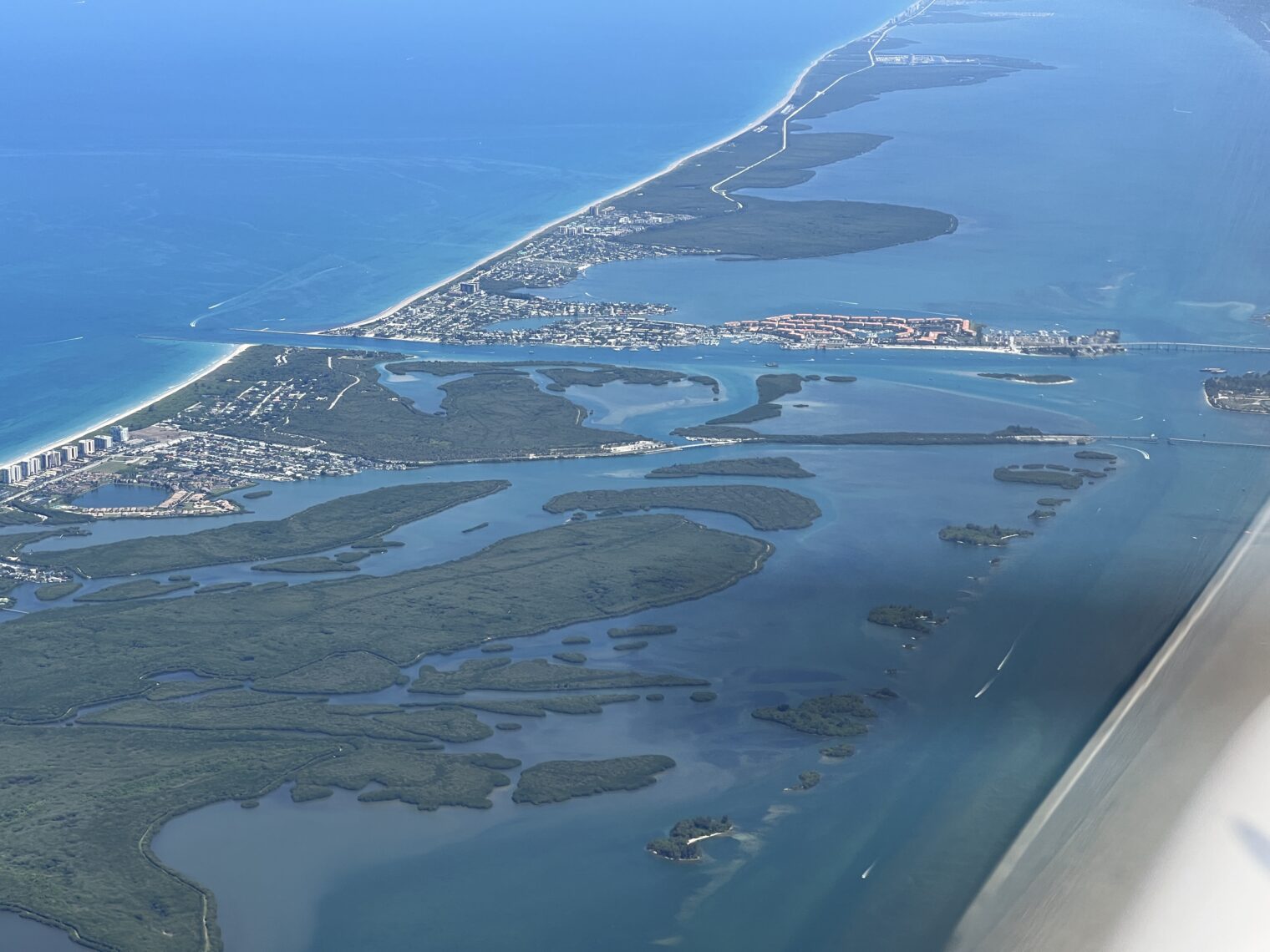 Best views on the trip: Mississippi River climbing out of KPDC; crossing the Appalachian Mountains; approaching to land at Chattanooga; the marshes around Amelia Island, Florida (KFHB).