One of the enduring mysteries of coronapanic is how the economy stayed so apparently healthy for so long. Unless gathering people together in an office was worthless, people working from home in 2020/2021 should not have been as productive as they had been in 2019. Unless education is worthless from an economic point of view, Americans in lockdown states who missed 1-2 years of education shouldn't have been as productive as their counterparts in 2019.
"U.S. Productivity Falls for Second Straight Quarter" (Wall Street Journal, today):
U.S. labor productivity declined for the second consecutive quarter as overall economic output contracted and employers spent more on labor as they added workers.

U.S. nonfarm labor productivity—a measure of goods and services produced in the U.S. per hour worked—fell at a seasonally adjusted annual rate of 4.6% in the second quarter from the prior quarter, the Labor Department said Tuesday. Economists surveyed by The Wall Street Journal had estimated a drop of 5%.
On a per-hour basis, in other words, Americans generated less value.
Unit labor costs, a measure of worker compensation and productivity, increased at a 10.8% pace in the second quarter from the prior quarter, Labor said. Economists had expected a 9.5% increase.

"The trend in productivity growth has worsened compared to prior to the pandemic, and the surge in unit labor costs makes the Fed's challenge of getting inflation back down to its 2% target all the more challenging," Wells Fargo economist Sarah House said in a research note.
In other words, the cost of getting Americans off their sofas and into a productive situation, from an employer's point of view, is higher.
The bond market does not expect high inflation over the next 10 years. The breakeven inflation rate on 10-year TIPS versus Treasuries is only 2.5 percent per year: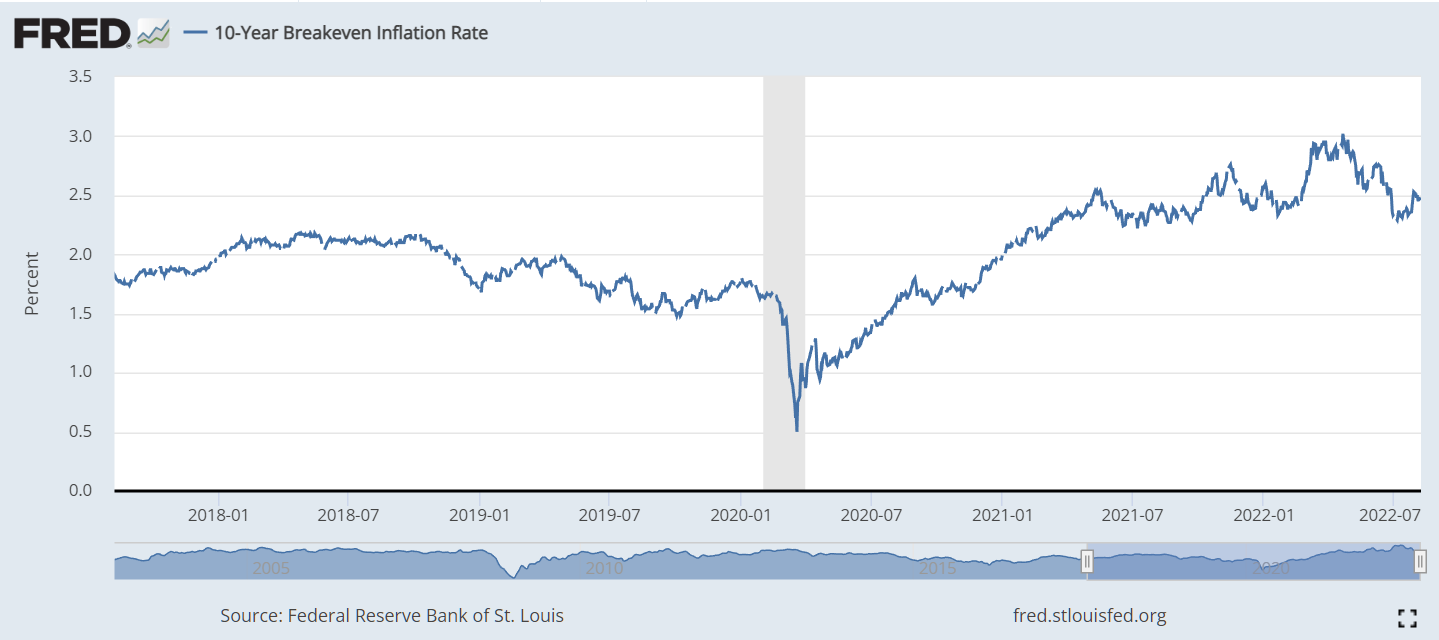 The only thing that I hate more than intolerance and hate is saying that markets are wrong, but I don't understand how the bond market can be right in this case. If it costs companies more to produce everything, how do prices go up only 2.5 percent per year?
Related: