The elite-born Liz Cheney purportedly represents the interests of voters in Wyoming. Back in July, she stated that investigating the January 6 insurrection might be "the most important thing I ever do" and, therefore, was presumably devoting maximum effort to this project.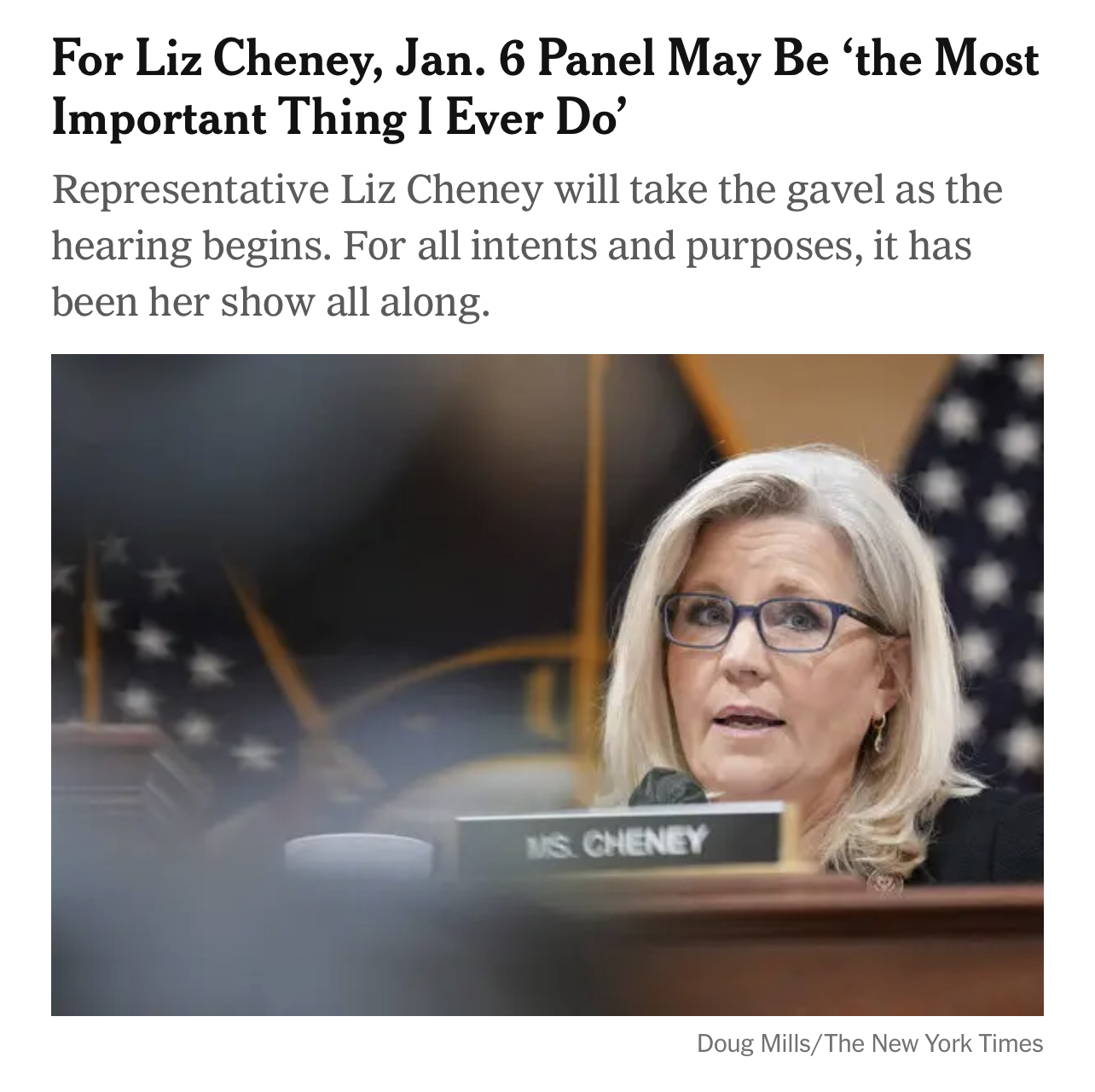 Her non-elite constituents, however, by voting her out of office (66% to 29%! the elites are surely sorry that they neglected to take away the Deplorables' right to vote!), have now told her that this is not something that they want her to do. What's the former VP daughter's response? "'Now the real work begins': Liz Cheney lost her election but vows to dig deeper into the Jan. 6 mission." (NYT, August 17).
Ms. Cheney vowed to use her post on the House committee investigating Jan. 6 to continue prosecuting the public case against former President Donald J. Trump.
"This primary election is over," she told her supporters Tuesday night. "But now the real work begins."

Ms. Cheney, a Republican who is vice chair of the committee, quickly converted her campaign committee into a leadership political action committee called the Great Task, a sign that she plans to take her fight against Mr. Trump to new levels. But she also plans to dig deeper into her mission with the Jan. 6 committee, which could continue its work until the end of the year.
Also from Pravda, "After Loss, Cheney Begins Difficult Mission of Thwarting Trump":
Liz Cheney is clear about her goal, but the path is murky: A presidential run is possible, she acknowledged, and she has a new political outfit aimed at the former president and his 2020 election lies.

Hours after her landslide loss, Representative Liz Cheney wasted no time Wednesday taking her first steps toward what she says is now her singular goal: blocking Donald J. Trump from returning to power.
The person who represents the voters of Wyoming has a "singular goal" that is actually at odds with what those voters want?
Ms. Cheney announced that her newly rebranded political organization, the Great Task, would be dedicated to mobilizing opposition to Mr. Trump.
(What if Trump gets killed by COVID-19 next week? Liz Cheney will have to disband the Great Task because it will be #MissionAccomplished?)
Is this a breakdown of representative government? It is almost as though a politician from Massachusetts were to say "lockdowns, school closures, vaccine papers checks, and forced masking are bad ideas when faced with an aerosol respiratory virus that has the ability to evolve" or "smoking marijuana daily might not be good for your health."
Also, considering the 66%/29% defeat, has an incumbent ever lost by this kind of margin (37 points) before? For reference, AOC, the Democrats' thought leader, beat an incumbent by 57%/43% (14 points) in 2018.
Related:
Recently celebrated by Progressives, Liz Cheney's high position was condemned as an example of nepotism by Nobel laurate Paul Krugman in the New York Times: "The Sons Also Rise" (2002). "America, we all know, is the land of opportunity. Your success in life depends on your ability and drive, not on who your father was. … Talk to Elizabeth Cheney, who holds a specially created State Department job, or her husband, chief counsel of the Office of Management and Budget."
"Liz Cheney's biggest donors come from Texas and California" (Washington Examiner): "Rep. Liz Cheney (R-WY) far outraised her primary opponent … Cheney raised over $15 million in her reelection bid, with nearly $1 million coming from Texas and another $1.4 million from California, according to filings with the Federal Election Commission. That makes the two states her highest contributors, raising only $386,000 from donors in Wyoming. … Comparatively, Hageman raised $940,000 from Wyoming residents."