"This Teen Was Prescribed 10 Psychiatric Drugs. She's Not Alone." (New York Times, yesterday):
One morning in the fall of 2017, Renae Smith, a high school freshman on Long Island, N.Y., could not get out of bed, overwhelmed at the prospect of going to school. In the following days, her anxiety mounted into despair.
Given the constant doomsaying of the NYT, wouldn't the above be a sign of mental health, rather than of mental illness? Ms. Smith was informed that the Earth was melting and that her home in Long Island would be reclaimed by the ocean. Ms. Smith was informed that U.S. democracy was at an end and that Donald Trump would be ruling as a dictator indefinitely. Only a fool wouldn't be anxious and desperate after reading these truths.
Intervention for her depression and anxiety came not from the divine but from the pharmaceutical industry. The following spring, a psychiatrist prescribed Prozac. The medication offered a reprieve from her suffering, but the effect dissipated, so she was prescribed an additional antidepressant, Effexor.

A medication cascade had begun. During 2021, the year she graduated, she was prescribed seven drugs. These included one for seizures and migraines — she experienced neither, but the drug can be also used to stabilize mood — and another to dull the side effects of the other medications, although it is used mainly for schizophrenia. She felt better some days but deeply sad on others.

Her senior yearbook photo shows her smiling broadly, "but I felt terrible that day," said Ms. Smith, who is now 19 and attends a local community college. "I've gotten good at wearing a mask."
Here's her list of meds: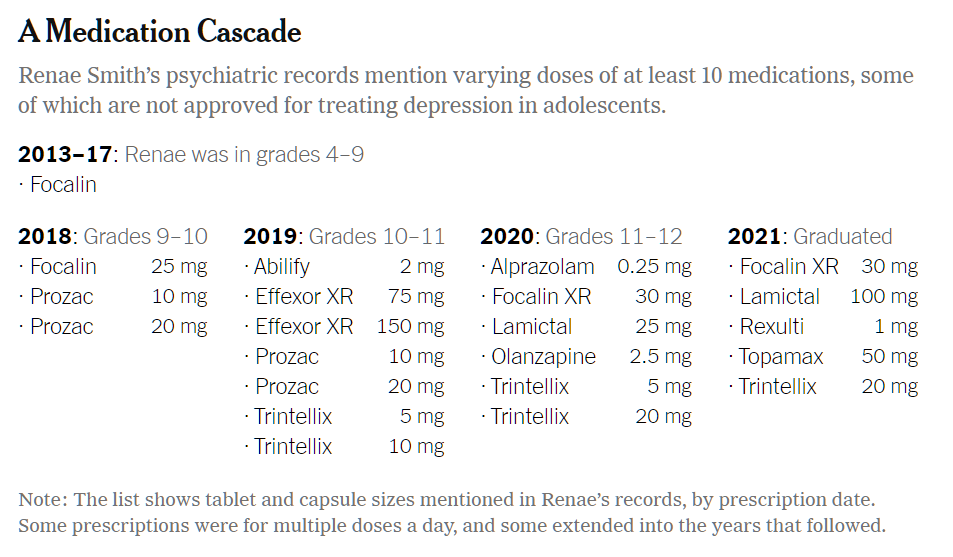 Let's keep in mind that these are the same folks who say that they can tell when it is time for a teenager to transition, via drugs and irreversible surgery, to a different gender ID (from among the 74 recognized by medicine). And their brothers, sisters, and binary-resisters in other branches of medicine claim to know when it is time to shut down schools, forbid those who aren't employed in marijuana stores from going to work, order the general public to wear masks, force people to take experimental drugs, etc.
This story, at least, seems likely to have a happy ending:
Her definition of success has changed. too. Whereas she had once thought about "being a doctor or a lawyer or things like that," she said, now she works in a plant nursery and is applying to a four-year college with a focus on environmental and wildlife sciences.

"I like working with my hands," Ms. Smith said. "I don't want to work at a desk, and that's what I thought I should be doing." She added, "I'm not the same person that I was a year ago."