"Camila Cabello, Shakira, Lin-Manuel Miranda, and More Sign Letter to Urge Congress to Act on Climate Change" (2021):
Camila Cabello partnered with the National Resources Defense Council Action Fund to help spearhead an initiative addressing climate change. And she's not alone. Selena Gomez, Demi Lovato, Lin-Manuel Miranda, and Shakira joined alongside Leonardo DiCaprio, Lady Gaga and Billie Eilish in urging Congress to pass climate change legislation.
Same person (2022):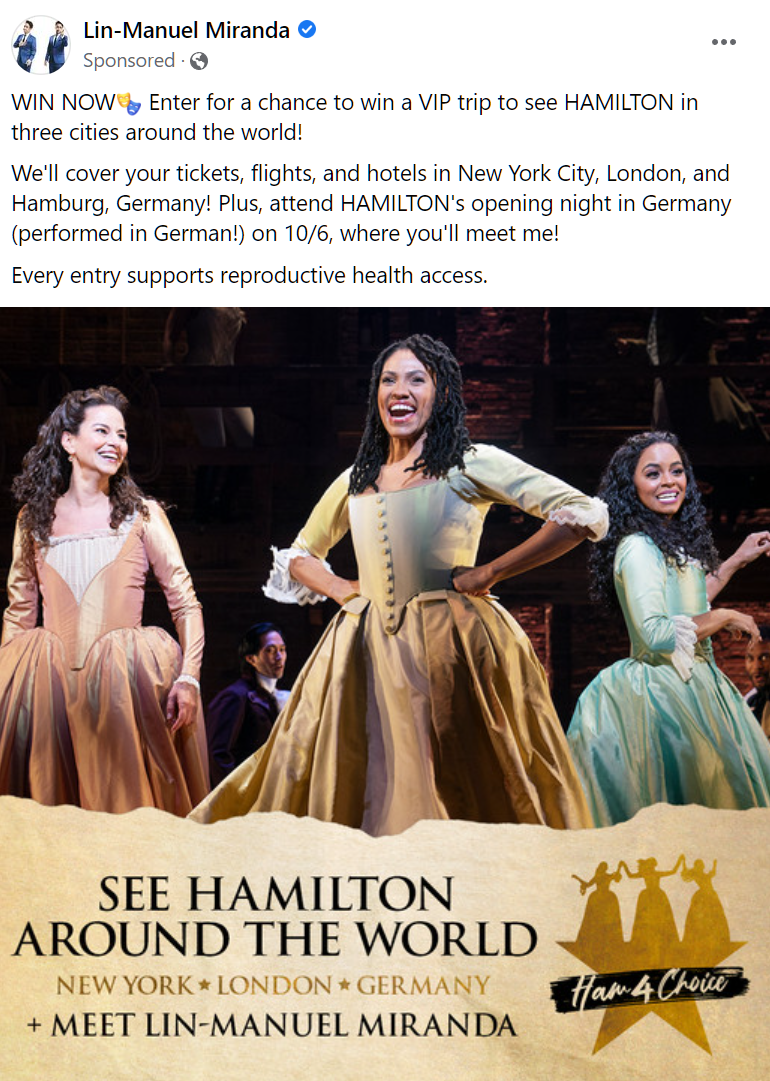 Tons of CO2 will be emitted to transport two people who have just seen Hamilton in New York to the other side of the Atlantic Ocean to see… Hamilton.
While trying to watch an Artemis rocket launch that was subjected to abortion care we happened to chat with a Gulfstream pilot who talked about working for some Silicon Valley righteous. They wouldn't allow plastic bottles on their private jets because that was environmentally unsound. But they had no qualms about firing up a 100,000 lb. jet to carry one or two passengers on a leisure trip.
Some detail from Ham4Choice:
We are devastated by the U.S. Supreme Court's ruling eliminating the right to an abortion which has been a right since 1973. In response, we are teaming up with organizations providing support, access, and travel expenses to those seeking these services.

We're stronger when we work together. We can stand up for every person's right to make decisions about their own body and their own lives. Join HAMILTON & Friends in the fight for reproductive access and reproductive choice today.
Related: