I was disappointed that our fellow Floridian Frances Tiafoe did not win the U.S. Open.
The Science-following part of my brain was gratified that Novak Djokovic's filthy unvaccinated Science-denying body was excluded by President Biden's orders (not applicable to asylum-seekers, of course). It was also good to see that Stefanos Tsitsipas was punished with an early loss for his previously expressed lack of enthusiasm for the Sacrament of Fauci (see "Why So Many Tennis Players Don't Want the Covid Vaccine" (New York Times, August 30, 2021)).
It was disappointing that Margaret Court wasn't selected by ESPN to provide commentary. From Wikipedia:
Court has been a consistent critic of LGBT rights and same-sex marriage in Australia. In 2012, she opposed proposed same-sex marriage reforms. Court has been criticised for such statements by openly gay tennis players Billie Jean King, Rennae Stubbs and Martina Navratilova, and in 2012, an LGBT rights protest group called for the renaming of Margaret Court Arena.

Court was criticised in May 2017 after writing a letter to The West Australian decrying Qantas, the largest airline in Australia, for being a corporate supporter of same-sex marriage and saying that she would boycott the airline. … high-profile guests Martina Navratilova and John McEnroe paraded a banner calling for the Margaret Court Arena to be renamed in honour of four-time Australian Open champion Evonne Goolagong. In 2020, her Margaret Court Community Outreach charity was denied a Lotterywest grant for a freezer truck on the basis of her public statements on gay people.
Who better to start the much-needed dialog on these topics, which are important enough to the tennis world that the "This is Pride" banner was larger than the American flag at the Delray Beach Open (February 2022):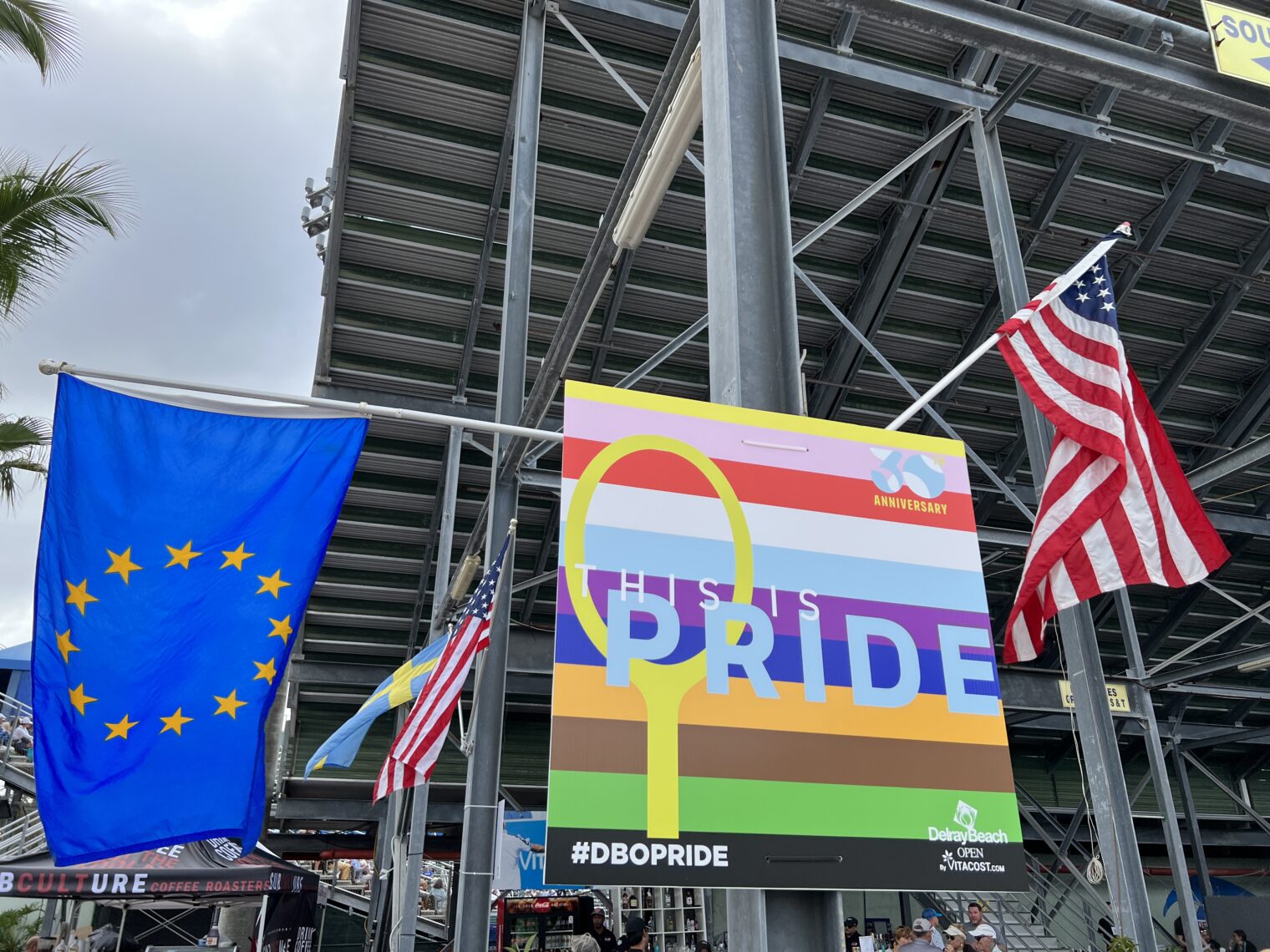 Out of principle, I watched only the open-to-all-gender-IDs ATP events that are, I believe, unfairly characterized as "men's". I don't think that there is any requirement in the ATP Rulebook that a player identify as a "man". I did not watch any of the "women's" events organized by the gender-discriminatory Women's Tennis Association. However, it would have been interesting to see a rematch between Serena Williams and beer-drinking, cigarette-smoking Karsten Braasch ("He was well-noted for … his habit of smoking during changeovers.")