… but they need to be "off island". "'I Ended Up on This Little Island': Migrants Land in Political Drama" (New York Times, today):
Ardenis Nazareth, newly arrived from Venezuela, was standing in a McDonald's parking lot across the street from a San Antonio shelter a few days ago contemplating his next steps. … Then she made an enticing offer: a free flight to a "sanctuary," he recalled, where there were people to help them get on their feet. The place was called Massachusetts. … he was surprised when he found himself on Martha's Vineyard, a small, picturesque vacation destination in the Atlantic. "I thought I was coming to Boston," he said. "I ended up on this little island."

"I left my country to support my family," said Mr. Nazareth, a 34-year-old construction worker. He said that since leaving his home country 18 months ago he had tried to make a living in Peru and Chile. But he could not make ends meet, and word spread among his friends that Venezuelans were managing to enter the United States, where jobs were plentiful.

On Thursday, Mr. Nazareth expressed gratitude for the warm reception that he and his brethren had received in Martha's Vineyard. "They're treating us super well," he said.

"We're getting food, clothing, all our needs met. I love Massachusetts!"

The migrants arrived just as the busy season ended and during one of the worst affordable housing shortages in the island's history.

The church where they are staying is home to the sole homeless shelter on the island. St. Andrew's sits in a quiet corner of Edgartown, off the main drag where summer visitors feast on dripping ice cream and oysters.

"We are meeting their needs for food, shelter, and we are definitely supplying them with a lot of love," said Lisa Belcastro, the manager of the only homeless shelter on the island. "They need to be off island. Their immigration appointments are not here."
Perhaps this need for migrants to "be off island" will abate if the Obamas begin work on a migrant shelter at their 29-acre Martha's Vineyard estate. Given the number of seasonal houses on MVY, there should be immediate space for at least 50,000 migrants to live between now and May 2023. After that, Google Maps shows that there is plenty of undeveloped land near the MVY airport and to the south. Much of this land is actually owned by the Commonwealth of Massachusetts and thus there would be no obstacle to building permanent housing for as many migrants as wish to settle in this exclusive vacation paradise.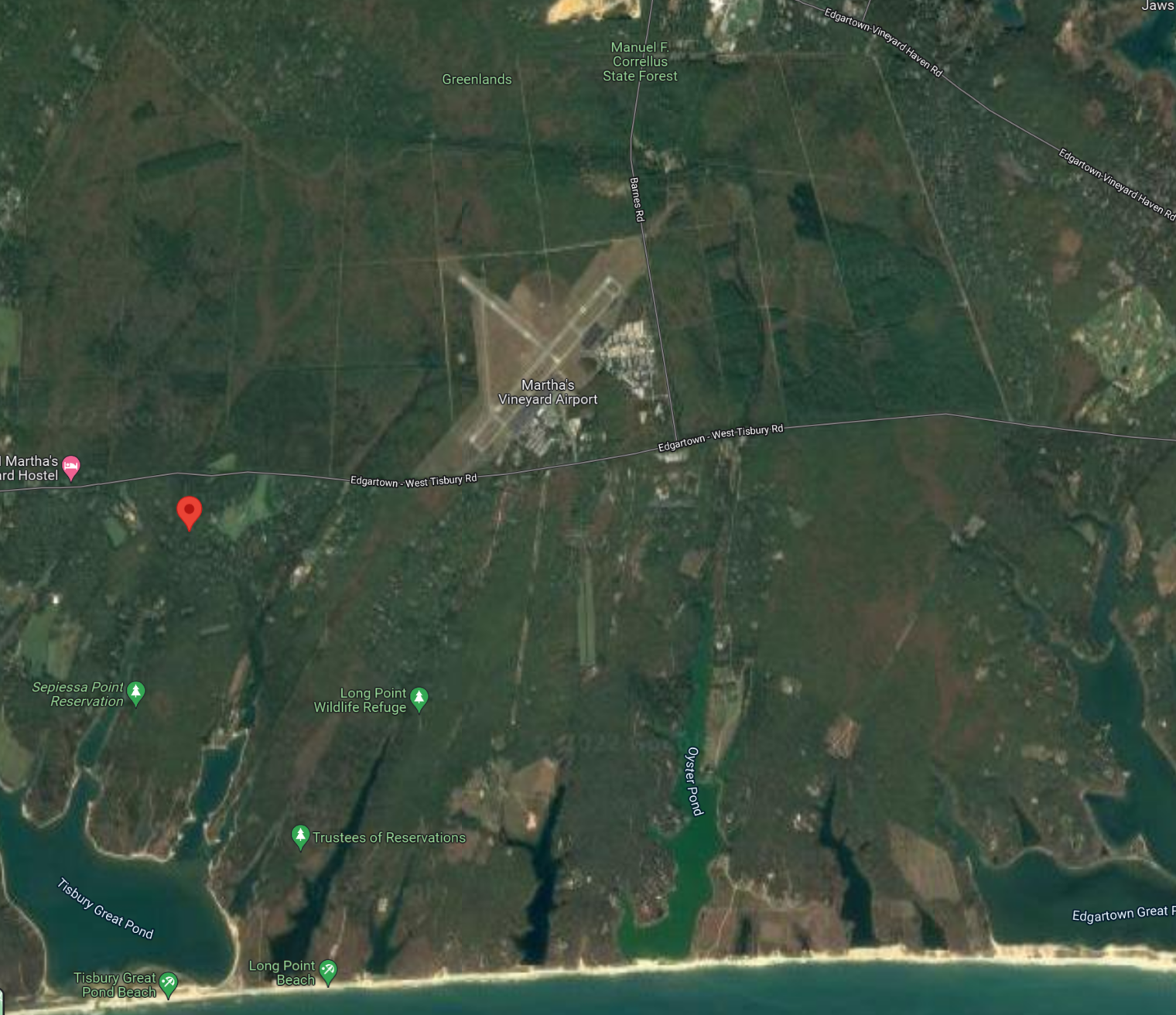 Folks in Massachusetts who say that life in Texas and Florida is intolerable due to malgovernance, the lack of abortion care for pregnant people in reproductive health care settings, etc., now also say that migrants are being injured by being transported from Texas and Florida to Massachusetts. One friend on Facebook, regarding Air DeSantis:
State tax money should not be used to fund a politician primary [sic] at the expense of the lives of asylum seekers whose life's [sic] are already miserable.
He implies that arriving by chartered jet to MVY is somehow a bad thing for asylum-seekers. If Florida and Texas are bad due to their respective infestations of Republicans, shouldn't the Massachusetts Democrat be happy and relieved that a migrant has found his/her/zir/their way to Massachusetts? Gavin Newsom says that being given free transportation to a Democrat-governed Science-following state is "inhumane" and that the people who arrange this transportation should be prosecuted as kidnappers.
Not everyone sees this as criminal kidnapping:
Another strange aspect to Democrats' response to the arrival of migrants in their own states and cities is the allegation that Ron DeSantis is wasting taxpayers' money by chartering regional jets. Colleges can afford to charter regional jets to move sports teams around. If a state-funded college can afford to charter a regional jet, why can't a state afford to charter a regional jet or Airbus A320? (Florida state government took in 21 percent more than was spent in the last fiscal year, resulting in a $22 billion surplus. If we assume per-passenger charter costs of $1,000 that's enough to fund transportation for 22 million migrants.)
Update from Alex (comments below): "MA National Guard Activated To Aid Martha's Vineyard Migrants". Rather than enjoy access to water, cash jobs from folks with "No Human Being is Illegal" signs on their front lawns, etc., the 50 migrants will be moved off the island at gunpoint by 125 soldiers and confined to an inland military base.
Related: