The 50 asylum-seekers sent to Martha's Vineyard have reached sanctuary in the middle of a military base in the middle of an off-island forest. Where can the next group of migrants who want to escape to a properly governed Science-following state land? Here's an email that I received today from an airfare alert service: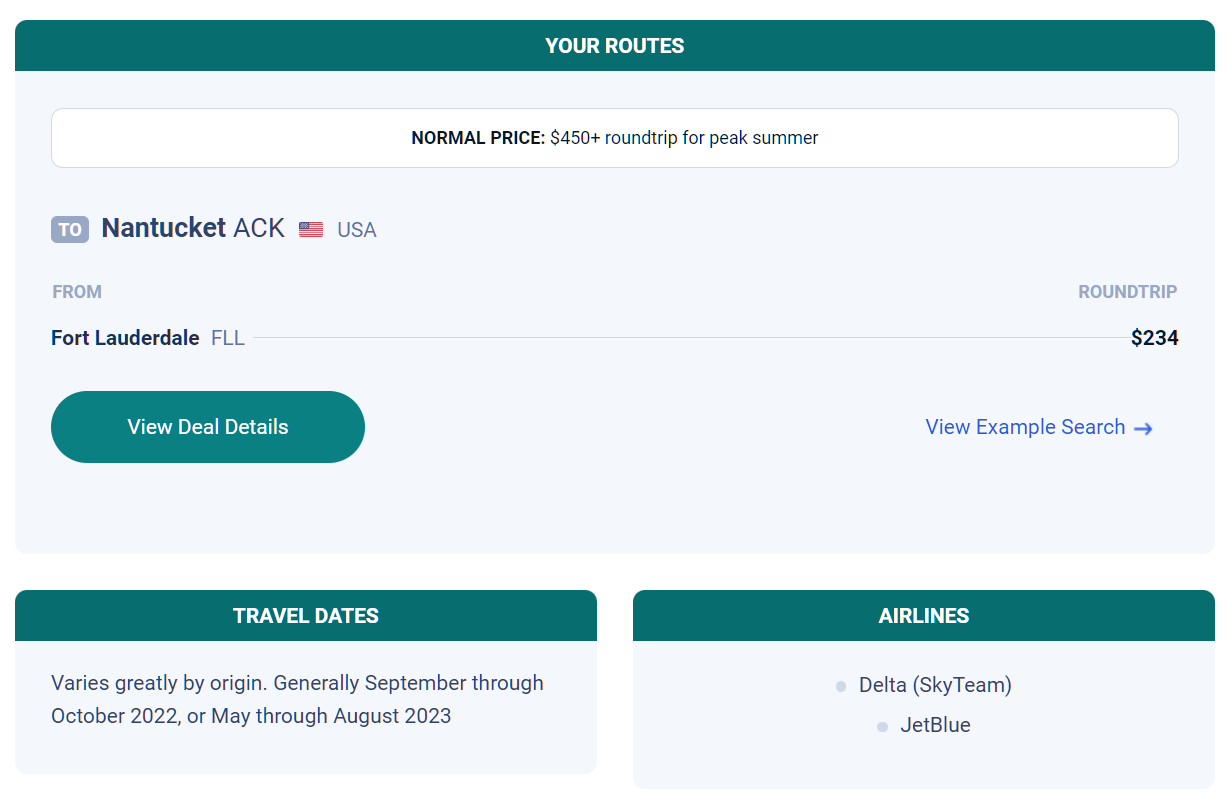 Only $234 for a migrant to start enjoying his/her/zir/their best life amidst the "No Human is Illegal" sign forest of Massachusetts, entering via an island of vacant-through-May mansions. Given TSA rules, perhaps this would work only for undocumented migrants who have documents such as passports.
I wonder if there will be a sufficient supply, though. "Migrants flown to Martha's Vineyard have filed a lawsuit against Gov. DeSantis" (state-sponsored NPR):
Attorneys want DeSantis and his fellow defendants to be banned from "inducing immigrants to travel across state lines by fraud and misrepresentation," as well as damages "for the harm suffered by the migrants."
"Advocates for migrants who were sent to Martha's Vineyard sue Ron DeSantis" (Guardian):
According to the complaint, the Venezuelans, who are pursuing the proper channels for lawful immigration status in the US, "experienced cruelty akin to what they fled in their home country. Defendants manipulated them, stripped them of their dignity, deprived them of their liberty, bodily autonomy, due process, and equal protection under law, and impermissibly interfered with the federal government's exclusive control over immigration in furtherance of an unlawful goal and a personal political agenda."
If the cruelty here in the U.S., due to the existence of Republicans, makes life in the U.S. as bad as life Venezuela, why take the trouble to leave Venezuela? Or maybe the migrants will leave Venezuela, but stop and request asylum in one of the countries through which they would previously have simply passed?
"The Work versus Welfare Trade‐​Off: 2013" (CATO); Table 4 shows the dramatic superiority of being on welfare in Maskachusetts (spending power 1.2X what a worker at the median wage gets) compared to cruel Florida (only 0.4X the spending power of a median worker). The absolute dollar figures can be ignored because they are in pre-Biden money.
"Nantucket restaurant desperate to fill jobs, hiring 8th graders" (Fox Business, 2021)
a Massachusetts resident commenting in a chat group: "[folks on Martha's Vineyard] have hundreds, maybe thousands, of empty beds and $9.8 million budget surplus in just one of the three towns alone to pay rental on those beds. What do they think other cities do? NYC pays $500 a night to house each person. They have the lowest tax rate of any town in the entire state and had tons of room to raise the property tax to replenish the surplus. Instead they called in a 125 person military response to remove them to an internment camp. So much for the yard sign virtue signaling. We need Martha's Vineyard Airlift 2022 T shirts." (the correct figure for empty beds on MVY is surely "thousands" not "hundreds" because the difference in in-season/off-season population is more than 50,000)