"Bay Area exodus: Median income drops as wealthy residents move out" (SiliconValley.com):
New census data is shining more light on the Bay Area's pandemic exodus: The region saw the largest drop in median income of any big U.S. metro area as wealthy people moved away — and current residents of all incomes are more likely to relocate soon than in any other major population center.

Household income in the San Francisco metro area fell 4.6% from 2019 to 2021 to $116,005 a year, according to a census report released this month.
The article highlights rich people moving, but, given that some percentage of Americans move every year, the drop in median income could just as easily be caused by no-income and low-income people staying. The article does not note that someone who is signed up to the full package of means-tested benefits (not to be characterized as "welfare"!), i.e., free housing, free health care, free food (SNAP/EBT), Obamaphone, and the new free broadband, is extremely unlikely to move (since it could take 10-20 years on waitlists to get the same package in a different location or state).
So a city or state is guaranteed to hold onto its lowest-income citizens (not to say "poorest" because they may enjoy a median earner's lifestyle; see below) even when everyone else seeks to move, e.g., due to lockdowns, school closures, social disorder, and high crime.
From "The Work versus Welfare Trade‐​Off: 2013" (CATO), Figure 4: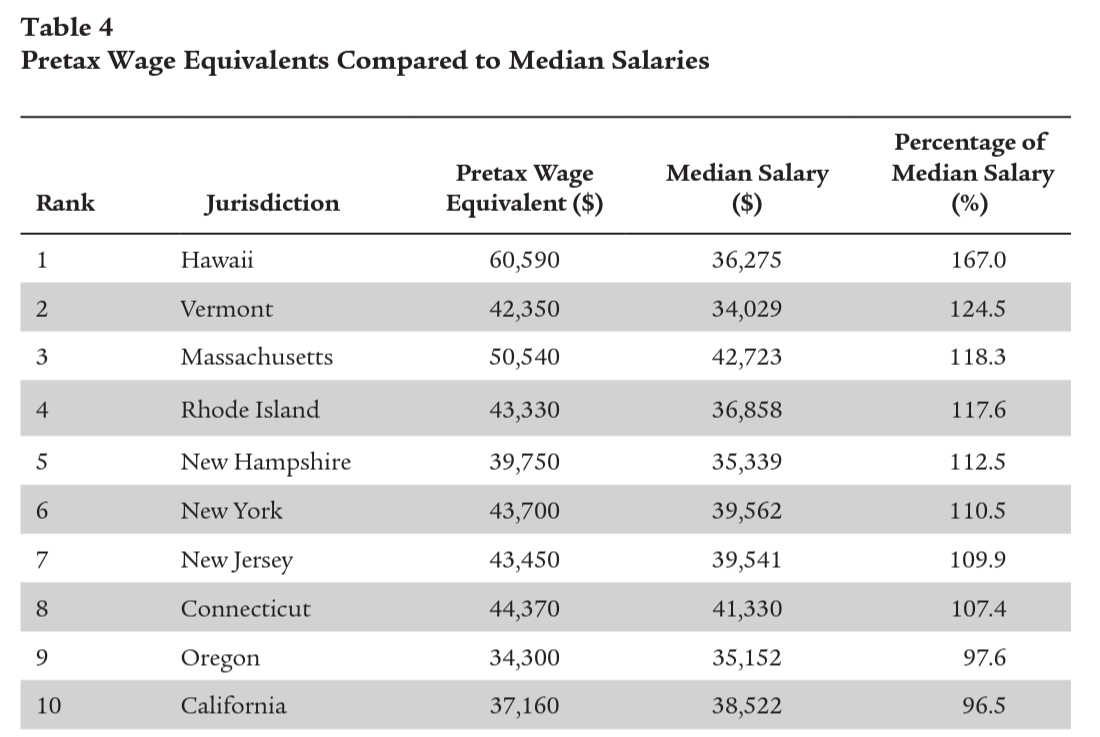 Ignore the pre-Biden dollar figures and concentrate on the "percentage of median salary" column, which should be valid despite inflation. Prior to the 2020-2022 coronapanic enhancements to welfare, in other words, being on welfare in California yielded roughly the same spending power as working full time at the median wage (and with no risk of exposure to a virus at work and no need to wear a mask for 8 hours per day).
I think it is interesting from the point of view of journalism that the situation is characterized by rich people disproportionately moving rather than by welfare state beneficiaries disproportionately staying.