"Ian's 5-day forecast predicted landfall only 5 miles from actual location" (CNN):
The National Hurricane Center worked around the clock to get the best forecasts out and they did it with incredible accuracy.

Looking back at the forecast, the landfall location, Cayo Costa, was in the forecast cone for all the forecasts given, according to CNN meteorologist Brandon Miller.

Miller also noted that the forecast pegged Ian's landfall (as a major hurricane also) within 5 miles of its eventual landfall location a full 120 hours in advance – that's pretty remarkable given how unreliable forecasts can be at the five-day mark and beyond.
So folks on the barrier islands in Lee County, e.g., Sanibel, Captiva, and Fort Myers Beach, had five days of warning regarding precisely where the hurricane would hit? They must be even dumber than we thought.
Thanks to Amygator, we can see that the forecast on Friday at 11 am did show the hurricane hitting Lee County at 8 am on Wednesday (somewhat sooner than it actually did hit).
What CNN leaves out is that on Saturday the NHC forecast that Tampa would hit. On Sunday, the forecast was that Hurricane Ian would strike Ron DeSantis in Tallahassee: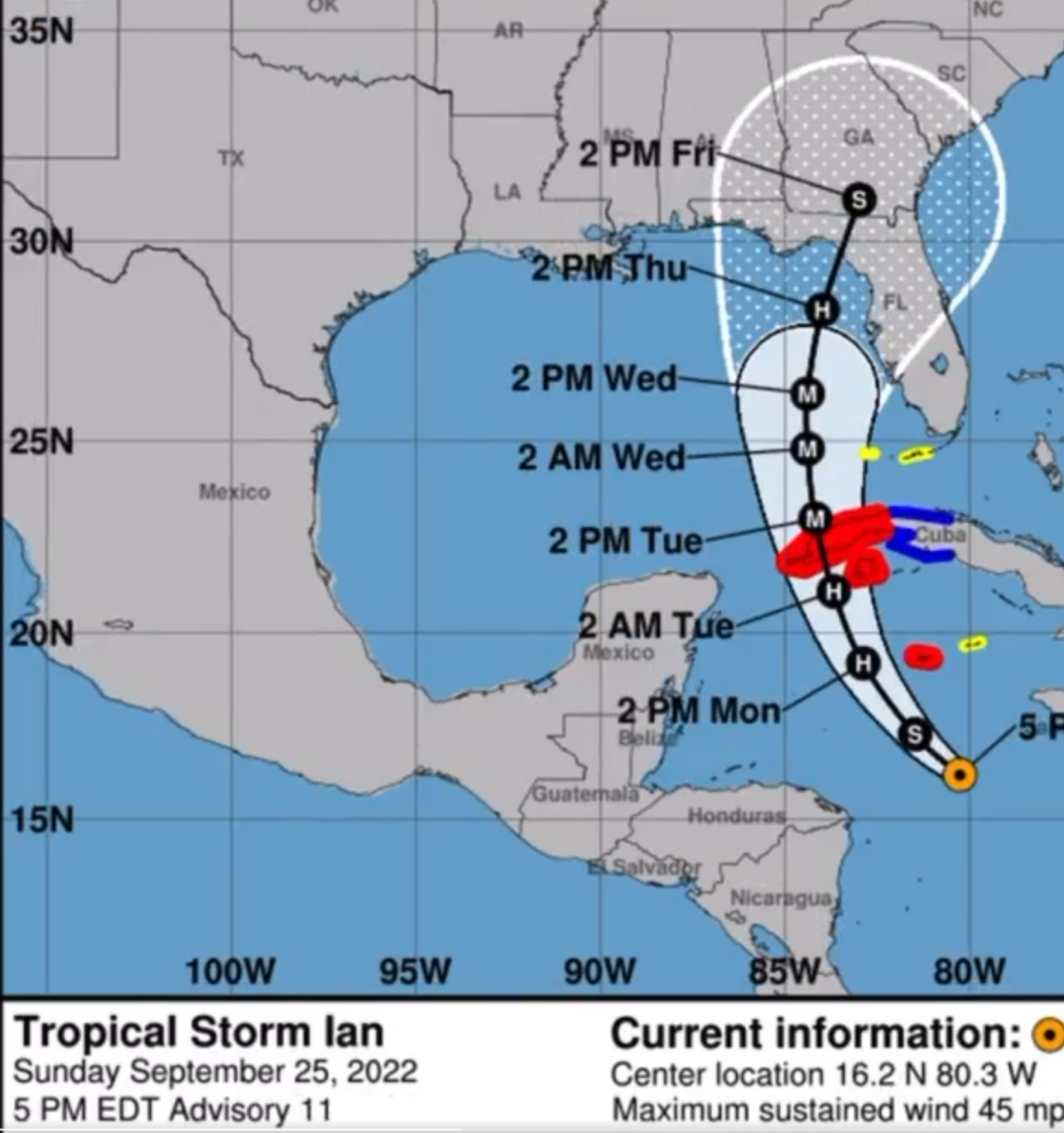 By Monday, it was back to Tampa (and officials there reasonably ordered an evacuation of low-lying houses). By Tuesday, the predicted track was closer to Fort Myers and its barrier islands (and the Lee County officials reasonably ordered an evacuation of those barrier islands).
So, CNN tells us that Science predicted Ian's landfall five days in advance, but omits to mention that Science also predicted landfall in a variety of other locations, some of the hundreds of miles away.
Perhaps we think that the fearless purveyors of truth have superior access to Science. From What to Know About Ian and Climate Change – The New York Times (nytimes.com):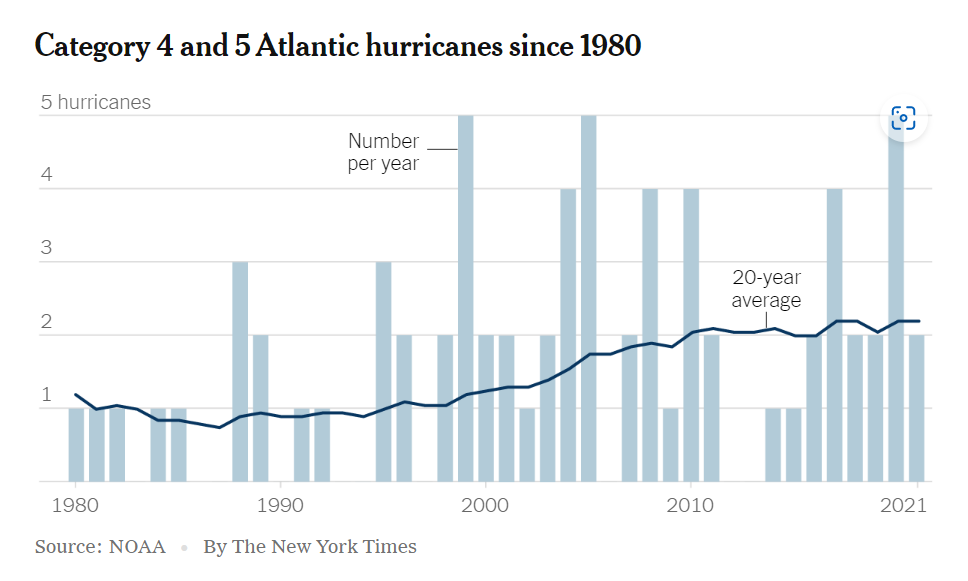 What if you studied atmospheric physics in college instead of journalism and don't pick 1980 as your starting point? "Changes in Atlantic major hurricane frequency since the late-19th century" (nature.com, 2021):
To evaluate past changes in frequency, we have here developed a homogenization method for Atlantic hurricane and major hurricane frequency over 1851–2019. We find that recorded century-scale increases in Atlantic hurricane and major hurricane frequency, and associated decrease in USA hurricanes strike fraction, are consistent with changes in observing practices and not likely a true climate trend. After homogenization, increases in basin-wide hurricane and major hurricane activity since the 1970s are not part of a century-scale increase, but a recovery from a deep minimum in the 1960s–1980s.

One of the most consistent expectations from projected future global warming is that there should be an increase in TC intensity, such that the fraction of [major hurricanes] MH to [Atlantic hurricanes] HU increases … there are no significant increases in either basin-wide HU or MH frequency, or in the MH/HU ratio for the Atlantic basin between 1878 and 2019 (when the U.S. Signal Corps started tracking NA HUs … The homogenized basin-wide HU and MH record does not show strong evidence of a century-scale increase in either MH frequency or MH/HU ratio associated with the century-scale, greenhouse-gas-induced warming of the planet. …Caution should be taken in connecting recent changes in Atlantic hurricane activity to the century-scale warming of our planet.
The Science is settled, according to nytimes.com: "strong storms are becoming more common in the Atlantic Ocean, as its surface water has warmed. … Climate change has already contributed to a rise in destructive hurricanes like Ian, and its effects are still growing." This is a Scientific true fact that has been established beyond any doubt. The nature.com article, on the other hand, says that this is not true and that the data do not show major hurricanes becoming more common.
Let's look at the crackpots behind the nature.com article:
It is possible that nytimes.com is correct and nature.com is wrong, of course. But the nature.com folks, with their file cabinet full of PhDs (… in Science), don't say that they are presenting facts that cannot be and will not be falsified.
Related:
"Tropical Cyclone Frequency" (Vecchi and others in Earth's Future; Wiley 2021): "There is no accepted theory that explains the average number of TCs that occur each year on the Earth, nor how that number will change with global warming." (full text)