People in Maskachusetts say that they're "progressive". Very few earn more than $1 million per year. Why, then, did more than 1.1 million people vote "no" on a constitutional amendment that would allow the state to ding the rich (more than $1 million/year in income) at a 9% rate instead of the 5% flat rate that prevails for the peasantry?
"Massachusetts passes Ballot Question 1 (Millionaire's tax), AP says" (MassLive):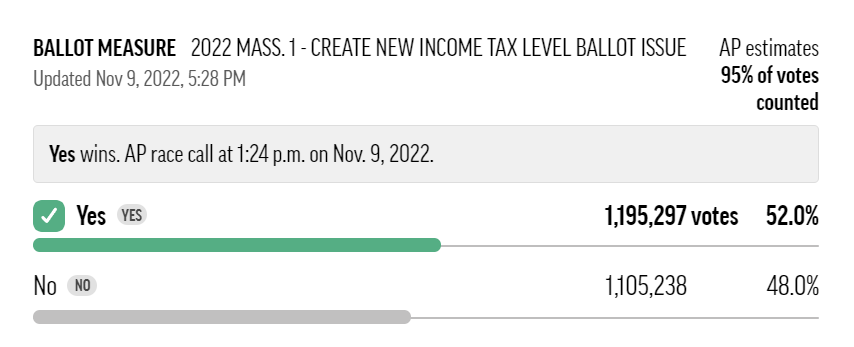 We are informed that it is only Republicans and married white women who are so stupid that they vote against their own interests. There are hardly any Republicans in Maskachusetts and a lot of the married white women have taken advantage of the state's no-fault divorce system to head for a profitable exit. This ballot measure should have passed by at least a 30-point margin, not a 4-point margin.
How can we explain the race being close? How could so many peasants be against rich people getting closer to paying their fair share? (which actually should be at least 13.3% because that's what rich people in California pay for state income tax)
It can't be because people were concerned that inflation would lift them from the old 5% bracket into the new 9% one. The text of the ballot question explains that there will be annual inflation adjustments.
Separately, this was a great outcome for the luxury real estate industry in Florida! Rich bastards will need to pull up stakes in MA before the end of December 2022 if they object to paying their fair share. (See Relocation to Florida for a family with school-age children )
Finally, the tax bump won't be great for alimony defendants. "New Guidance on the Intersection of Alimony and Child Support" (Burns Levinson law firm, August 2022), quotes the law: "the amount of alimony should be determined with reference to the recipient spouse's need for support to allow the spouse to maintain the lifestyle enjoyed prior to the termination of the parties' marriage." Alimony is now tax-free to the plaintiff and not deductible for the defendant. since most couples spend close to 100 percent of their income, the only way for a divorce plaintiff to enjoy the marital lifestyle is to collect close to 100 percent of the defendant's income). So in setting the order, the judge has to make some assumptions about what tax rate the defendant will pay in order to figure out what the after-tax income is and make sure not to order the defendant to pay more than 100 percent of income. A high-income defendant in Massachusetts will have less after-tax income, but the court order to pay based on the old tax scheme can't be changed without the defendant starting a "modification" lawsuit that could take years and cost $millions in fees to resolve.
Related:
Colorado FF, a proposition to hit those earning more than $300,000 per year with a stealth higher tax rate by reducing the deductions they can claim (it passed because lots of folks earning less than $300,000 per year voted for it!)
Effect on children's wealth when parents move to Florida (kids end up about 40% richer if a parent moves south and clings to life for 30 additional years)