Friends who bought private jets and luxury waterfront property with their crypto profits were discussing the FTX meltdown and Sam Bankman-Fried's return to financial Earth.
One cited the Sequoia Capital investment memo regarding the vegan MIT graduate founder:
The FTX competitive advantage? Ethical behavior. SBF is a Peter Singer–inspired utilitarian in a sea of Robert Nozick–inspired libertarians. He's an ethical maximalist in an industry that's overwhelmingly populated with ethical minimalists. I'm a Nozick man myself, but I know who I'd rather trust my money with: SBF, hands-down. And if he does end up saving the world as a side effect of being my banker, all the better.
This is a purportedly hard-nosed Silicon Valley venture capital firm. Another chat participant cited a mixture of truth and fiction: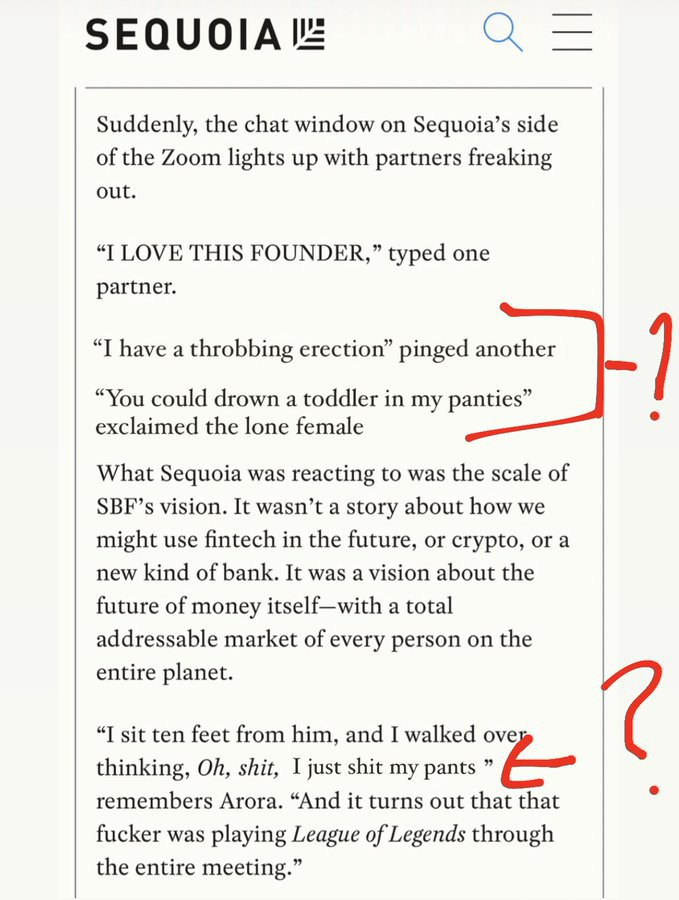 A comment from one of the participants:
Makes Madoff look like an amateur. He Played everyone. And I mean everyone. Absolutely insane. He was clearly insolvent in June and knew it. Then the real fraud began.

Good old fashioned segregation of funds issue.
Some tweets these guys liked:
Related:
"Andreessen Horowitz Went All In on Crypto at the Worst Possible Time" (WSJ, October 26, 2022): "a 50-year-old partner named Chris Dixon who was one of the earliest evangelists for how the blockchain technology powering cryptocurrencies could change business. His unit was one of the most-active crypto investors last year, and in May announced a $4.5 billion crypto fund, the largest ever for such investments."