Everyone I know who tried the first robot vacuum cleaners eventually gave up. They held so little debris that it was just as much work to empty them as it would have been to vacuum the room with an $80 Hoover. Walls got banged up from the robot's clumsy attempts to map rooms and avoid furniture. Delicacy prevents me from going into details, but a family dog with a stomach bug and a robot vacuum cleaner turned out to be a toxic combination in many households. (Do a web search and you will find many stories!)
Friends in Maskachusetts have been been on a renewed buying spree lately driven by, I think, the following beliefs:
the original electric home vacuum cleaners were not marvelous labor-saving devices and their descendants (up to 114 Bidies for a decent Hoover?) are, in fact, extremely tedious to push around in a McMansion
a battery-powered machine is always more effective at cleaning than a 114-Bidie plug-in Hoover with a 1440-watt motor
the latest and greatest robots have better sensors and software
their children have weak immune systems from 1.5 years of school closure and activity lockdowns and shutdowns and therefore the house must be cleaner than ever before
Although the market segment was pioneered by iRobot, an MIT spinoff, these guys have come to the consensus ("a Scientific consensus") that the Chinese-engineered Roborock S7 MaxV Ultra is the best machine and has the best software.
They've sent me pictures of this dock and robot in their $2-3 million COVID-safe suburban bunkers. They take up a lot of floor space and look completely out of place. Here's what the naked machine looks like: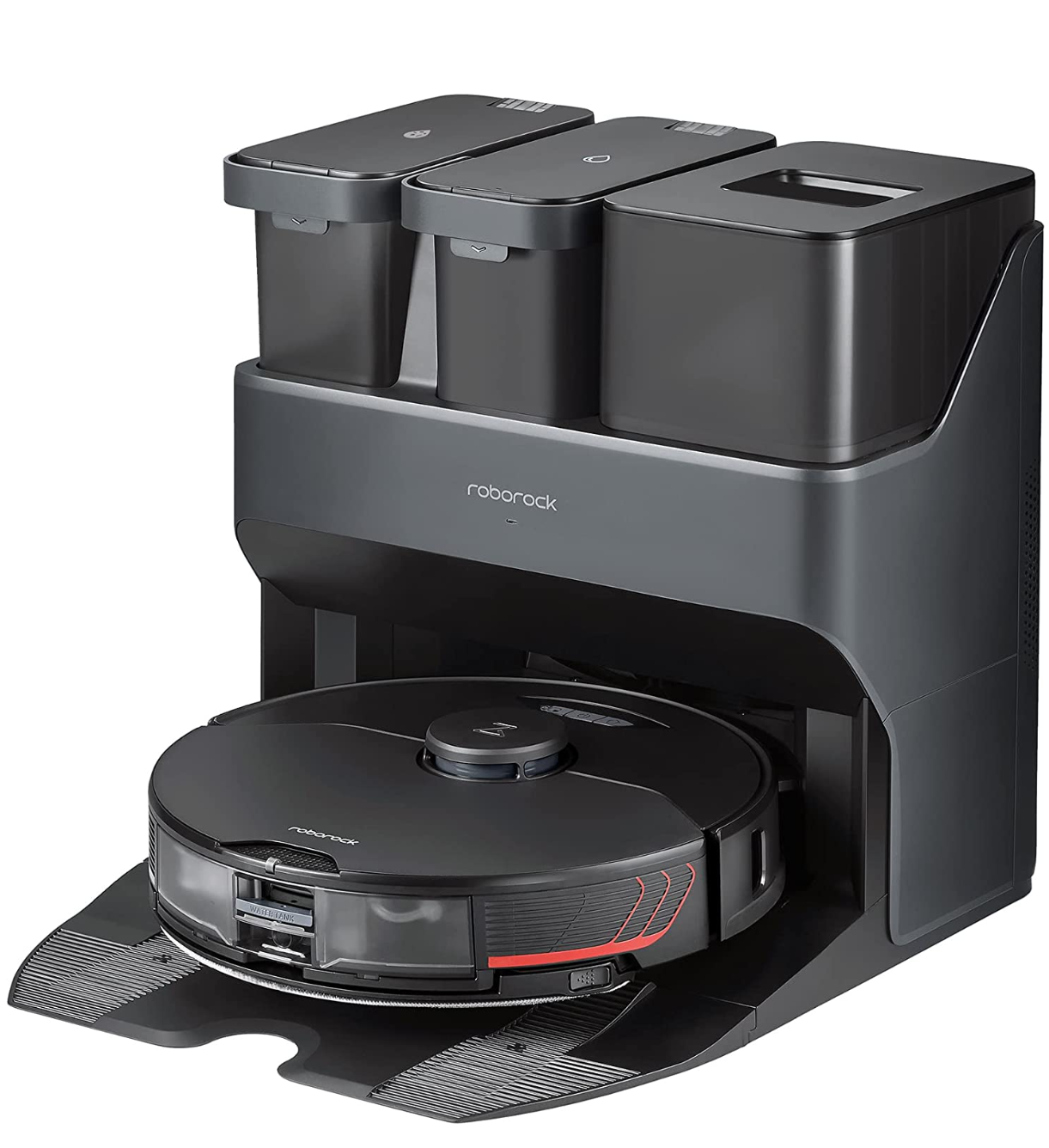 (Across the top you have dirty water (post-mopping), clean water (pre-mopping), and a wastebasket for the self-emptying dust bin within the robot. The company claims this allows 3-4 days of usage before the robot's human servant must be summoned to change out the water or empty the bin. They base this on a small footprint of 1,070 square feet.)
You wouldn't leave a regular vacuum cleaner out where family members, guests, etc. could see it, right? The vacuum cleaner is ugly and used intermittently so it lives in a closet. These robots aren't smart enough to open doors, so my friends are putting them where they are often visible to people trying to enjoy the house. It's New England and the robots can't climb stairs so a house with three living levels will have three of these cluttering the space.
I'm wondering if houses and apartments should now be designed so that a robot vacuum with dock will stay mostly out of sight. Maybe it lives in an alcove under the stairs. Perhaps there is a curtain that it can drive under (it is mostly the dock that needs to be hidden). The companies that make these devices should get together and agree on a standard for the shape and size of the alcove. Obviously the alcove needs electricity. Maybe for rich people there should also be a fresh water supply plumbed in and a drain and perhaps robots could be made that tapped into these so that the only thing that the human servant of the robot ever had to do was empty the dust bin.
I know there's a fine line between brilliant and stupid. Which side of the line is this idea on?