"The pilots flying passengers across US state lines for abortions" (Guardian, October 30):
All Steven knew was what time and where. A part-time pilot from the Chicago area, he was picking up a total stranger in his single-engine plane, a passenger who needed to fly more than a thousand miles, across state lines, from the midwest to the east coast.

The passenger was seeking reproductive health services and needed to travel to a state where they could access them. Steven is just one of hundreds of pilots across the US, who have been volunteering the use of their small planes to fly people seeking abortions and other services from states that have outlawed it to states that haven't.

The effort to connect volunteer pilots with patients is led by Elevated Access, a non-profit organization based out of Illinois. It was founded in April in response to a growing number of women being forced to embark on expensive and time-consuming journeys in attempts to obtain abortions.
What about pregnant men? They will have to Ride the Dog (Greyhound)? A photo on the organization's web site shows what appears to be a pregnant man in the passenger seat (front right; the pilot sits front left in most fixed-wing aircraft):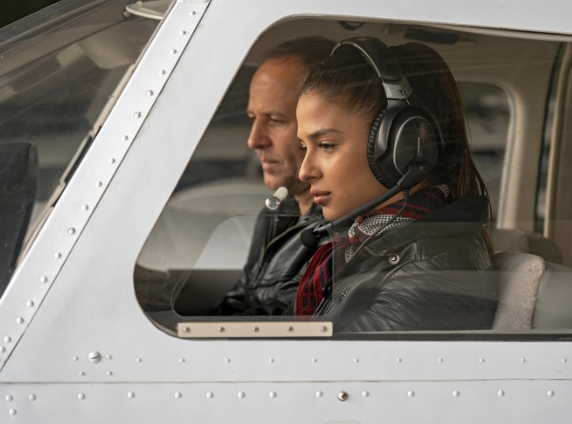 How many owner- and renter-pilots are passionate about these issues?
Indeed, since the supreme court formally stripped away federal abortion protection rights in June, Elevated Access has seen a giant uptick in volunteer pilots, with 870 pilots offering to transport patients across state lines for abortions and gender-affirming care.
How many have a valuable gender ID?
Elevated Access was set up to ease those difficulties, using the 3,000 general aviation airports scattered across the country. It recently marked a milestone by completing its first all-female pilot mission, involving seven states and two solo female pilots flying a 1,400-mile relay to transport a client. Only 6% of pilots in the US are women, it noted.
The partners?
As a referral-only organization, Elevated Access connects passengers to pilots through referrals by its partner organizations such as Planned Parenthood and the National Abortion Federation.
Here's an interesting analogy:
"I think as pilots, we're very proud of the freedom we have and so it seems appropriate for me to use the freedom I have to help out people whose much more fundamental freedoms – [such as] rights to medical care or decisions about how they want to control their own body – are being jeopardized right now."
What if the better analogy is the pregnant person is the pilot and the baby is the passenger? Let's consider EgyptAir 990.
The cockpit voice recorder (CVR) recorded the captain excusing himself to go to the lavatory, followed 30 seconds later by the first officer saying in Egyptian Arabic "Tawkalt ala Allah," which can be translated as "I put my trust in God." A minute later, the autopilot was disengaged, immediately followed by the first officer again repeating the same Arabic phrase which can be also translated as, "I rely on God." Three seconds later, the throttles for both engines were reduced to idle, and both elevators were moved 3° nose down. The first officer repeated "I rely on God" seven more times…
(The very first time I flew a turbojet, the Cessna CJ3 demo pilot deadpanned "You've disconnected the autopilot. Do you want to declare an emergency?")
Gameel Al-Batouti was certainly controlling his own body, as the quoted pilot above says is the correct situation, and he got what he wanted. But the passengers did not get what they wanted, i.e., to emerge alive at the end of the journey.
(The article contains some misinformation, implying that pilots must file flight plans in order to travel by air. In fact, unless one wishes to fly via reference to instruments (in the clouds), no flight plan is typically required.)
Ph.D. and Ivy League grad Deplorables in a chat group reacted to this:
Does this mean that I can fly for free as a pregnant man ?
Can I get preggers every month? Oh, I might fly for abortion and change my mind and fly back and fly there again and…
aborting takeoff is not an option
They think they are Underground Railroad heroes.
Are planes that belong to Abortion Air are stored in coat hangars?
Also after each baby killed one can paint a little baby skull 💀 on the side of the plane
The organization's mission:
Elevated Access recognizes that not all people have access to the healthcare they need due to stigma in their community. Because we believe everyone deserves access to healthcare such as abortion and gender-affirming care, our volunteer pilots provide free transportation to get people where they can get the care they need to live their best life.
What about a healthy baby subjected to abortion care at 24 weeks, as is legal "on-demand" in Maskachusetts (abortion care after 24 weeks is legal if one doctor thinks it is a good idea)? Is he/she/ze/they living his/her/zir/their best life?