All of the U.S. media that previously celebrated lockdowns, school closures, forced masking, and forced vaccination are now highlighting the purported horrors of life in Zero COVID China. The apparent 180-degree change is justified by the idea that SARS-CoV-2 today is far less dangerous than it was in 2019. This is untrue according to Science: "Study suggests SARS-CoV-2 Omicron is as deadly as past variants" (May 2022). Sometimes the about-face is justified because vaccines are so effective, but "Covid Still Kills, but the Demographics of Its Victims Are Shifting" (KHN) shows that the reduction in death risk was at most 4X in the summer of 2022 and was trending down. (Remember that the vaccinated may have less to begin with because they're more likely to be members of the laptop class. The reduction from the vaccine itself might be a factor of 2 at this point.) Why might the Righteous believe that COVID-19 is less dangerous than it was a few years ago? Because a human cannot be killed twice. Those who were most vulnerable to SARS-CoV-2 are already dead. Yersinia pestis did not become less dangerous in 1354, but most people who could be killed by it had died in 1346-1353.
From state-sponsored NPR: "China's lockdown protests and rising COVID leave Xi Jinping with '2 bad options'".
My big question is why Gavin Newsom did not pursue Zero COVID in California. Gifted with the meekest and most compliant group of humans in the history of our planet, he failed to use the obvious tools of quarantine (which include welding torches for apartment houses!) to shut down COVID for at least a few years, as the Chinese have done. Californians pat themselves on the back for having an age-adjusted death rate of 270 per 100,000 compared to 292 in give-the-finger-to-the-virus Florida (full stats; remember that California is one of the youngest states due to the miracle of immigration and Florida has one of the highest percentages of elderly and therefore vulnerable). But given their zeal for fighting COVID, isn't the correct comparison for California the 0.3 deaths per 100,000 in China?
Here's an NPR article noting that lockdown can also kill, e.g., because humans cannot access non-COVID medical care: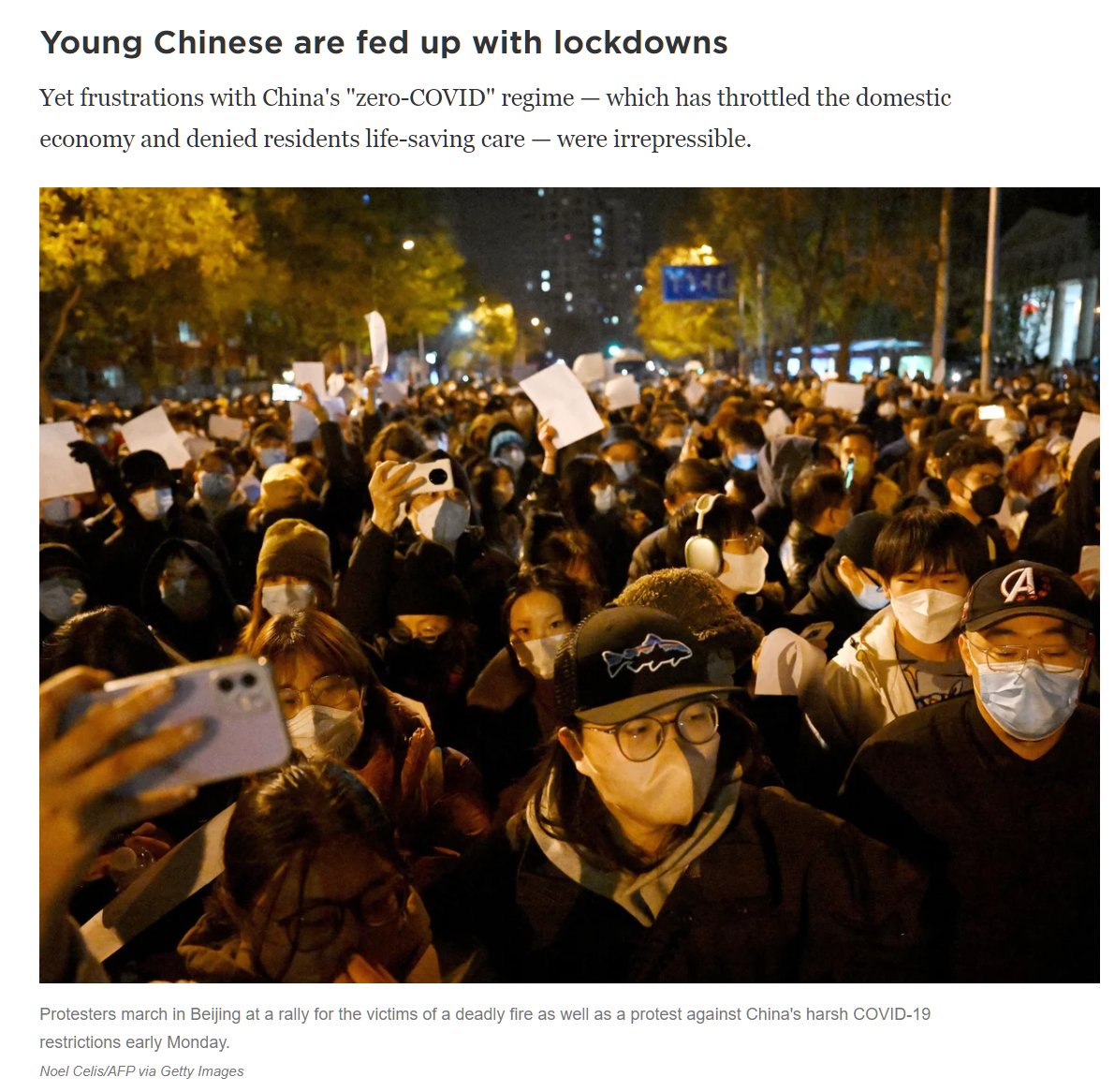 This is the same enterprise that cheered when U.S. states made it illegal for physicians to continue providing non-emergency care! Even worse, by highlighting "Young Chinese", they're implying that people of different ages face different risk levels from SARS-CoV-2 infection and, therefore, a young person might want to reject experimental medicines that have received emergency use authorizations.
Nearly 100,000 Californians have died with a COVID-19 tag. Gavin Newsom could have saved all but 100 of these folks if he'd used Chinese techniques to achieve a Chinese COVID death rate. Lockdown governors such as Newsom have explicitly marked the cost of lockdowns, e.g., children denied an education, adults denied the opportunity to work or socialize, at $0. So there would have no cost to Californians from a Zero COVID program. Hawaii showed that it is not illegal for a U.S. state to restrict people coming in from the rest of the nation. Why didn't Newsom do at least what Hawaii did and, preferably (under his expressed value system), what China did?