A story to keep in mind as we enter the season of outrageous consumerism (i.e., Christmas)…
I visited a friend who lives in a 10,000-square-foot beach house here in Florida. The core of the two-story house is open, which makes the ceiling in the living room about 25′ high. He said that he was planning to remodel the kitchen. "Why?" I asked. "This house was built only about three years ago, right?" He responded, "They put in a tiny dishwasher. They wanted something that would match the cabinet size and didn't think about the function." I imagined an 18″ Manhattan-style dishwasher in the kitchen, which was itself the size of a Manhattan one-bedroom apartment. After getting a good workout by opening and closing the doors on the 72″-wide wall of Sub-Zero refrigerator/freezer (each door 36″ wide), I located and opened the dishwasher. It was a non-standard Asko-brand unit in the completely standard 24″ width of an American dishwasher. His house and kitchen were so vast that the standard-size machine seemed like Derek Zoolander's dishwasher.
It looks as though a 30-inch dishwasher was actually made for home use at one time. From Dacor: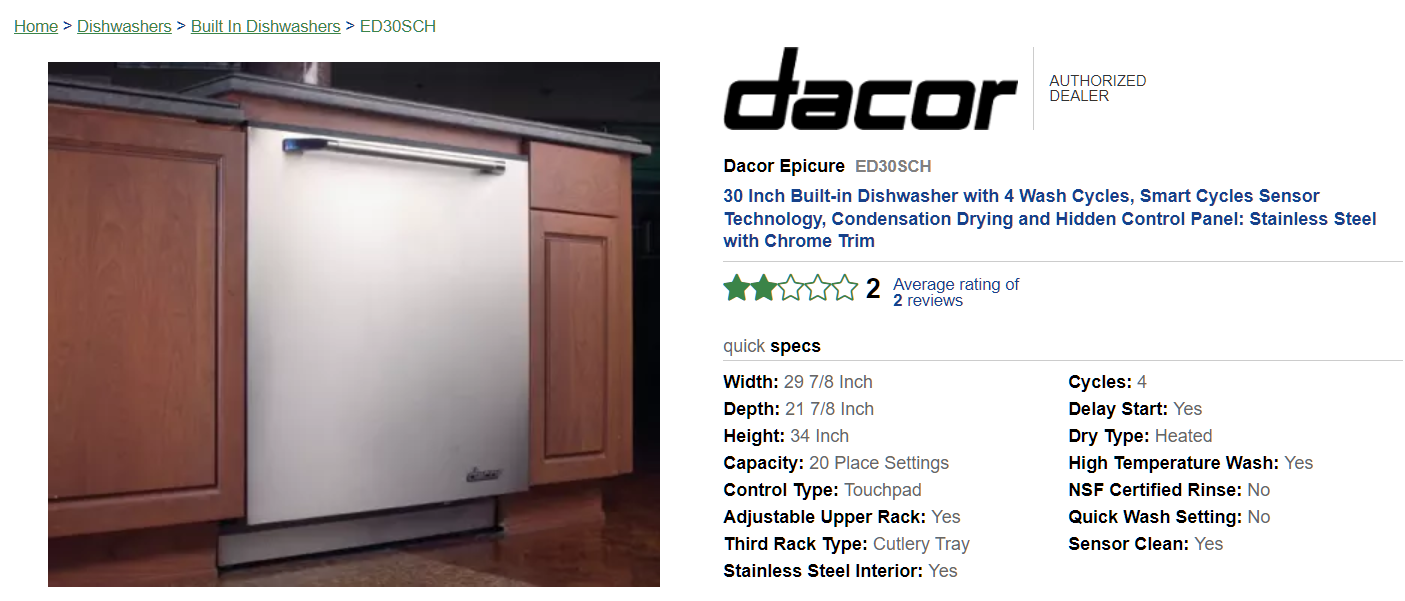 From the reviews…
We love being able to fit lots of dishes into our pretty dishwasher; however, everything must be rinsed very well before loading and the wash time is 2 hours. We've had less expensive dishwashers that were more effective with less time.

Loud, Poor cleaning, Unit replaced, Still bad, Racks begin rusting in 18 months, 3 yrs the rusted racks are falling apart. 800 for bottom rack 300 for top rack. Now I have an oversized space in my cabinets. If you want to spend 3K on a dishwasher and really want greater capacity, buy 2 24″ washers, I wish I did.
And that last idea is what's going into my friend's new kitchen: two dishwashers.
Separately, I'm not sure why he needs so much dishwashing action. He doesn't have more kids or more meals than moderately rich people. He doesn't even eat breakfast. When he has a big party there are caterers. I guess one justification is that dishwashers now take more than 2 hours to run so the obvious solution of doing two loads in sequence isn't as sensible as it was back in the 1970s.