The U.S. has been the world leader in enabling a plaintiff to go to family court and obtain half (or more) of a defendant's future earnings (see Real World Divorce and a recent enhancement for alimony and child support plaintiffs in Maskachusetts).
This week, however, we've learned of a way to get half of a target's earnings without needing to walk down to the courthouse. From the Righteous, "United States Women's National Team earns more money from men's World Cup than its previous two women's tournaments" (CNN):
The United States Women's National Team (USWNT) earned more money from its male equivalent reaching the knockout stages of the 2022 FIFA World Cup in Qatar than it did from winning its own tournaments in 2015 and 2019.

"This is a truly historic moment," US Soccer President Cindy Parlow Cone said in a statement in May. "These agreements have changed the game forever here in the United States and have the potential to change the game around the world."
"Male equivalent"? Aren't the male equivalents of the USA Women the local 14-year-old boys' teams? ("FC Dallas under-15 boys squad beat the U.S. Women's National Team in a scrimmage" (CBS))
Let's check the Deplorables… "World Cup 2022: US women's soccer team earns nice payday thanks to men's win over Iran" (Fox Business):
The U.S. men's national team defeated Iran 1-0 on Tuesday to move onto the knockout stage of the World Cup for the first time since 2014.

While the entire U.S. cheered on Christian Pulisic and company in the exciting defeat of their final Group B opponent, it was the U.S. women's soccer team that really won big without having to put a cleat on.

The U.S. men's team is guaranteed a payout of $13 million for making it to the knockout stage of the World Cup, and because the U.S. women's team struck a historic deal to receive equal pay with the men and split prize money 50/50, they are guaranteed at least $6.5 million.

The prize for the men making it to the round of 16 is more than the women earned for winning the 2015 and 2019 World Cups combined. According to Yahoo Sports, the women's team earned $2 million in 2015 and $4 million in 2019.
Who has been watching the World Cup? I've got the cable TV box, which sits powered off for months at a time, programmed to record all of the games. Which ones are worth reviewing?
One thing that I've noticed is that "crypto.com" is an advertiser inside the stadium. How is this company different from what Sam Bankman-Fried was running? It is an exchange and holds crypto on behalf of customers and also issues its own coin? Wouldn't users worry about being Bankman-Frieded?
I also noticed that Google is a huge advertiser. How is this consistent with the company's commitment to social justice? Wikipedia says "Sexual acts of male homosexuality are illegal in Qatar, with a punishment for all convicts of up to three years in prison and a fine, … The Qatari government does not recognize same-sex marriage or civil partnerships, nor does it allow people in Qatar to campaign for LGBT rights."
Volkswagen stopped advertising on Twitter because 1 in 100,000+ tweets contained some words that are sometimes used in an anti-2SLGBTQQIA+ context (stats), but it is enthusiastically advertising in partnership with Qatar.
Today was a sad day for the USA Women as the players whose income they are tapping failed to prevail over the Netherlands, a country with a smaller population than Greater New York City, my Dutch friend pointed out (he is not a fan; "soccer is traditionally a sport of the lower classes here").
Why is the World Cup worth watching? The players don't usually play together on a team, right? Each national team is hastily assembled from among city-affiliated teams, right? How can these games stir as much passion among fans as regular soccer games among European or Brazilian cities? What would happen if Fußball-Club Bayern München could enter the World Cup? Would the city team beat all of the national teams due to general coherence and experience playing together? Or are the national teams stronger because they assemble stars from many city teams?
One of the new stadiums from the official Qatari web site: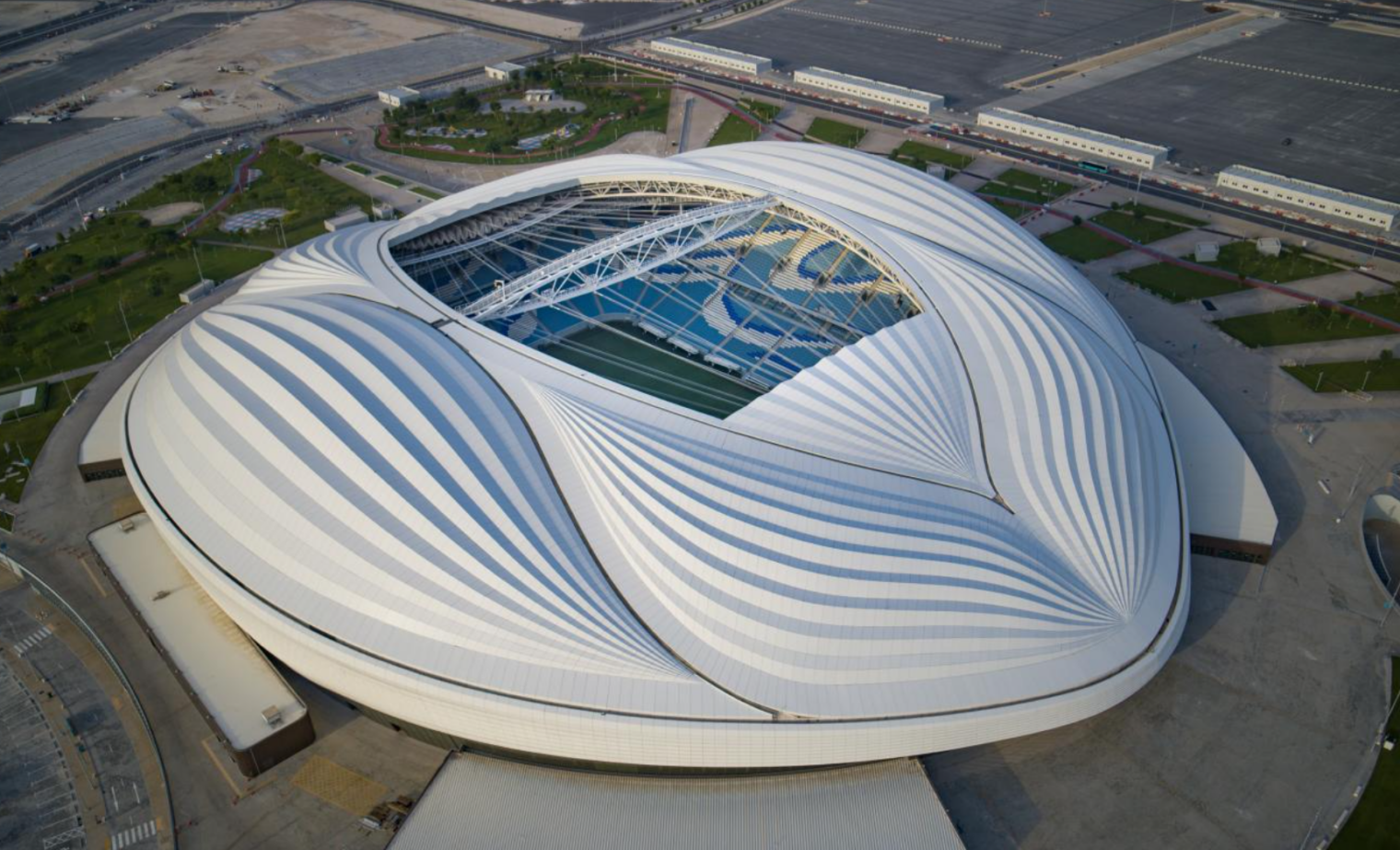 The site also has a guide to cultural norms:
People can generally wear their clothing of choice. Shoulders and knees should be covered when visiting public places like museums and other government buildings. Swimwear is commonly worn at hotel beaches and pools.

Qatar has a very family friendly culture. Children are welcome in almost all premises, including restaurants, malls, cultural establishments and fan zones, all day and late into the evening.

Public displays of affection are not part of local culture, but making new friends and celebrating together are.
How about cultural appropriation? Justin Trudeau would be safe here:
While international visitors and residents wear a wide variety of clothing styles, Qatari citizens usually wear traditional attire. Visitors are welcome to wear traditional Qatari clothing if they choose to.