My old neighborhood in Harvard Square was home to a 30-year-old sandwich shop whose workers took advantage of the coronapanic labor market to unionize in the fall of 2021. After 9 months of union bliss, they responded to Bidenflation by demanding higher wages. The employer's counter-offer was to shut down entirely: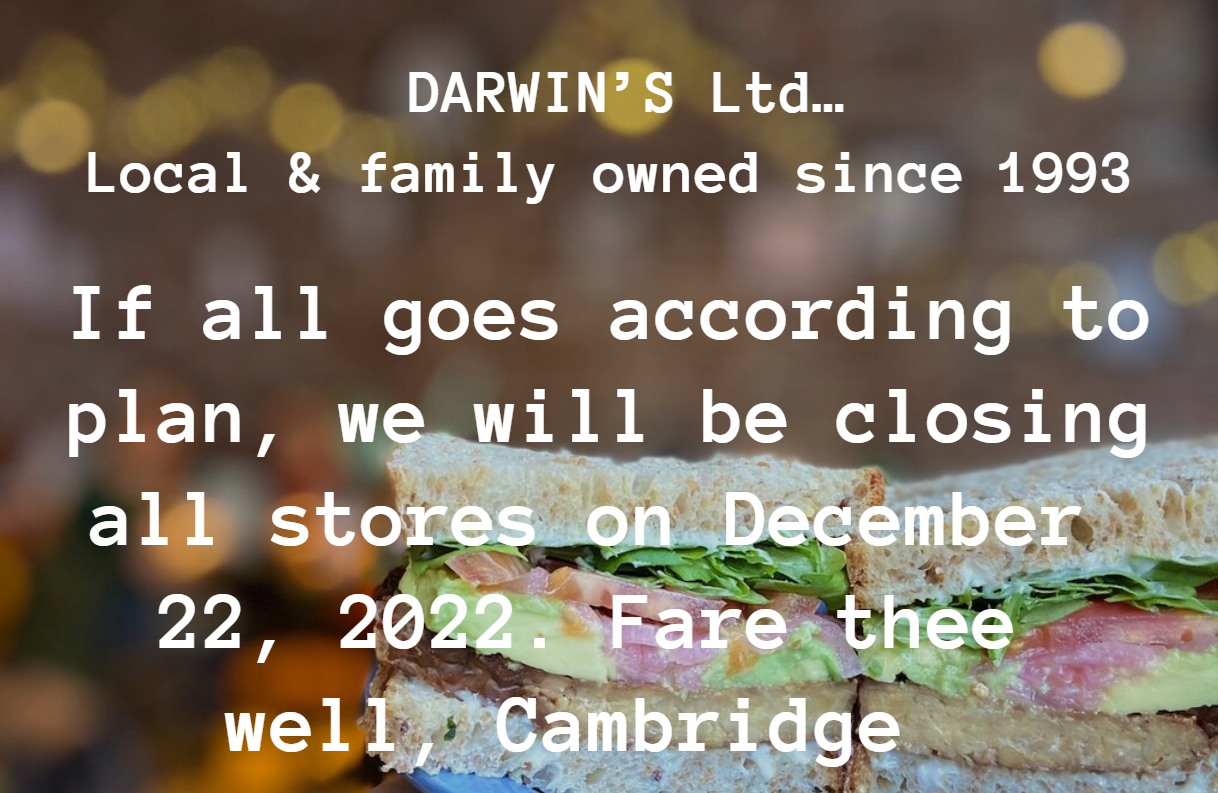 From the Harvard Crimson (November):
The popular Boston-area coffee chain Darwin's Ltd. announced plans to close the store's original Harvard Square location at the end of the month, prompting some workers to stage a protest at Cambridge City Hall on Sunday denouncing the move.

Darwin's United — a union representing the chain's employees — responded by organizing a protest at City Hall, where workers rallied on Sunday before gathering outside the Darwins' Cambridge home.

"We have been offered no guarantees of jobs for those who want to stay, no guarantee that workers will have an income going into winter," the union wrote in a Twitter statement. "We will not back down, we will not take this."

At the rally, union members called on the Darwins to keep workers at the Harvard Square store employed if they wished to stay on and reiterated past demands for $24 per hour wages, three weeks paid time off, and zero-deductible healthcare for employees.

"We know that Steve has long been considering selling the business, but the timing really couldn't be worse," said Sam White, a Darwin's United representative. "We're telling him to come back to the bargaining table and respond to our proposals."

A majority of workers at the four Darwin's locations voted to unionize in September 2021 and began negotiations with management for a new contract for workers. Since then, talks have stalled, according to White. In March, workers at all four locations staged a mid-morning walkout to raise pressure on the owners.
Maybe things are more harmonious on the West Coast? The academics at UC Berkeley claim that they know what workers are entitled to and how to redress inequality in the United States. Yet their own workers had to go on strike to try to force the university to pay a fair wage. "University of California workers continue strike amid threat of arrests" (Guardian, December 10, 20220):
Tens of thousands of academic workers throughout the University of California are currently on their fourth week of striking for a new union contract and the situation is intensifying amid the threat of arrests after direct actions by some strikers.

The strike of 48,000 academic workers, including graduate workers, academic researchers, postdoctoral scholars and teaching assistants, began on 14 November and is the largest in the history of higher education in the US.

About 12,000 postdoctoral researchers and academic researchers reached a tentative agreement with the University of California on 29 November, which included pay increases up to 29%, but have continued striking in solidarity with other academic workers still pushing for a deal and while the agreement is put to the membership for a vote.

Graduate workers at UC have reported issues in affording rent, food and basic necessities in the cities they work and live in on salaries averaging about $23,000 annually.
If the politicians and academics in California are experts on fairness, why did their workers need to strike? University of California professor Robert Reich, for example, is fond of scolding America's evil capitalists for underpaying workers. Why didn't he pay his own slaves fairly?