"Free at last. Thank God almighty, we are free at last," said Martin Luther King Jr., honored on this day.
A lot of the folks who've been saying this lately are former subjects of Governor Andrew Cuomo, Florida Realtor of the Year 2020 and 2021. Let's check in with one. (see also my own "Relocation to Florida for a family with school-age children") "It's been a year since we left New York for Florida. Here's what we learned" (Karol Markowicz, via the dreaded Fox):
A year ago, my husband and three children got on an airplane, moved to Florida and never looked back. Our move had made the news. I'm a columnist at New York's storied newspaper, the New York Post, but more than that I had long been New York's greatest champion.
(When a journalist does something that millions of others have already done, it is news.)
We got a vacation rental in Palm Beach Gardens, Florida, an area we hadn't heard of before, and enrolled our three children in the local public school.
They were our neighbors to the south! Palm Beach Gardens (PBG) is across the main road from our MacArthur Foundation-built development (in Jupiter). PBG has a beautiful county-run park with a dozen soccer fields, clay tennis courts, pickleball courts, a 2-story country club-grade tennis clubhouse, a shaded playground with water, and clean public restrooms (try finding those in NY!). PBG also has a fake downtown/New Urbanism community called Alton that we rejected due to lack of green space, but we were there the other day at Panera, Pet Smart, and Home Depot and found a husky/wolf hybrid: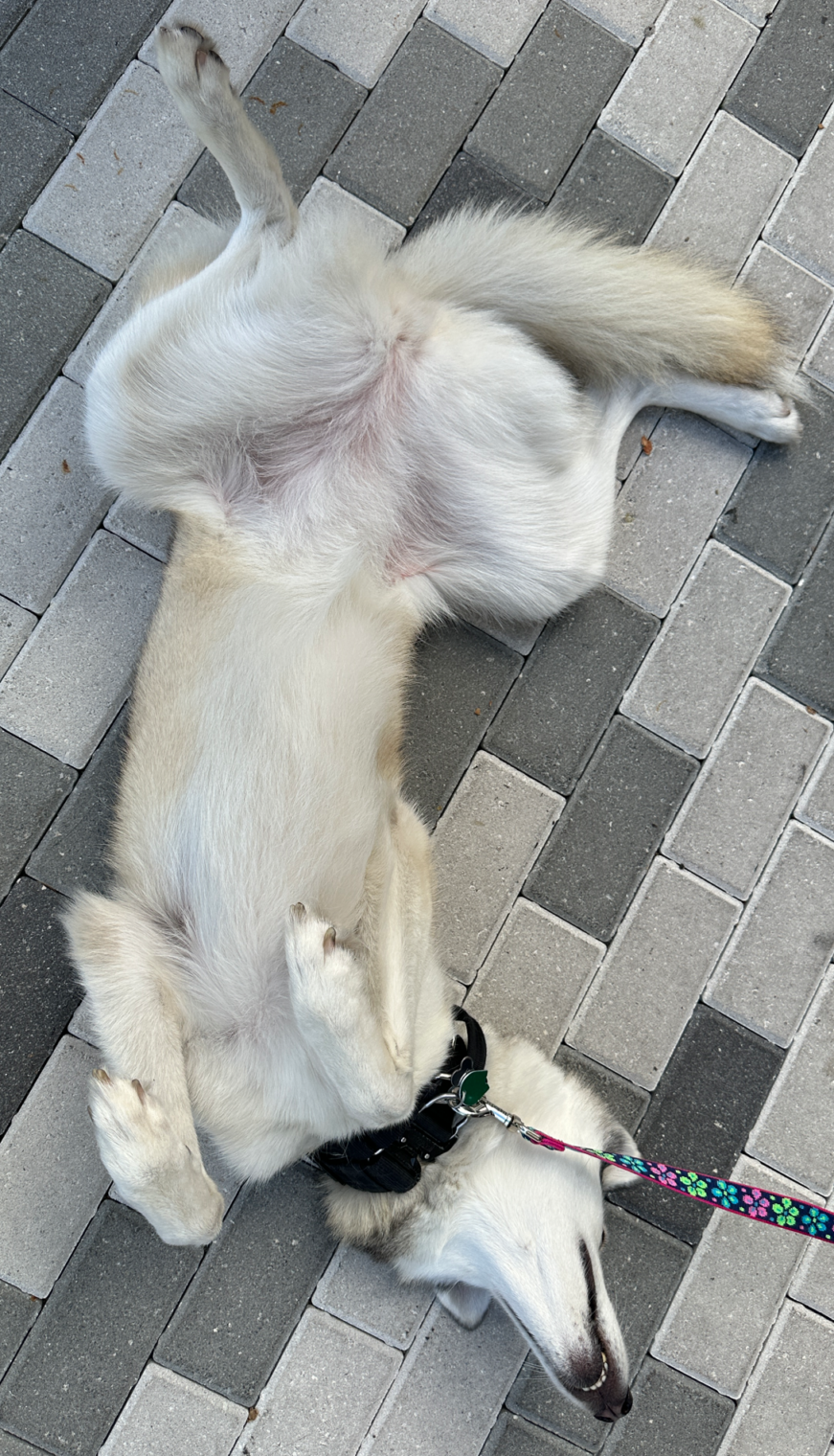 This animal would be illegal to possess in Maskachusetts, but was legally bred in Ocala, Florida and after some unfortunate incidents with cats, three stays in a shelter, and two previous adoptive homes, now lives with her forever parents in PBG. She was greedy for belly rubs from our 7-year-old.
Our heroic journalist returned to New York, presumably having heard that "COVID is over" and "there were no lockdowns" (one Manhattan-based friend now simply denies that New York was ever subject to any restrictions; schools were not closed, people were not prevented from gathering or working, nobody was ordered to wear a mask, his son loved being home for more than a year (this simultaneous with the son talking about the horrors of his time in lockdown)):
Schools did open for full-time learning in fall of 2021. But masks were required, even outside, even though Dr. Anthony Fauci himself had said that was unnecessary. My kids ate lunch on the ground outdoors, urged to mask between bites, while the elderly Gov. Hochul traipsed the state, maskless, eating as a normal person living a normal life.

Our youngest was falling behind academically. The mask was stunting his verbal skills. He was hard to understand and was having trouble understanding his teacher.

In November of 2021, American Federation of Teachers President Randi Weingarten was photographed maskless indoors. In her defense she tweeted "I wear a mask most of the time indoors. We took them off as people were having a hard time hearing us."
Her departure was cheered by the New York governor:
We made the decision in late November of 2021 and by early January we were on a plane to Florida. We landed in our short-term rental and the kids started school, maskless, for the second half of the school year. We were done. We are free. A few months later Gov. Hochul would urge Republican New Yorkers to "jump on a bus and head down to Florida." She included the dig that they're not New Yorkers.
I agree with Governor Hochul. Cultures evolve and a critical part of 21st century New York culture is eager compliance with whatever politicians and public health officials order as well as agreement that the order is compelled by Science and that anyone who disagrees with stupid and irrational.
A question I get asked a lot is if I have any regrets about the move "now that COVID is over." New York continues to have COVID restrictions aimed specifically at children.

My sons' Brooklyn public school continues to do all of their school events outdoors. A recent one was held while it was 45 degrees.

Parents who haven't been vaccinated for COVID-19 are not allowed inside the school buildings.

It's 2023, we know the vaccine doesn't control spread, and yet some parents haven't been inside their kid's classroom since 2020. It's madness and it continues.

Not everyone I hear from is fully happy with their move. Some aren't sure they landed in the right place. But I have yet to hear from anyone who is going back.

The great majority of people who contact me are like us: full of gratitude and happiness that we got to sanity, to safety, to normalcy. We'll always love New York and wish for it to return to its former glory. But we'll do that wishing from the Sunshine State that has become our family's home.

On January 3rd our family will celebrate one year as Floridians. The concept is similar. Pursue freedom and celebrate where you find it.
We've met quite a few lockdown refugees during our 1.5 years in Florida. All have enough money to live in any part of the U.S. As Ms. Markowicz found, none of them have talked about wanting to return to a slave state. In fact, none have talked about leaving South Florida. We did lose a young friend, originally from Pennsylvania, to a town 30 minutes south because it is closer to her job.