The New York Times likes to remind us that we're facing a climate emergency and/or a climate crisis. Our beloved Spaceship Earth has been infested with too many humans, each of whom emits too much CO2. Last week, however, China released stats showing that the population has leveled off at 1.4 billion. The good old days: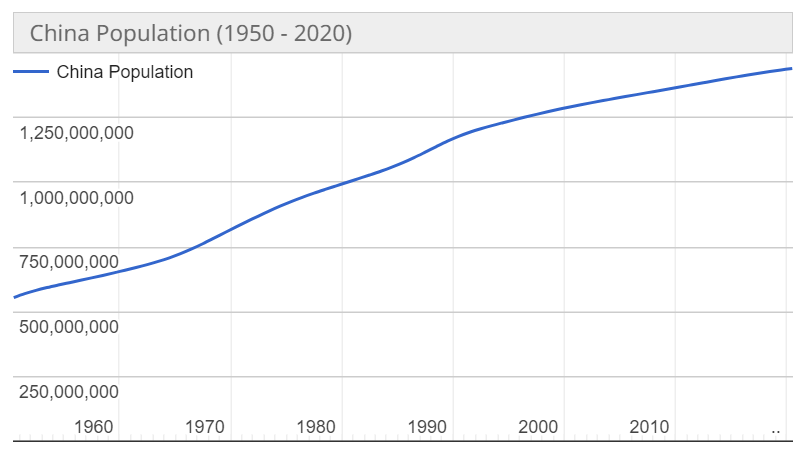 Today, however, "China's Population Falls, Heralding a Demographic Crisis" (NYT):
The world's most populous country has reached a pivotal moment: China's population has begun to shrink, after a steady, yearslong decline in its birthrate that experts say is irreversible.

Now, facing a population decline, coupled with a long-running rise in life expectancy, the country is being thrust into a demographic crisis that will have consequences not just for China and its economy but for the world.
The entire world is at risk due to China's failure to push from 1.4 billion up toward 2.8 billion. Because the planet is in a crisis, "her body her choice" is no longer acceptable. Potentially pregnant people who refuse to do their share will be named and shamed:
"I can't bear the responsibility for giving birth to a life," said Luna Zhu, 28, who lives in Beijing with her husband. Both their parents would be willing to take care of grandchildren, and she works for a state-owned enterprise that offers a good maternity leave package. Still, Ms. Zhu is not interested in motherhood.
The news is not all bad. If you're concerned about eliminating your credit card debt or the availability of a "final expense" insurance policy, phone calls from the subcontinent (with local caller ID) should continue to flood in:
Meanwhile, India's total population is poised to exceed China's later this year, according to a recent estimate from the United Nations.
Circling back to the first point… how can people who say that their first concern is a climate emergency also characterize a falling human population anywhere in the world as a "crisis"?
Related: