"How Charlie Javice Got JPMorgan to Pay $175 Million for … What Exactly" (NYT, January 21) gives us a window into the thinking of America's best journalists and also the folks who say that they can beat the S&P 500 with their investment acumen. NYT:
When JPMorgan Chase paid $175 million to acquire a college financial planning company called Frank in September 2021, it heralded the "unique opportunity for deeper engagement" with the five million students Frank worked with at more than 6,000 American institutions of higher education.

"To cash in, Javice decided to lie," the suit said. "Including lying about Frank's success, Frank's size and the depth of Frank's market penetration." Ms. Javice, through her lawyer, has said the bank's claims are untrue.

JPMorgan's legal filing reads like pulp nonfiction, with jaw-dropping accusations. Among them: that Ms. Javice and Olivier Amar, Frank's chief growth and acquisition officer, faked their customer list and hired a data science professor to help pull the wool over the eyes of the bank's due-diligence team.

When Frank was born, in 2016, Ms. Javice was 24 years old, displayed great media savvy and claimed to have real-world experience with financial aid and the struggle to pay for college. "It's grueling, it's emotional," she told The Daily Pennsylvanian, a student newspaper at the University of Pennsylvania, adding that her mother would frequently cry while talking to financial aid officers.

Ms. Javice's personal story — and pledge to cut through the painful thicket of government forms, jargon and regulations surrounding the aid process — must have made compelling reading for angel investors and venture capitalists. Especially those who have little firsthand knowledge of how financial aid actually works.

Ms. Javice's career helping others began, in her telling, on the border of Thailand and Myanmar. She spent time volunteering there one summer, between terms at her private high school in Westchester County, N.Y.

Ms. Javice has said she needed help herself while she was an undergraduate at the Wharton School at the University of Pennsylvania, where she quickly drew notice by appearing on Fast Company's 2011 list of the 100 most creative people in business.

There, she was on financial aid, and she found the forms confusing. So did her parents, according to an interview she gave to Diversity Woman magazine — including her father, Didier, who has worked on Wall Street for more than 35 years, with 11 years at Goldman Sachs and three at Merrill Lynch, according to his LinkedIn profile.

Ms. Javice appeared on the 2019 Forbes 30 Under 30 finance list. Then she made the Crain's New York Business 40 Under 40 list. "Javice has done her homework," the Crain's article said.
In other words, the smartest people at Penn, in American business journalism, and on Wall Street accepted that someone who attended "private high school" while Dad worked at Goldman was a rags-to-riches heroine and a member of two victimhood classes: women and poor people.
(Separately, can the New York Times sue Diversity Woman magazine for trademark infringement?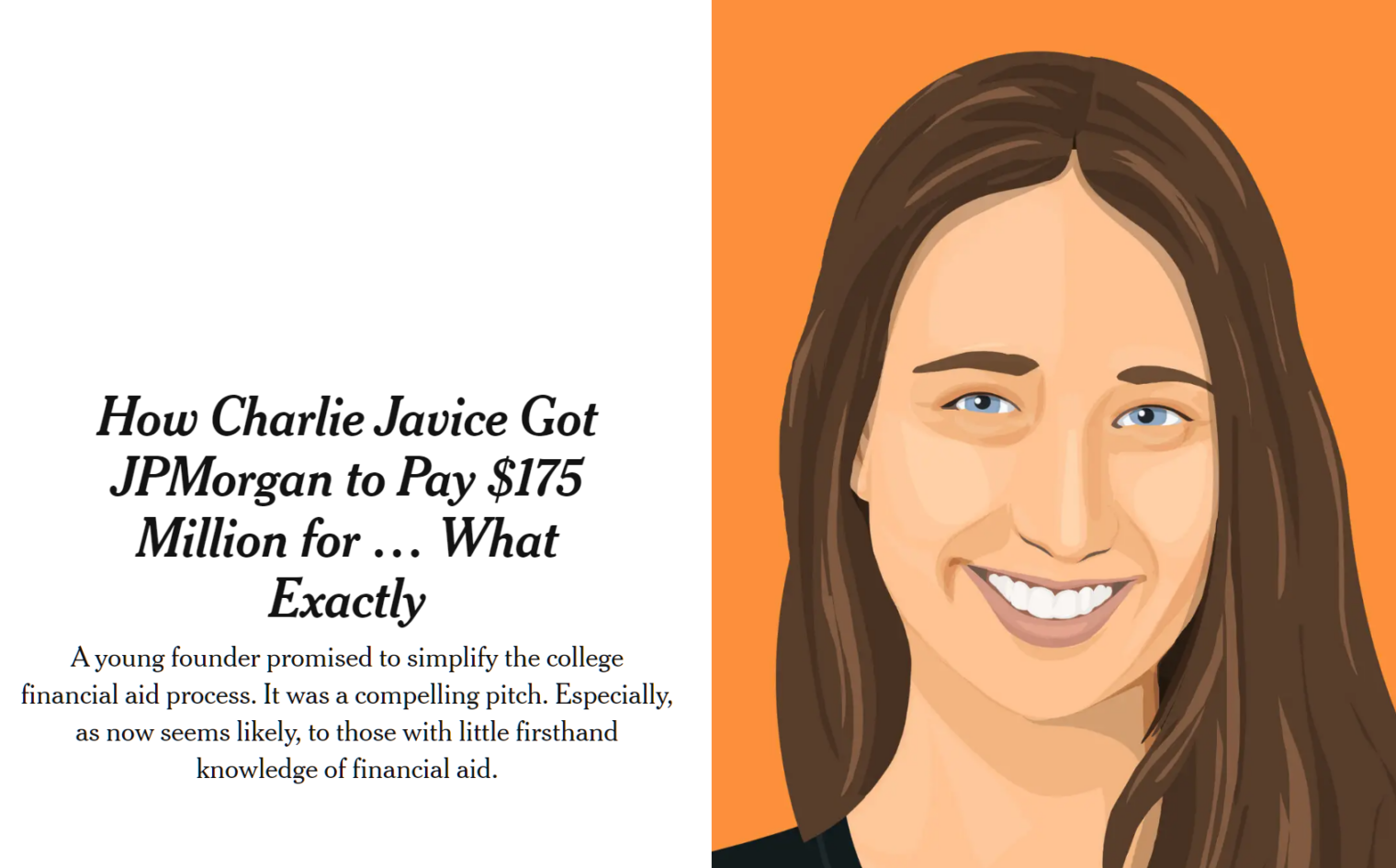 Related:
Equity Funding fraud, in which Californians with a mainframe computer generated fictitious insurance policies (movie version stars suppressed-on-Twitter coronaheretic James Woods!); a good reminder that California was famous for fraud before it became famous for righteousness, lockdowns, school closures, mask orders, vaccine papers checks, and homeless encampments!
"Why Women-Owned Startups Are a Better Bet" (from the big Harvard MBA brains at Boston Consulting Group) says that all you need to do to outperform the S&P 500 is invest in female-founded companies such as Ms. Javice's: "businesses founded by women ultimately deliver higher revenue—more than twice as much per dollar invested—than those founded by men"