It has been two years since victory-through-vaccination was declared in Israel. Let's check in and see how the county "did" as the Covidians say (the implication being that preserving lives from SARS-CoV-2 is the only goal of a human or a government and therefore the proper way to measure the overall success of a society is by a single excess deaths number).
Israel was a Covidian Dream State second only to China. Israel closed schools and businesses, made it illegal for people to gather and socialize, forced the peasants to wear masks, forced people to get vaccinated by excluding them from jobs, public places, etc. if they #Resisted. Israel did not suffer from the malgovernance of Donald Trump, who told Americans to inject bleach and steal their dogs' ivermectin heartworm pills. Israel obtained the Sacrament of Fauci from Pfizer sooner than any other country. Given the proven effectiveness of mRNA vaccines, if any country could have escaped the ravages of COVID it should have been Israel.
What was the result? A dramatically worse outcome than in no-mask, no-lockdown, later-to-the-vaccination-party Sweden (Our World in Data):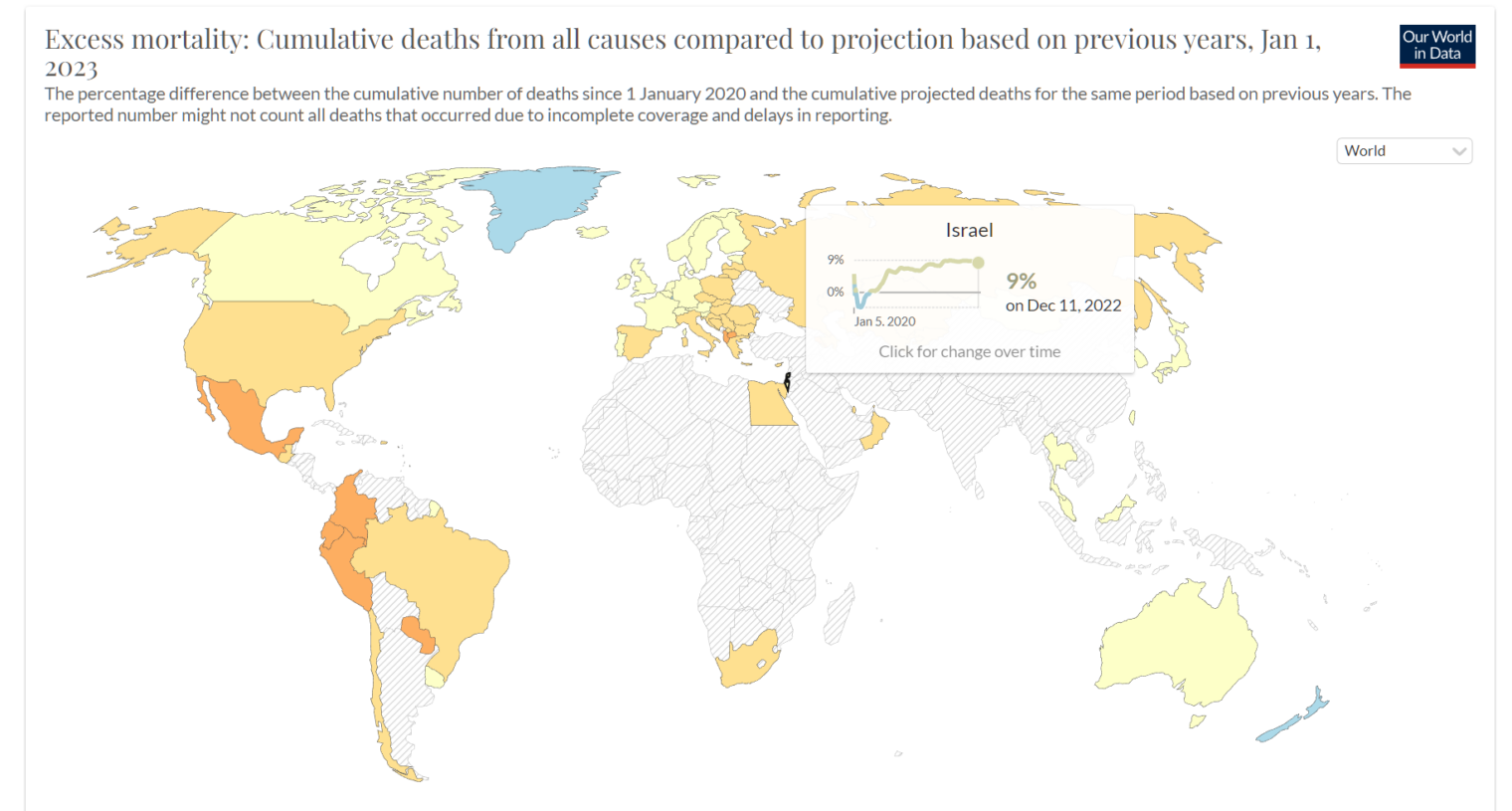 Sweden suffered from 5% excess deaths over three years of coronapanic while Israel suffered 9%. What could be worse than that? Well… what if we adjust for demographics? We are informed by the CDC that COVID primarily kills infants and toddlers, which is why it is critical to ensure that year-old babies get their bivalent booster as a 4th shot. If we ignore CDC guidance and use Maskachusetts and international data that COVID kills at a median age of about 80, we would have expected Israel to suffer much less than Sweden from COVID. Israel's median age, says the Google, is 30.5 versus 41.1 in Sweden.
Sweden is tough to beat, you say, because Anders Tegnell, MD, PhD was so smart? At least Israel beat the U.S., right? The above map shows that the U.S. suffered a 14% rate of excess deaths. However… the median age in the U.S. is 38.1.
If we adjust for age, therefore, it is quite possible that Israel, despite meeting all of the conditions of a Covidian Dream State, actually "did worse" than the packed-with-Deplorables United States!
Related: