The proven-false Great Replacement Theory:
The Great Replacement … is a white nationalist far-right conspiracy theory disseminated by French author Renaud Camus. The original theory states that, with the complicity or cooperation of "replacist" elites, the ethnic French and white European populations at large are being demographically and culturally replaced with non-white peoples—especially from Muslim-majority countries—through mass migration, demographic growth and a drop in the birth rate of white Europeans.
Let's check "Why Black Families Are Leaving New York, and What It Means for the City" (New York Times, last month):
Athenia Rodney is a product of the upward mobility New York City once promised Black Americans. She grew up in mostly Black neighborhoods in Brooklyn, graduated from public schools and attended a liberal arts college on a full scholarship. She went on to start her own event-planning business in the city.

But as Ms. Rodney's own family grew, she found herself living in a cramped one-bedroom rental, where her three children shared a bunk bed in the living room. It was hard to get them into programs that exposed them to green spaces or swim classes. As she scrolled through friends' social media posts showing off trampolines in spacious backyards in Georgia, the solution became clearer: Leave.

Last summer, the family bought a five-bedroom home in Snellville, Ga.

The Rodneys are part of an exodus of Black residents from New York City. From 2010 to 2020, a decade during which the city's population showed a surprising increase led by a surge in Asian and Hispanic residents, the number of Black residents decreased.

Citywide, white residents now make up about 31 percent of the population, according to census data, Hispanic residents 28 percent and Asian residents nearly 16 percent. While the white population has stayed about the same, the Asian population grew by 34 percent and Hispanic population grew by 7 percent, according to the data.
Migrants will enjoy the diverse entertainment and cultural opportunities of New York City previously enjoyed by native-born Black Americans, who are being pushed out to places that elite New Yorkers wouldn't consider visiting for a day, much less relocating to. However, it would be false to call this a "replacement."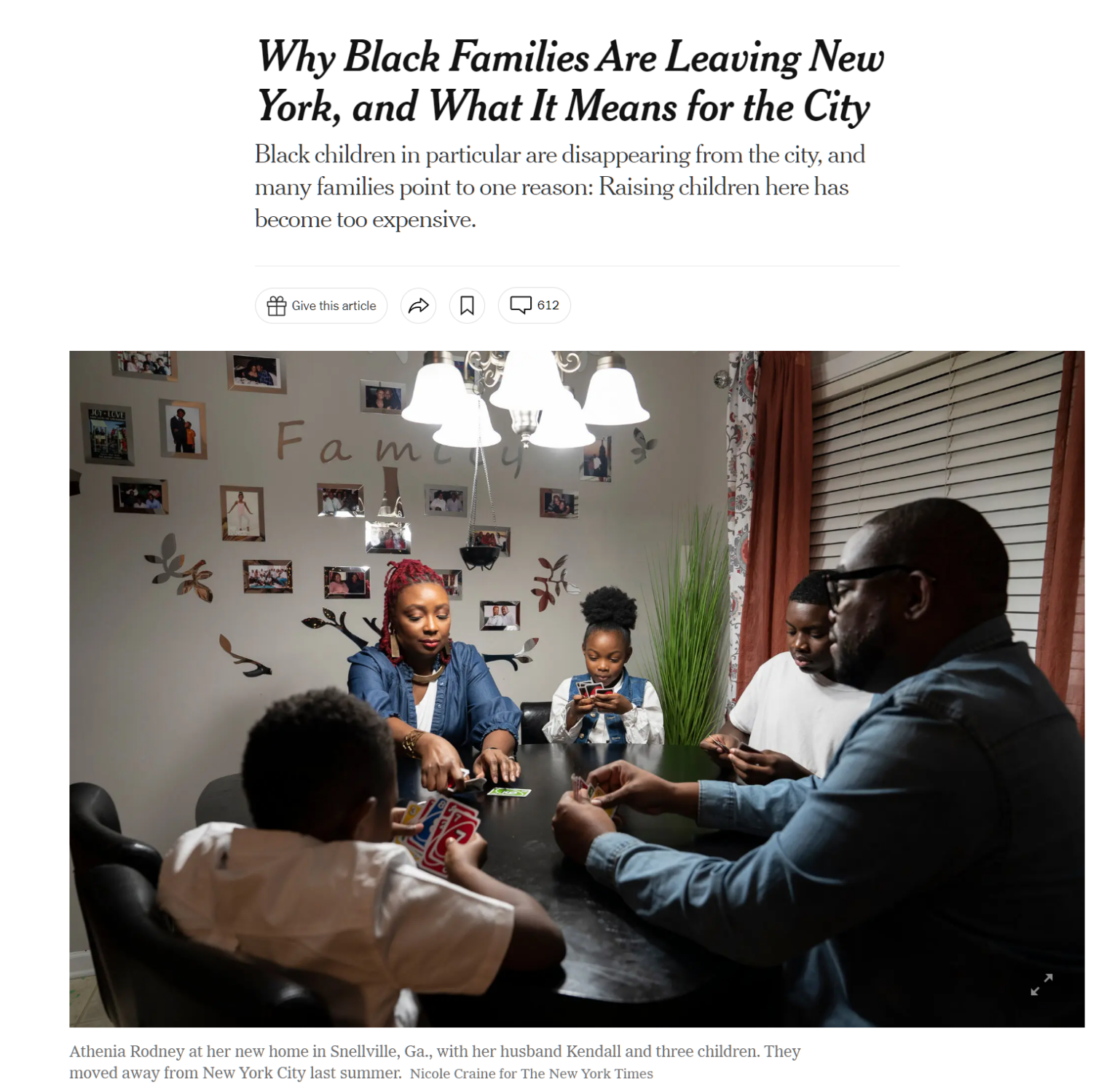 Related: