Continuing to mine The Courage to Be Free: Florida's Blueprint for America's Revival, an introduction to Ron DeSantis for non-Floridians…
One area where Ron is out of step with the American mainstream is in thinking that there should be consequences for government incompetence. For example, Mary Daly, who focused on the diversity crisis at the San Francisco Fed (NYT) while SVB and First Republic were accumulating risk, would be fired in Ron's ideal world.
By the time I became governor, it was clear that the victims [of the Marjory Stoneman Douglas High School shooting, which happened a year prior to DeSantis becoming governor] and their families had been failed by both Broward County sheriff Scott Israel as well as the Broward County school district. The Florida Legislature responded to the tragedy by enacting a series of firearms restrictions, which my predecessor signed into law. I campaigned saying that I would have vetoed those restrictions on Second Amendment and constitutional due process grounds. This was a tough position to take, as it was a very emotional time, and there was a natural human desire to "do something." But when it comes to fundamental rights, those times are the times when defending them is so essential. Rather than a firearms issue, I viewed the Parkland massacre as a catastrophic failure of leadership that cried out for accountability. As someone who had been serving in Congress, I was frustrated that government failures almost never resulted in any real consequences. If an average American posted something politically incorrect on social media, an online mob might very well get that individual "canceled," including termination of employment. But if a government agency abused its authority or failed in its basic duties, the result, invariably, was essentially nothing in the way of accountability.

After taking office, I acted very quickly to suspend the Broward County sheriff. I had been consulting with a few of the Parkland parents, and they were very hopeful that I would hold the sheriff accountable. He was mired in multiple scandals, including his department failing to stop the shooter despite receiving forty-five calls about him or his household.

Under Florida law, a constitutional officer suspended by the governor has the right to a trial in the Florida Senate; if the Senate agrees with the governor's decision, then the official's suspension becomes a permanent termination. Scott Israel challenged my decision in front of the Florida Senate and lost. Justice was served. I also petitioned the Florida Supreme Court to convene a special grand jury to investigate the failures of school security in counties like Broward. This grand jury ended up leading to the resignation of the superintendent of schools and provided a series of recommendations for reform, including removing several members of the Broward County school board, whom I suspended after the final report became public in 2022.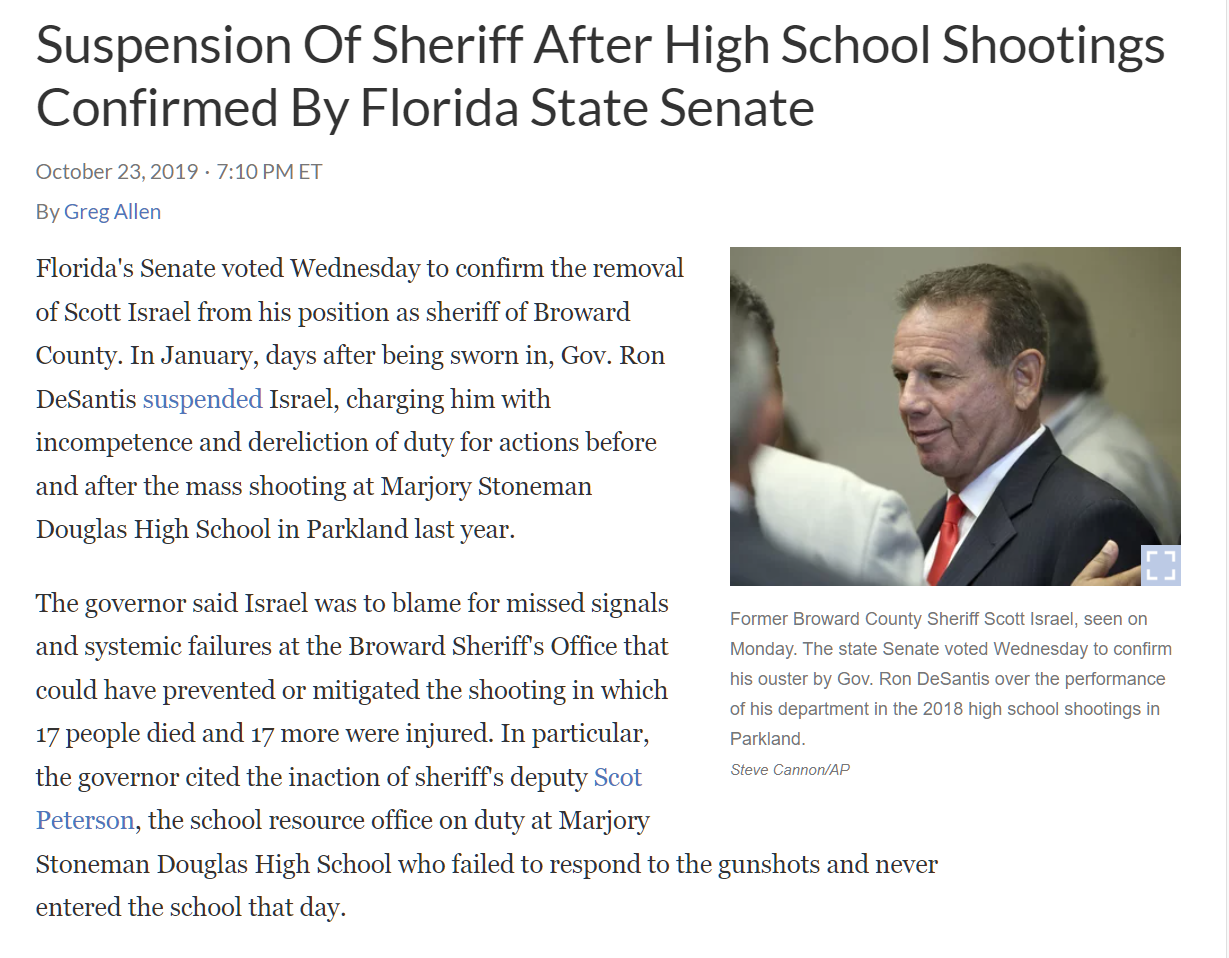 [Ron DeSantis might say "yes" to How about decimation for the Memphis police department and city government?]
Note that highlighted part. DeSantis is like the dissenters in Korematsu v. United States. FDR said that the Constitution didn't give Japanese-Americans the right to walk around in freedom #BecauseEmergency (same reason that the Nuremberg Code did not prevent coerced injection of experimental drugs into children; #Coronamergency). The dissenting justices said "What are these Constitutional protections for, then, if not when a president chooses to declare an emergency?"
No matter how whipped up into panic the average American becomes, Ron D is going to do his own analysis and try to act rationally even when everyone else is behaving irrationally.
I refused to do any polling at all once I became governor. When someone does a poll, it provides, at best, a static view of how voters respond to certain issues, but it cannot tell you how people will view a dynamic push for certain policies. If leadership was nothing more than dutifully following poll results, then it would not be in such short supply. A leader does not meekly follow public opinion but shapes opinion through newsworthy actions. If I set out a vision, execute on my governing plan, and produce favorable results, then public support will follow.
We are informed that Republicans are the party of Jew-hatred. But it seems that Ron DeSantis did not get the ADL's memo. He tells a story about media- and government-selection experts being failures as prophets. It is unfortunate, from my point of view, that he puts double quotes around the word expert.
One major foreign policy issue that I cared about deeply was the relocation of America's embassy in Israel from Tel Aviv to Jerusalem. During the 2016 campaign, Donald Trump promised that, if elected, he would move the US embassy in Israel to Jerusalem. US law since the 1990s identified Jerusalem as the capital of Israel and, as a result, the proper site of the US embassy, but the law included a waiver provision (in classic DC style) that allowed presidents over two decades to punt on relocation of our embassy every six months—even though Presidents Clinton and Bush had promised to move it.

From my seat in the House, I wanted to create a sense of inevitability about the relocation of our embassy. In 2017, I led a small mission to Israel to scout out possible sites in Jerusalem for the new US embassy. I looked at a handful of possible locations, and the site I thought was the best ended up being the site that was selected by the Trump administration. Before I left, I held a press conference at the King David Hotel in Jerusalem to recount what we did on the trip and to express my view that President Donald Trump promised to move our embassy to Jerusalem, and he will be delivering on his promise.

The next month, President Trump announced that the United States would be relocating its embassy in Israel to Jerusalem. The formal ceremony in May 2018 was a major event, which I attended in person. It was a great day and should have occurred years earlier.

This was an example of why following the advice of the conventional DC expert class is almost always a mistake. Especially when they predict imminent doom.

"What would happen if the US moved our embassy?" I asked. The consistent response from these so-called experts was that relocating our embassy to Jerusalem would be a geopolitical disaster. None even entertained the idea that moving our embassy would serve our national interests. Looking back on it, these were supposed to be our top experts in matters of diplomacy and intelligence, but they were dead wrong about the impact of the move. This experience confirms the bankruptcy of our bureaucratic "expert" class. Time and again, from weapons of mass destruction in Iraq to the financial crisis of 2008 to the response to COVID-19, America's bureaucratic elites have whiffed when it counted.
I continue to believe that Ron D faces an uphill battle in any general election. Americans' faith in bureaucratic elites remains stronger than ever. The majority bought into Faucism and the dramatically lower percentage of excess deaths in no-mask no-lockdown Sweden (6%; see map) compared to the typical Faucist country has not shaken anyone's faith in Faucism. (Example: "What Worked Against Covid: Masks, Closures and Vaccines" (Wall Street Journal, March 17, 2023) does not even bother to look at Sweden vs. European lockdown and mask champs nor at Florida versus the lockdown states. And that's in a conservative newspaper!) We also shouldn't forget that a higher percentage of Americans are dependent on government than at any time in history due to the massive expansion of government that began in 2020 with coronapanic as the justification. That's going to make it tough for any politician who suggests that government spending be limited in any way. Point 1 of the DeSantis agenda articulated in his 2019 inauguration speech:
Promoting a fiscally responsible government that taxes lightly and regulates reasonably
This is the opposite of what the majority of Americans want. A typical American votes for a fiscally lavish government funded by taxes on successful corporations and anyone richer than he/she/ze/they is (though, of course, what is delivered is a government funded by borrowing/inflation and taxes on the peasants).
Ron also promised, in that speech:
Ushering in a new era of conservation for Florida's waterways and Everglades
(and delivered, according to the Everglades Trust!). This is presumably popular, except with Big Sugar, but I can't imagine government-dependent Americans thinking that this commitment to the environment outweighs their own paychecks.