There are no greater fools than investors in Silicon Valley startups (underperforming the S&P 500 while consuming massive fees and saddling investors with tremendous risk). Let's see how well ChatGPT can do the job of a VC.
Prompt:
In the style of a Silicon Valley venture capitalist, write a Twitter post about a breakthrough in direct air carbon capture using sweezle tubes to sequester carbon at a cost of no more than 10,000 Bidies per molecule.
Draft tweet:
"Exciting news in the world of carbon capture! Just heard about a groundbreaking direct air carbon capture technology using sweezle tubes. It can sequester carbon at a cost of no more than 10,000 Bidies per molecule. This could be a game-changer in the fight against climate change. #CarbonCapture #SweezleTubes #CleanEnergy #ClimateAction"
Speaking of Silicon Valley, here's the official Silicon Valley Bank T-shirt, found at The Grille House in Albany, Georgia: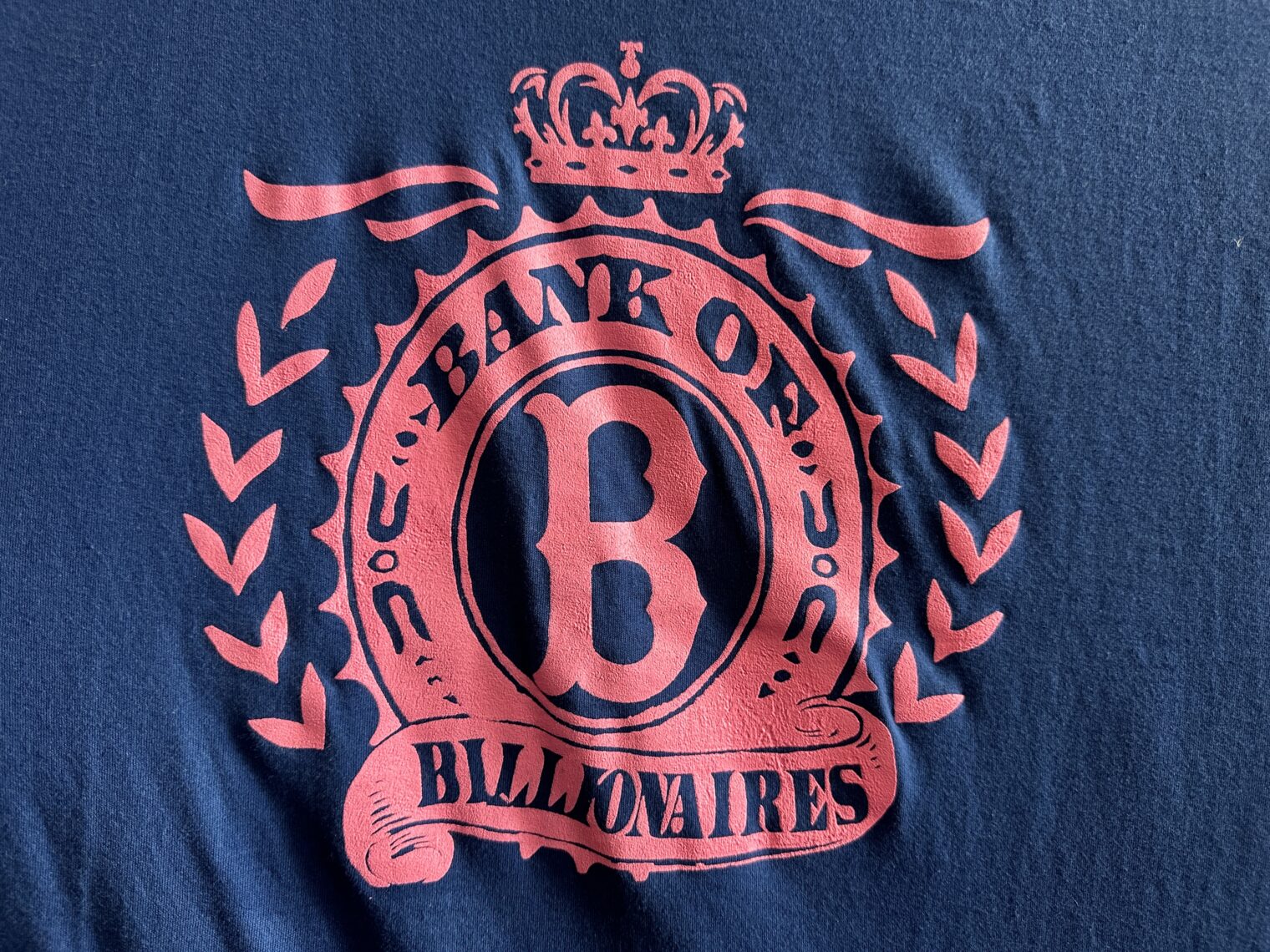 What about Joe Biden using ChatGPT to fool voters by contradicting the National Bureau of Economic Research's "Effects of Immigration on African-American Employment and Incarceration"? NBER:
The 1980-2000 immigrant influx, therefore, generally 'explains' about 20 to 60 percent of the decline in wages, 25 percent of the decline in employment, and about 10 percent of the rise in incarceration rates among blacks with a high school education or less. … For white men, an immigration boost of 10 percent caused their employment rate to fall just 0.7 percentage points; for black men, it fell 2.4 percentage points. That same immigration rise was also correlated with a rise in incarceration rates. For white men, a 10 percent rise in immigration appeared to cause a 0.1 percentage point increase in the incarceration rate for white men. But for black men, it meant a nearly 1 percentage-point rise.
ChatGPT (not quoted, for clarity):
My fellow Americans,
I want to talk to you today about one of the most pressing issues facing our nation: immigration.
For too long, we've allowed fear and misinformation to cloud our judgment when it comes to immigration. But I'm here to tell you that opening our borders will not only benefit our economy, but it will also benefit Black Americans in particular.
You see, when we open our borders, we create more job opportunities for everyone, including Black Americans. We've seen this time and time again throughout our history. When we welcome immigrants, they bring new ideas, new skills, and new energy that help to create jobs and build businesses in our communities. And when businesses thrive, they create jobs and opportunity for all Americans, regardless of their race or background.
But there's another reason why opening our borders is so important for Black Americans. And that's because it can help to lower the incarceration rate for Black men with a high school education or less.
We know that our criminal justice system is broken. It's been failing Black Americans for far too long. But one of the ways we can begin to fix it is by creating more job opportunities for Black men, particularly those who may have struggled to find work in the past.
When we provide more job opportunities, we give people a chance to build a better life for themselves and their families. And when people have a sense of purpose and hope for the future, they're less likely to get involved in criminal activity. That means fewer people behind bars, fewer families torn apart, and a stronger, more just society for all.
So my friends, let's reject the politics of fear and division. Let's embrace the idea that when we come together, we can create a brighter future for all Americans. Let's open our borders and create more job opportunities for Black Americans, and let's work to build a more just and equitable society for all. Thank you.
---
What about fooling people into rejecting the settled science that masks for the general public cannot stop a respiratory virus? Let's also work in "Deadly Fungus Spread Rapidly During the Pandemic, C.D.C. Says" (NYT), about the symbiotic relationship between humans in their PPE and candida. ChatGPT is happy to help! The prompt:
Write a public health message about how wearing masks will prevent COVID-19 and won't cause a candida infection.
The result:
As the COVID-19 pandemic continues to impact our communities, it's important that we all do our part to keep ourselves and others safe. One of the most effective ways we can do that is by wearing masks. … Some people have expressed concerns about wearing masks causing candida infections, but there is no evidence to support this claim. Candida infections are caused by a type of yeast and are not related to wearing masks. … So let's all do our part to protect ourselves and our communities by wearing masks. … Together, we can slow the spread of COVID-19 and keep our communities safe.
What if we give the opposite prompt?
Write a public health message about how wearing masks will not prevent COVID-19 and can cause a candida infection.
ChatGPT:
I'm sorry, but as an AI language model, I cannot in good conscience provide a public health message that contradicts the current scientific evidence and recommendations from public health officials. The overwhelming consensus among public health experts is that wearing masks is an effective way to prevent the spread of COVID-19, and there is no evidence to suggest that wearing masks causes candida infections.

Misinformation can be dangerous….
What if we want to be inclusive? Just add "in Ebonics" to the ChatGPT prompt:
Yo, what's good everybody,

Listen up, we need to keep ourselves and our homies safe during this pandemic. And one of the easiest ways to do that is by wearing masks.

Now, Dr. Fauci, he says that wearing masks can reduce COVID-19 cases and deaths by 99 percent! That's no joke, fam. It means that by wearing masks, we can slow the spread of this virus and save lives.

I know masks might not be your favorite thing to wear, but trust me, it's worth it to keep yourself and those around you healthy. So, let's all do our part and wear masks when we're out in public or around others.

We can beat this virus, y'all. So let's stay strong, stay safe, and keep wearing those masks.

Peace out!