NCAA is supposed to boycott states that do not practice Rainbow Flagism. "N.C.A.A. Ends Boycott of North Carolina After So-Called Bathroom Bill Is Repealed" (NYT, 2017):
The N.C.A.A. on Tuesday "reluctantly" lifted its ban on holding championship events in North Carolina, removing its six-month-old prohibition less than a week after the state's Legislature and governor repealed a so-called bathroom bill that had led to boycotts of the state.

The organization, which governs college athletics, said in a statement that the law's replacement in North Carolina had "minimally achieved a situation where we believe N.C.A.A. championships may be conducted in a nondiscriminatory environment."
Where were the March Madness basketball games held? Among other places, Florida and Texas. Both of these states are on the official California boycott list for their insufficient devotion to the 2SLGBTQQIA+ community (2021):
California is adding Florida and four other states to its official travel ban list after Attorney General Rob Bonta said Monday the states passed anti-LGBTQ laws that are "directly targeting transgender youth."

Before Bonta's announcement Monday, 12 other states were already on the California ban list: Alabama, Idaho, Iowa, Kansas, Kentucky, Mississippi, North Carolina, Oklahoma, South Carolina, South Dakota, Tennessee and Texas.

California in 2017 banned state-funded travel to Texas after the nation's second most-populous state allowed agencies to reject adoptions by LGBTQ couples based on religious reasons.
Here are NCAA basketball tournament cities for 2023 that are in no-go locations for righteous Californians:
Birmingham, Alabama
Des Moines, Iowa
Orlando, Florida
Greensboro, North Carolina
Louisville, Kentucky
for the Final Four… Houston, Texas ("Due to existing Texas laws, abortion is now banned in Texas." says the leading abortion care industry vendor)
Why not rename this event "The Tournament of Hate"? And what happened to NCAA's principles between 2017 and 2023?
Separately, note that South Florida is home to 50 percent of the Final Four teams with Florida Atlantic University (sounds private, but is state-run) and University of Miami (sounds state-run, but is private).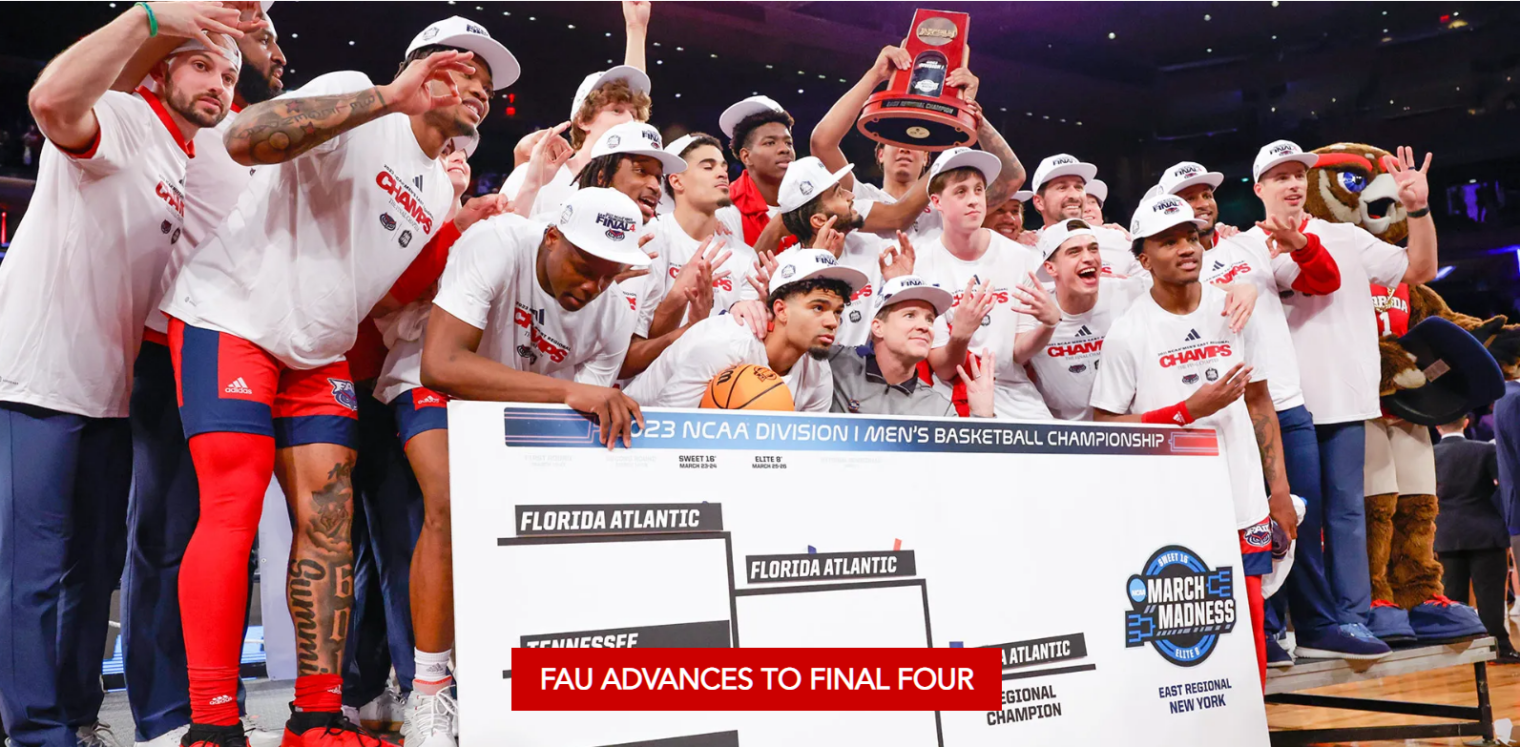 Related:
"I'm calling on the NCAA to boycott Texas (again) after SCOTUS allows abortion ban" (Deadspin, 2021): From lifting mask mandates to trying to control women's bodies – the NCAA should stop hosting events in the Lone Star State … "This extreme Texas law blatantly violates the constitutional right established under Roe v. Wade and upheld as precedent for nearly half a century," President Joe Biden said in a statement. … In March, I suggested that the NIT and the NCAA Women's Tournament consider boycotting Texas after Gov. Greg Abbott lifted the mask mandate.
if you love sports and roasting/basting in Miami's summer weather, the May 5-7 Formula 1 race (only $590 to attend, but that doesn't include a seat)