I've long yearned for a state-by-state map that has similar "excess death" data to what Our World in Data delivers for countries (no-lockdown no-mask-order Swedes holding steady at 5%, substantially lower than the countries celebrated for their police- and military-enforced lockdowns).
Courtesy of heretic Stanford Medical School professor Jay Bhattacharya, I finally have one! It's from the cheerfully named web site "US Mortality". Here's a link directly to the map: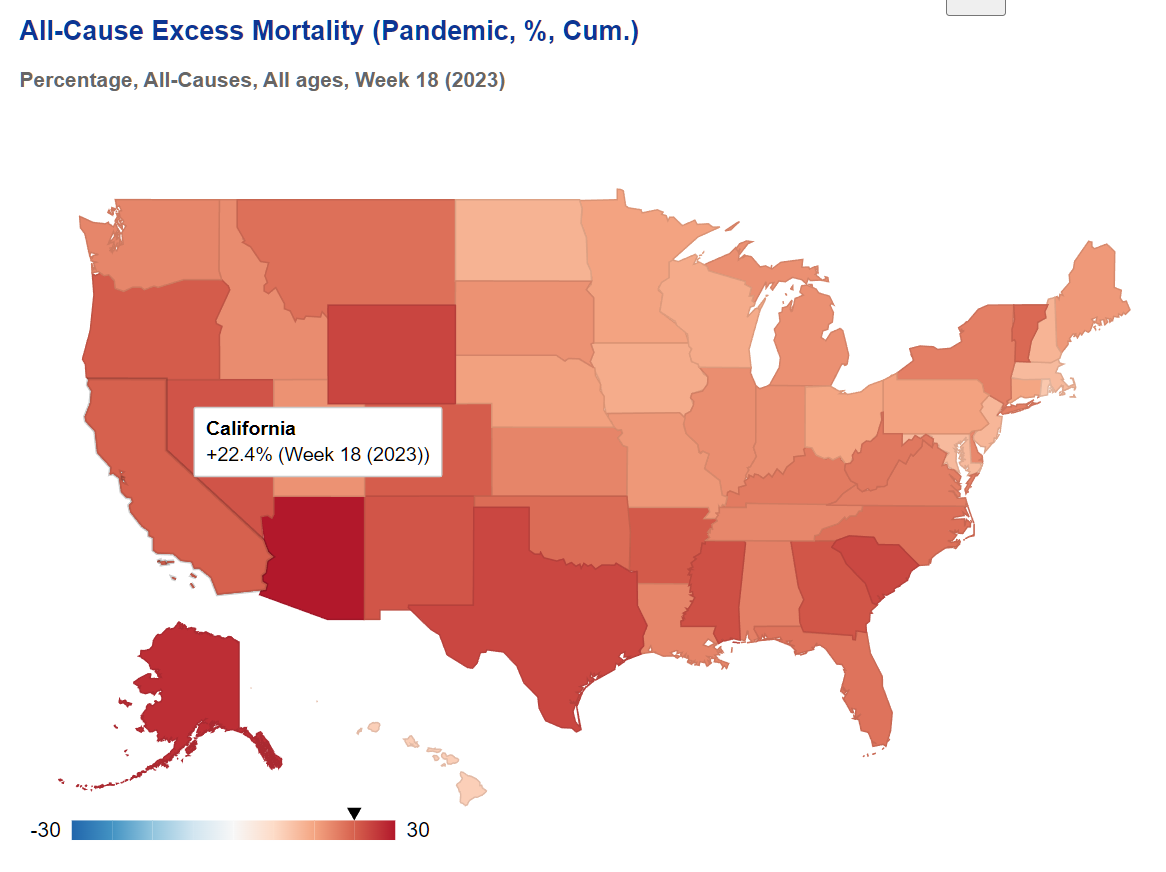 In my opinion, the map tends to show that the Church of Sweden MD/PhDs were correct when they predicted, back in March 2020, that government policies in the West would have at best a small effect on total death rate. How does the map show this when different states are in different colors? SARS-CoV-2 likes to kill those of us who are carrying extra pounds. Here's a CDC map of adult obesity: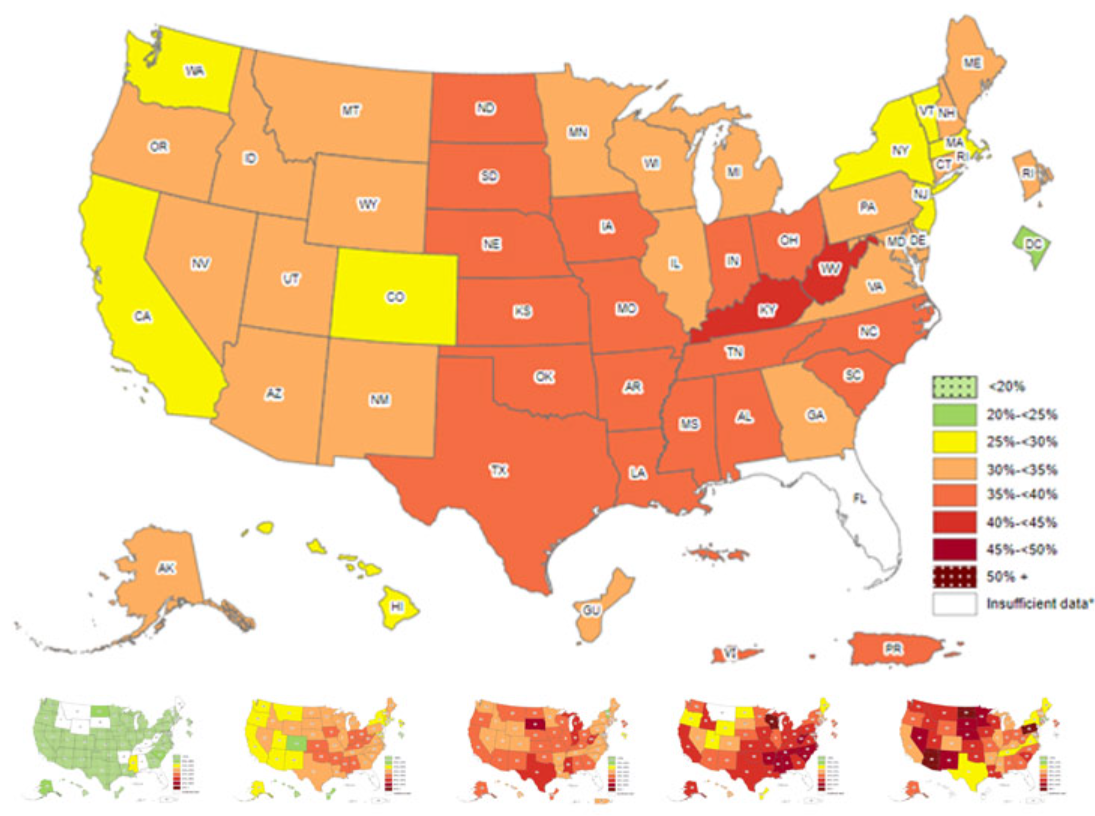 (No data for Florida? You'd think those CDC folks would love to be on South Beach and Marco Island rating body shapes!)
To my eyes, the obesity map explains most of the pattern that we see in the excess deaths map. (You'd also want to look at percent of population over 65; a state that is all young people should have an extremely low rate of both COVID deaths and excess deaths.)
A few highlights…
California with its Science-following fully-masked schools-closed vaccine-papers-checking population suffered 22.4% excess deaths compared to 20.4% in Science-denying irresponsible Florida (inherently vulnerable due to 21% of population over 65). Considering how many Californians were paid to stay home (either working as members of the laptop class or not-working as members of the welfare class) and considering that Californians are slender (CDC map) and young (only 15% of population over 65), this might be the worst performance among all states. Colorado was a close second (slender, young, and a 22.8% excess death rate).
The geniuses at University of California, Berkeley celebrated Vermont, Alaska, and Maine as "the three most effective states in responding to the coronavirus pandemic last year". How did the Scientific prediction from March 2021 work out? Without a city of substantial size, Vermont had 21.5% excess deaths, almost the same as New York (19.1%). Alaska was off-the-charts bad at 27.7%. Maine turned in a reasonable 16.3% performance, so long as you didn't mind lockdowns, mask orders, school closures, and vaccine coercion (through May 13, 2022).
Kristi Noem was pilloried for refusing to follow Faucism in South Dakota, but her state had 17.1% excess deaths despite a high percentage of obese adults (see CDC map above).
Kentucky's Democrat governor was celebrated for "halting the spread of COVID-19" while the Republican fool running Tennessee was slow to order lockdowns (The Guardian). Tennessee ended up with a lower excess death rate. (Possibly explained by a higher obesity rate.)
Not counting Hawaii, Maskachusetts and New Jersey had the lowest rates of excess deaths. Some of this is probably explained by the fact that people in MA and NJ are virtuously thin (CDC map). There are also a large percentage of laptop class folks in both states who were able to stay home in their suburban bunkers. But maybe I will be forced to admit that closing Boston schools for more than a year, ordering people to wear cloth face rags on quiet suburban streets, and demanding that children show their vaccine papers were effective measures!
(People who aren't cisgender white heterosexuals might nonetheless want to avoid Massachusetts, home to "the country's second-highest number of white supremacist propaganda incidents in 2022" (considering the small population of the state, this is off-the-charts bad per capita). "Hate in the Bay State: Extremism & Antisemitism in Massachusetts, 2021-2022" (ADL):
Amidst increasing nationwide threats to the LGBTQ+ community, Massachusetts has also witnessed a spike in anti-LGBTQ+ activity, including waves of harassment against Boston Children's Hospital, drag performances and LGBTQ+ events. And as the numbers of antisemitic incidents continue to rise across the country, Massachusetts was no exception. According to ADL's annual Audit of Antisemitic Incidents, it was the sixth most affected state in the country in 2022.

Massachusetts saw a dramatic rise in antisemitic incidents, according to ADL's annual Audit of Antisemitic Incidents. In 2022, the number of incidents increased 41% over 2021 levels…

ADL documented 34 white supremacist events in the state in 2021 and 2022, including protests, meetings, flash demonstrations, banner drops and marches.

In 2022, ADL documented 465 instances of white supremacist propaganda distribution across the state, an increase of 71% from 2021 (272).

In May 2022, a student in Waltham brought a knife to school, threatened his Jewish classmates and held the knife to the throat of a Jewish classmate.

Since 2021, the Nationalist Social Club, also known as NSC-131, has grown rapidly to become one of New England's most active white supremacist groups; their presence is particularly robust in Massachusetts.

Massachusetts is a hotbed for anti-LGBTQ+ extremism, which increased nationwide in 2022

Patriot Front is a Texas-based white supremacist group with members all over the country, but they have become increasingly active in Massachusetts because of the state's ties to the founding of the United States.
The last point strikes me as odd. Wouldn't the Patriot Front need to find enthusiastic supporters in a state in order to be "increasingly active"? The history of the state doesn't seem relevant.
The mention of Waltham made me nostalgic. When we lived in adjacent Lincoln I used to offer neighbors whose lawns sported Black Lives Matter signs a free trip to Waltham in our minivan: "You can have a look at some actual Black people." This did not make me as popular as I expected.)