A cousin is a Scientist (i.e., a physician). He is married to a woman with some Deplorable and Deplorable-adjacent relatives. He recently described getting into a fight with the in-laws in late 2021. He and his wife spent some time in their secure all-Democrat enclave with a filthy unvaccinated 19-year-old cousin visiting from disgusting Florida. The girl appeared to be in perfect health. Shortly afterwards, the wife came down with some symptoms consistent with COVID-19. He then waxed expansively to the Deplorable side of the family regarding his regrets that he had allowed this filthy unvaccinated girl within 100′ of his wife. The wife did not speak to her relatives for more than a year and the rift caused by this discussion remains open in 2023.
Our conversation:
me: "Did [wife] actually get COVID from this girl?"
Dr. Cousin: "No. She tested negative and it never developed into anything more than a slight cold."
me: "Have you considered apologizing to the in-laws now that Science says COVID-19 vaccines don't prevent transmission?"
Dr. Cousin: "It's true that the vaccines were designed to prevent infection and transmission. They were designed to keep hospitals from being overwhelmed. But if everyone had taken them as soon as they were available, they would have stopped transmission."
In other news, Science told the Mayo Clinic to drop the masks: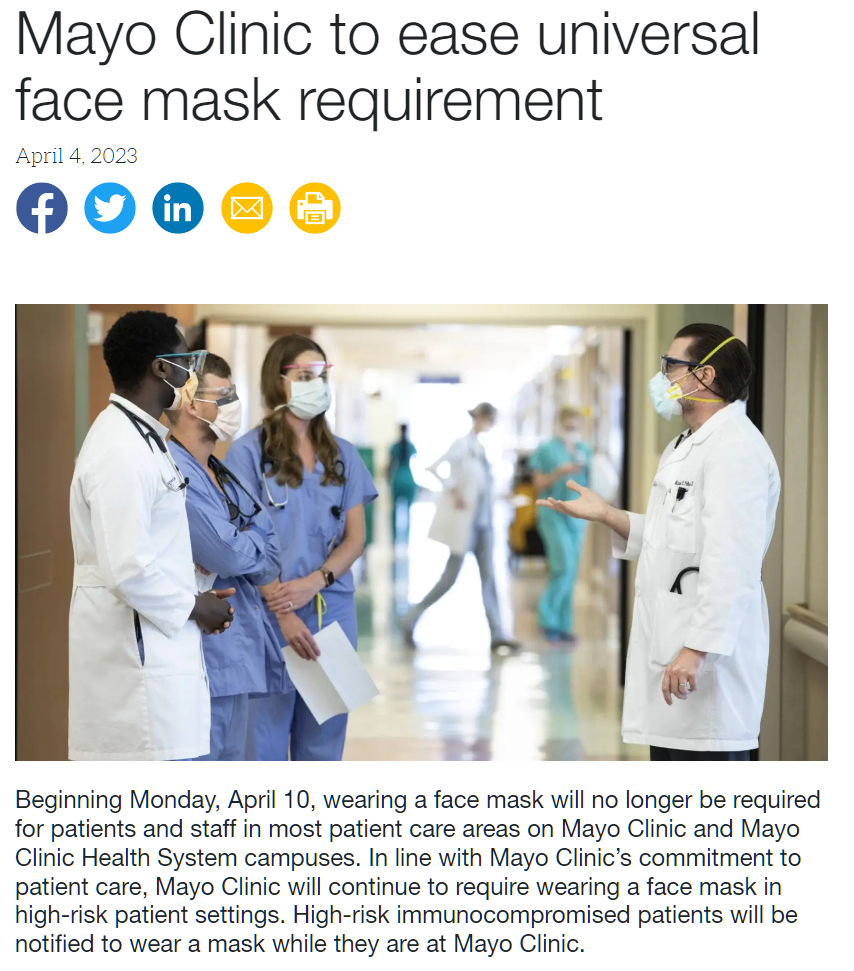 At the same time, Science told the Covidcrats in New York City to keep the masks:
(The depicted young people are Following Fauci by wearing cloth masks against an aerosol virus?)
By including "thank you for keeping your fellow New Yorkers safe", I think the Covidcrats of NYC are saying that cloth masks stop transmission, but vaccines don't (since the requirement to wear a simple mask applies even to those who have accepted the Sacrament of Fauci).
We are informed that Scientists have reached a consensus regarding the temperature of Planet Earth on January 1, 2100, yet those who Follow the Science cannot agree on masks-on vs. masks-off?
In case the above tweet is memory-holed, a screen shot: