"Unlawful Border Crossings Are Rising Fast After a Brief Decline" (NYT, September 19):
During President Biden's time in office, the number of illegal crossings has reached notable highs, exceeding levels seen during a prepandemic influx in 2019 during the Trump administration.

The administration said the decline in unlawful crossings in May and June was driven by new enforcement measures and new legal pathways for people to come to the United States.

Officials have attributed increases like these to several factors, including misinformation spread by the Mexican cartels that traffic drugs and smuggle migrants. Shelter workers, advocates and migrants say that some people who have been waiting months to access these legal pathways have grown impatient and are willing to take a risk.

Even as federal officials signal that there are consequences for illegal crossings, migrants who are given permission to stay in the country temporarily often tell family and friends in their home countries that they made it to the U.S. successfully. Such messages can encourage other migrants to take an often dangerous journey to the United States.

After crossing onto U.S. soil, most migrants turn themselves in to Border Patrol agents, with plans to apply for asylum, instead of sneaking into the country and trying to evade detection.
A few questions… The Newspaper of Record (TM) does not provide any examples of the misinformation that Mexican cartels are purportedly spreading. Are the cartels saying that those who cross the border and request asylum will be released and allowed to stay? That's exactly what New York Times says is happening:
This influx has strained the capacity of many border facilities where migrants are held for processing by the Border Patrol. And Immigration and Customs Enforcement detention centers, where many single adults are sent, are running out of beds. When shelters cannot accommodate migrants, authorities start to release them into communities.

"The Border Patrol essentially is releasing people as they process them to decompress their facilities," Diego Piña Lopez, director of the Casa Alitas shelter network in Tucson, said. "It is leading to street releases all over the place."
Is it "misinformation" if what the cartels are saying is true?
Also, if low-skill immigration makes existing Americans better off, why would anyone be upset by an increase in what the NYT calls "illegal crossings" (if it is legal to apply for asylum, how can any crossing be "illegal"?)?
Last year, a record of nearly 250,000 people traversed the Darién Gap, a jungle straddling Colombia and Panama, in an attempt to make it to the United States. This year, despite efforts by the United States to curb the flow, that number has risen to 360,000 as of Sept. 10, according to Panamanian authorities.
Why is the U.S. trying to "curb the flow" if immigration makes us better off or if, alternatively, those who are arriving are entitled to asylum and we continue to offer asylum?
Official stats on the migrants who choose to announce themselves to the CBP: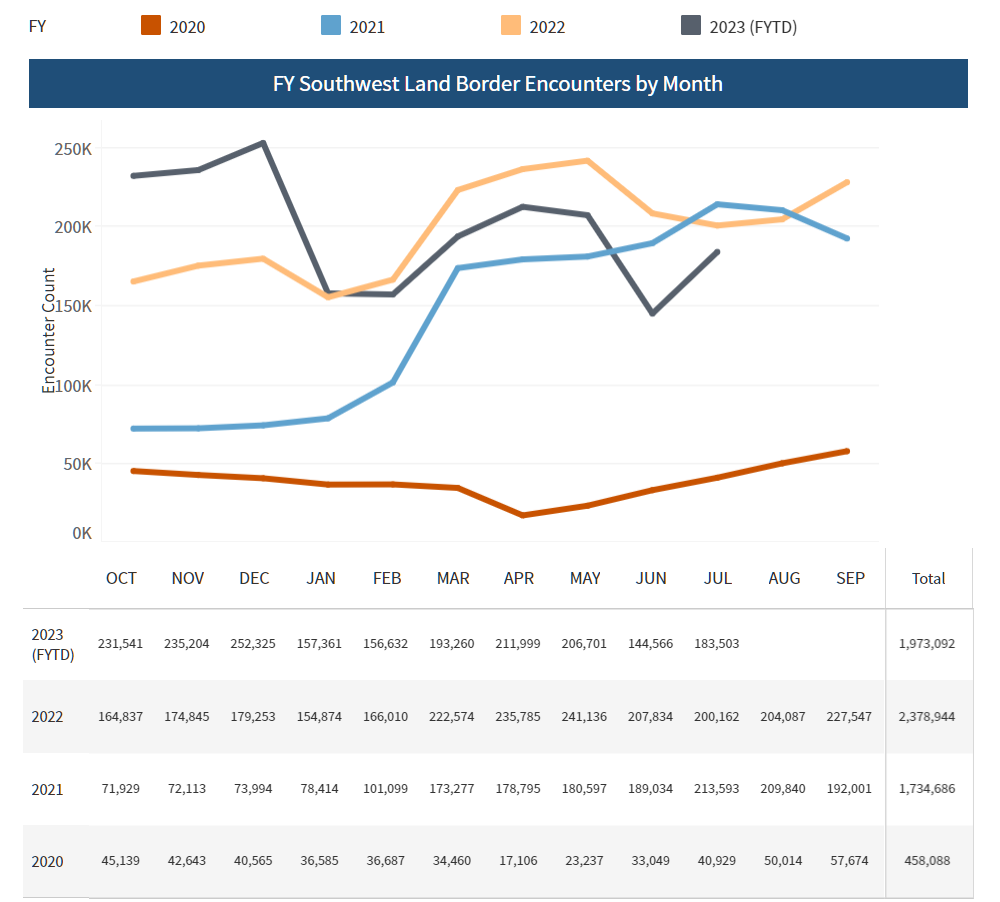 The last line is interesting. The U.S. was officially closed due to coronapanic and yet nearly half a million new Americans arrived and introduced themselves to the CBP officers (plus an unknown number who quietly migrated). Covidians say that we could have eliminated COVID-19 if every American had done his/her/zir/their duty by wearing a mask, staying home except for trips to the "essential" marijuana and liquor stores, etc. But how would a Zero COVID situation have been sustainable when 50,000+ walked across the border in September 2020? (the Federal fiscal year FY2020 ended in September 2020)
Circling back to the main theme of this blog post… what are Mexican cartels saying? What is the procedure for getting them deplatformed or at least demonetized from YouTube, Facebook, and similar services?
Related:
"Biden administration to offer thousands of Venezuelans temporary protections" (Axios, yesterday): The Biden administration plans to offer nearly a half-million Venezuelan nationals temporary permission to live and work in the country legally, the Department of Homeland Security announced Wednesday night. … Venezuelans currently qualify for TPS if they arrived by March 8, 2021.
"US again extending temporary protected status for Haitians" (AP): "The Biden administration is allowing eligible Haitian nationals residing in the U.S. to apply for a new 18-month designation for temporary protected status, reversing a Trump administration effort that had sought to end the special consideration. … DHS initially designated Haiti for TPS in January 2010.." (i.e., "temporary" so far has been 13 years)