A friend's son is a high school senior. If he were "of color", his test scores, grades, and athletics would guarantee him admission to any of America's most elite universities. As a white kid, however, he is likely to be rejected by the usual elite suspects. I told him that he is likely to get a better education from professors whose actual job is teaching undergraduates. In other words, instead of a research university he should look at the four-year liberal arts colleges. Amherst, Swarthmore, and Williams, for example. He doesn't want to get tangled up in rainbow flags, BLM, and pro-Palestinian demonstrations, though. He has some unacceptable political points of view, e.g., that civilians should be able to own guns as an aspect of self-reliance.
His career interest is software engineering (so actually the most sensible plan would be to get a job as a software developer and do an online bachelor's in the evenings) and, therefore, his most likely major is computer science (which he will be dismayed to learn has very little to do with software engineering!). On the plus side, nearly every college or university in the U.S. now has a substantial CS department.
I suggested big state universities, such as University of Florida or University of Texas, as places where he could at least be protected by the First Amendment (schools run by a state government can't limit speech and impose religious orthodoxy the way that private colleges and universities can).
Are there any great or near-great four-year liberal arts colleges that don't enforce the Democrats' political dogma? What about the four-year colleges of the Midwest? Oberlin, obviously, can be crossed out. How about Carleton, Kenyon, and Grinnell? Or perhaps conservatives don't have to stay in the closet at Davidson College in North Carolina? There's Hillsdale College, of course, but spending four years hiding from elite progressives doesn't seem like a good idea either. First, the young man will have to learn how to deal with America's ruling class eventually. Second, if he has Hillsdale College on his resume that will be a black (not Black) mark preventing him from getting a job at enlightened employers such as Apple, Meta, Google, et al.
Let's check one of my "seek beyond the Northeast" ideas… the Davidson College (NC) home page: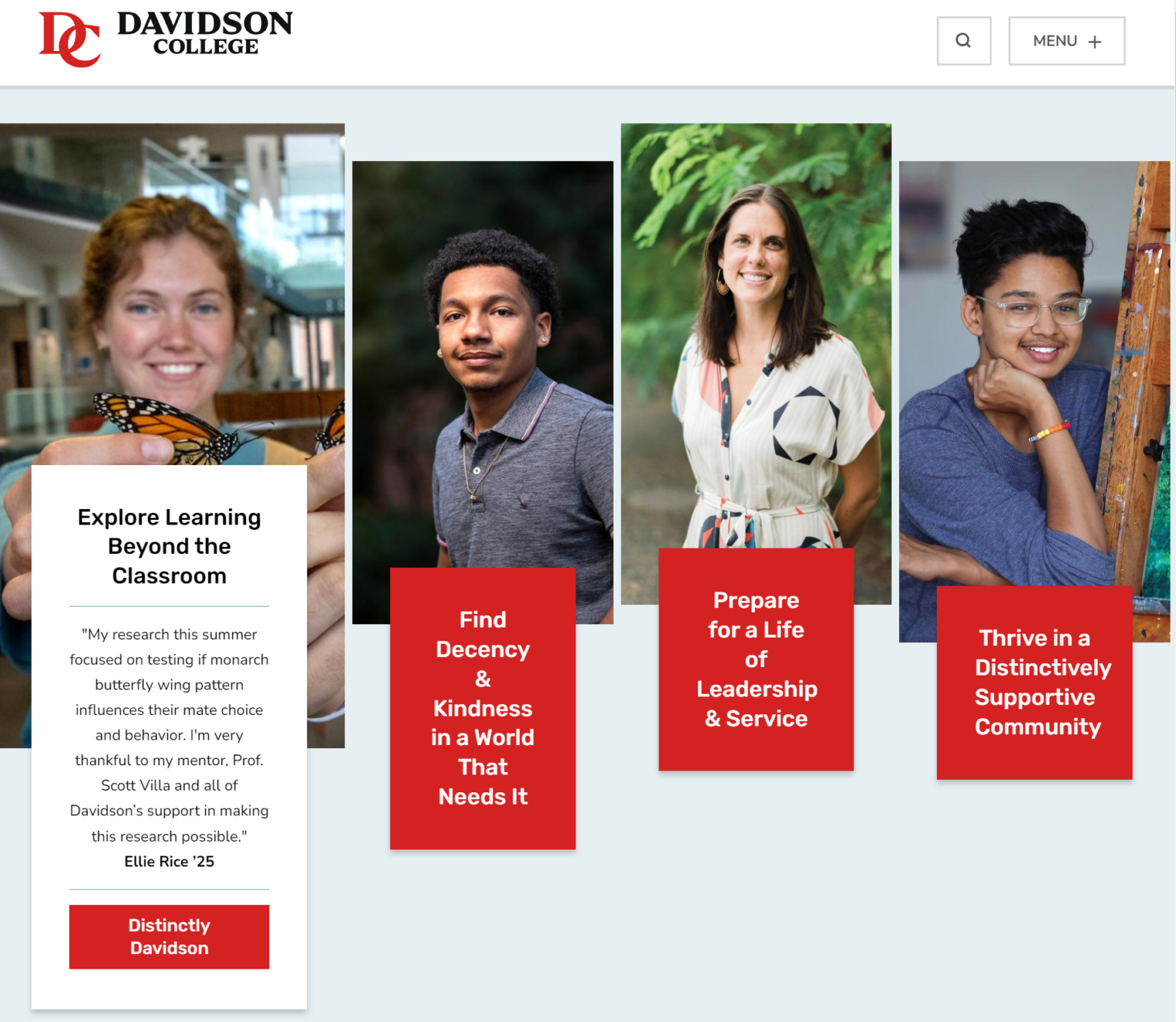 and scrolling down a bit…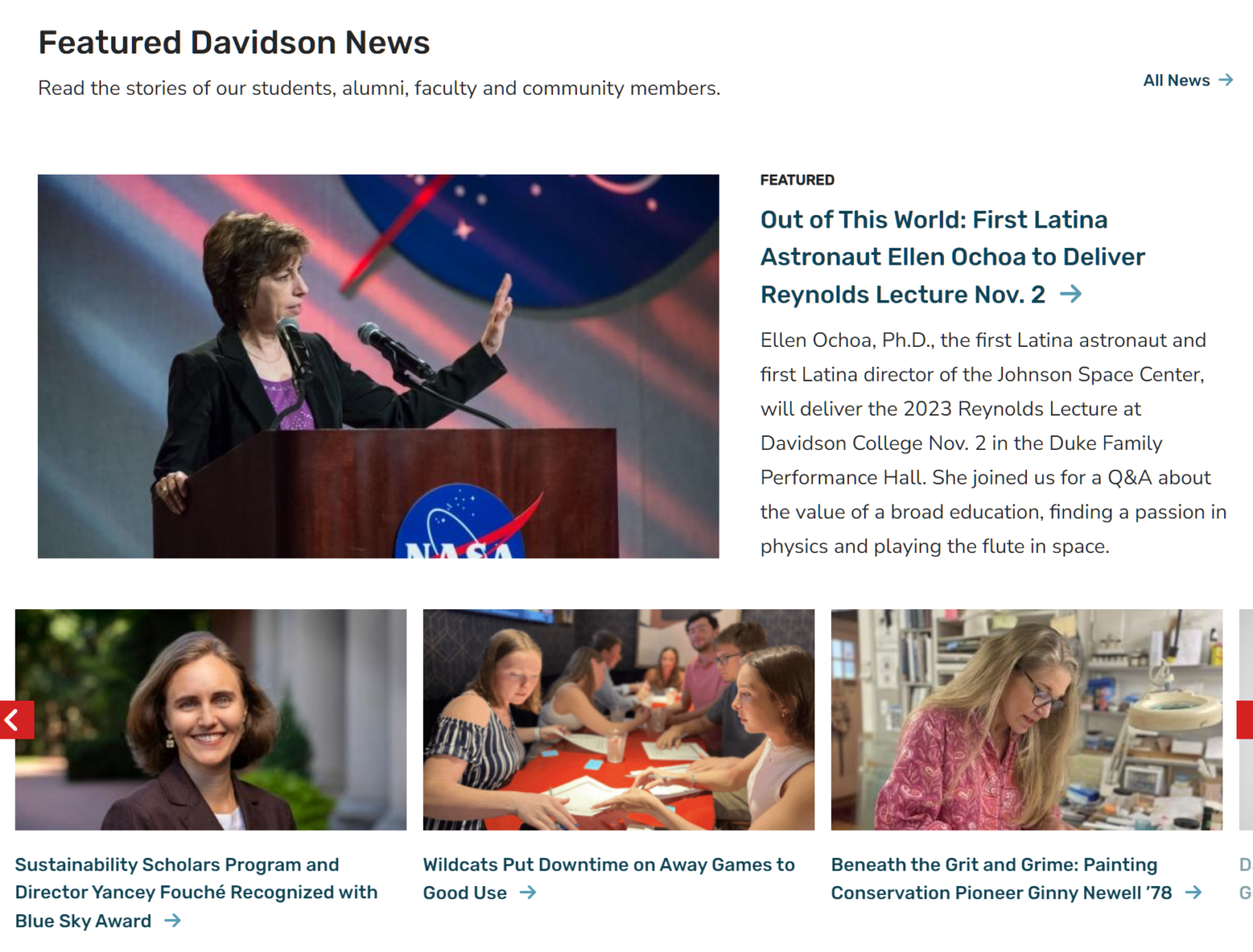 We are informed by the DEI experts that an insurmountable obstacle to success is being in an environment where "nobody looks like me". If the home page is anything to go by, therefore, Davidson College is not a place where a white man can experience "belonging".
The page links to a "Smith Lecture: Black Worlds at the Edge of Space-Time":
Dr. Chanda Prescod-Weinstein, theoretical cosmologist and particle physicist, will deliver the 2023-2024 Smith Lecture. She will describe the way that Black worldmaking practices overlap with questions of cosmic significance, all the while journeying to and from space-time's edge.
Maybe the home page isn't representative? Let's check broader numbers. "At Davidson College – a top-ranked elite N.C. school – only six percent of professors are Republican" (The College Fix, 2016):
Davidson College, an elite private university in North Carolina, has zero registered Republicans teaching in its political science department, and what's more, only six percent of the professors campuswide are registered Republican, according to educators' publicly registered party affiliations…
The school held a "Teach-In on Gaza":
Open to faculty, staff, students and the public. Mini Sessions on: A Visual Representation of Israeli Occupation, A Brief History of Anti-Zionist Solidarities, Western Responses to the Crisis, Palestinian Resistance as Abolitionist Struggle and Navigating Social Media Algorithms on Israel/Patestine [sic].
Perhaps this is further proof of the general theory that "All of Philip's ideas are bad"?