"Under the 10 Freeway: Immigrant businesses scraped by while landlord dodged Caltrans" (Los Angeles Times):
Their landlord, Apex, owned by Ahmad Anthony Nowaid, had failed to pay rent on the 48,000-square-foot triangular lot at South Alameda and East 14th streets for more than a year, and owed $78,000, according to Caltrans, which sued the company for back rent in September.

The property was one of five that Caltrans was attempting to evict Apex and another Nowaid company from, including a plot along the 5 Freeway in Sun Valley and another a block away from the fire. All told, Nowaid owed about $620,000 to Caltrans in unpaid rent as of September, the agency said in court filings.

In April, court records say, a Caltrans employee visited the lot and told tenants to stop paying their rent to Apex as the state planned to evict the company.

Several tenants, including Serafin, said they stopped paying Nowaid this month after receiving notice from the court to appear for the lawsuit in December. They said that the moment they stopped paying rent, Nowaid threatened to lock the gates again.
The story is interesting because you'd think that the government would have great access to its own courts, yet a California state agency was apparently unable to use the California state courts to evict a nonpaying tenant. Via their strong tenants rights laws, Californians managed to flambée their own 10-lane freeway (not sure if freeway is masculine or feminine in French, but in California it can identify as any gender, presumably).
Separately, the headline references "immigrant businesses". Diversity was supposed to be the freeway's strength. The primary tenant was named "Ahmad", an Arabic name that is a diminutive of "Mohammed". The article describes the subtenants as immigrants from Mexico. As a group, they should have been super strong, yet the article describes the result as economically marginal.
"I lost everything," Serafin said. "We are not educated people. Most of the people are people that crossed the border, work hard, or maybe grew up here. But we are working-class people. We break our back to barely make a good living."
The triangular tract was chaotic, with no clear entrance or address, and with unhoused people living in tents and trailers outside its gates. Graffiti was scrawled around the perimeter. Inside, workers and equipment shared close quarters amid the stacks of pallets.

Serafin said fires regularly broke out in encampments around the property, but calls to police or for cleanups often went unheeded. He and others would sometimes pay homeless people $20 just to move away from their businesses.
"We're living paycheck to paycheck," said Jose Luis Villamil Rodriguez, 53, who had a mechanic stand under the freeway.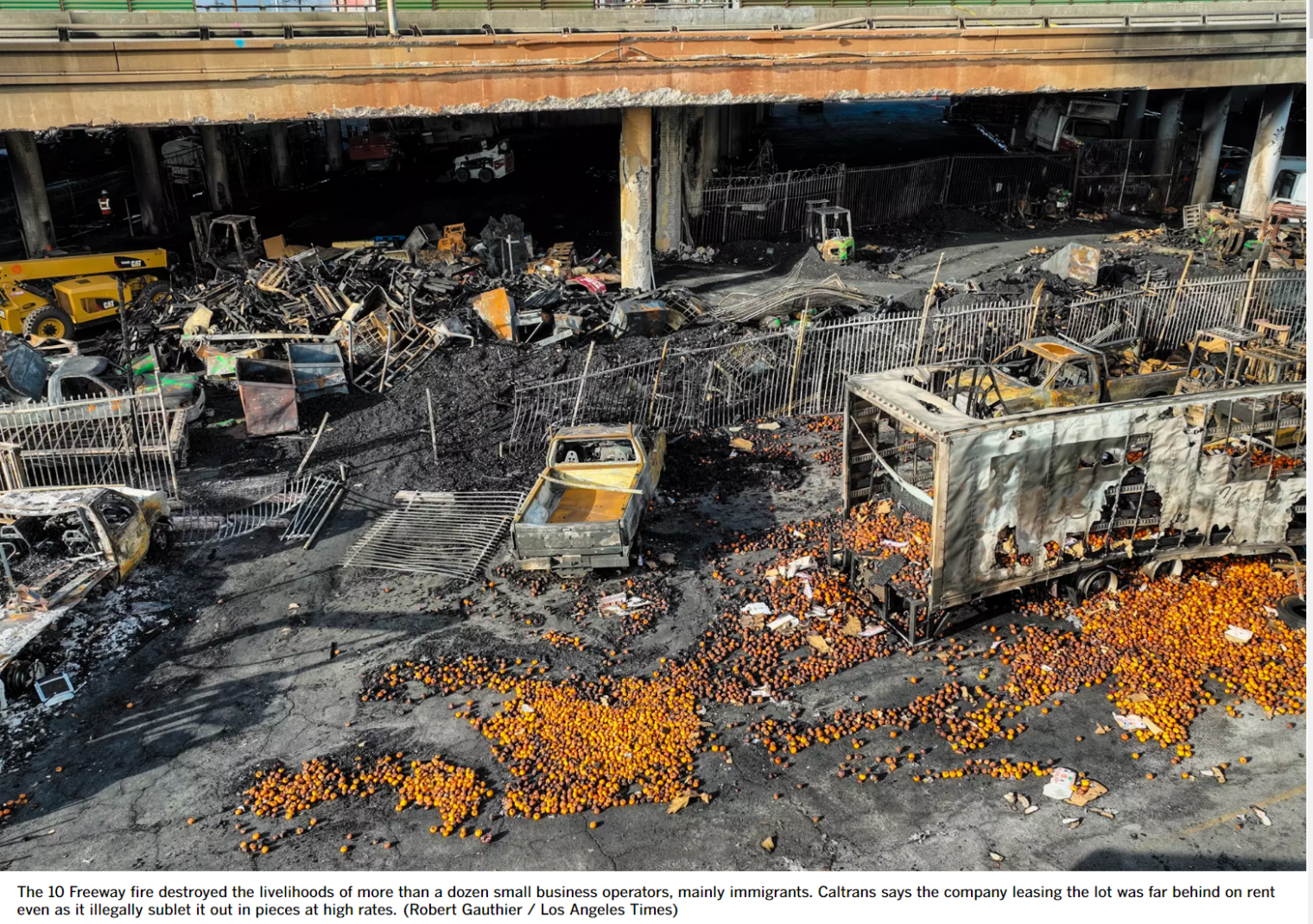 Maybe it works better for private landlords? An aviation friend owns some apartment buildings in California. He says to budget $80,000 to $200,000 in legal fees to evict a tenant who doesn't pay rent and 1-2 years of time, but "if the word 'Covid' is mentioned they get 4 years."