This is a report on the spectator experience at the Thursday evening Formula 1 practice session in Las Vegas 2023.
My friends had $1,500 three-day tickets in the West Harmon bleachers (the cheapest seats; the average price paid was, supposedly, $7,000). One week prior, I bought a Thursday night resale ticket for $180 plus $35 in Ticketmaster fees, managing to get into the same row as my friends.
The obvious hotels were Planet Hollywood, Paris, and Horseshoe, which are walking distance from the West Harmon entrance. These were available in the $100/night range (plus fees!). However, I was concerned that my flight from Burbank, California might be late and didn't think that it would be possible to get from the airport to a hotel inside the track after 7 pm. (In fact, we saw cars and taxis going in and out continuously. There is at least one temporary bridge that was built over the track to allow access to hotel-casinos inside the track.) I booked a Hilton near the convention center for a slightly higher price and took the monorail with my friends.
How could hotel rooms during this event have become so cheap? Las Vegas has roughly 150,000 hotel rooms. "F1 claims a healthy 315,000 fans attended the grand prix over four days" (ESPN). That's only about 100,000 people on any given day. If the predicted traffic and hassles scared off non-F1 tourists, the inevitable result was a lot of empty rooms.
The F1 hype began at the airport:
Our ticket enabled us to go in at 6 pm and begin eating the included Wolfgang Puck food and drinking the included non-alcoholic beverages. We arrived just after 7 pm to poke around the fan environment. A big screen displayed a pre-race TV show. There were a few fun activities for fans, but most had long lines. The food options included a weak hot dog, too-far-from-the-grill grilled cheese, a strange dry ramen box, chicken and waffles (cultural appropriation? they were good in any case), a purportedly Chinese-style chicken salad (more cultural appropriation), cider donuts (terrible), and churros (did not try). Lines for food were reasonable to non-existent. There were huge lines at the store until quite late: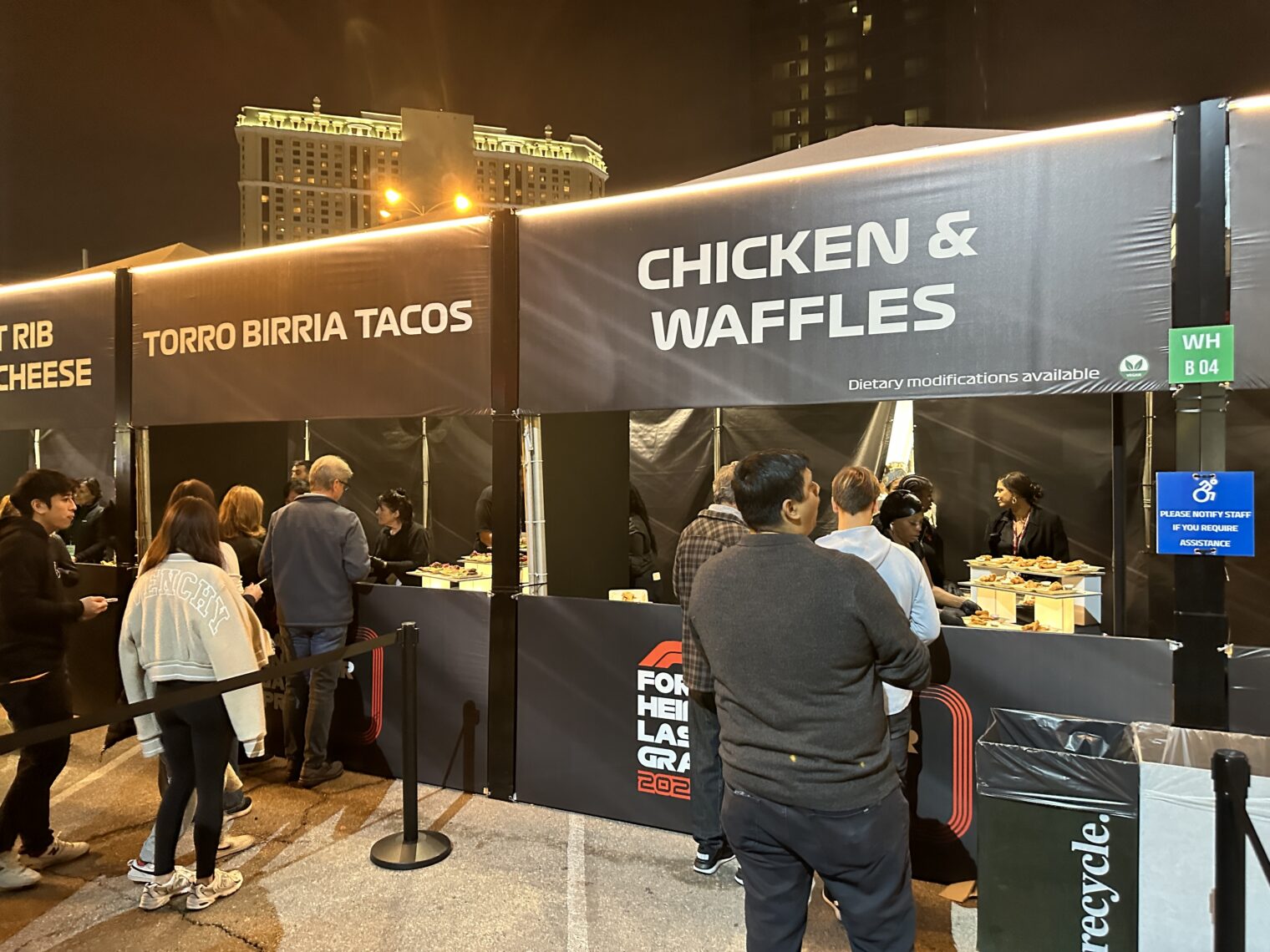 Our bleacher seats had a good view, but the legroom was tight for anyone over 5'6″. The temperature was about 55 degrees. Here is what it looks like (1) walking up the stairs (note portapotties in the background; they really needed people to perform hourly cleanings on what became disgusting environments), (2) the (distant) environment for the rich and famous, and (3) the view of the track from near the top of our bleachers (we were actually sitting quite a bit closer).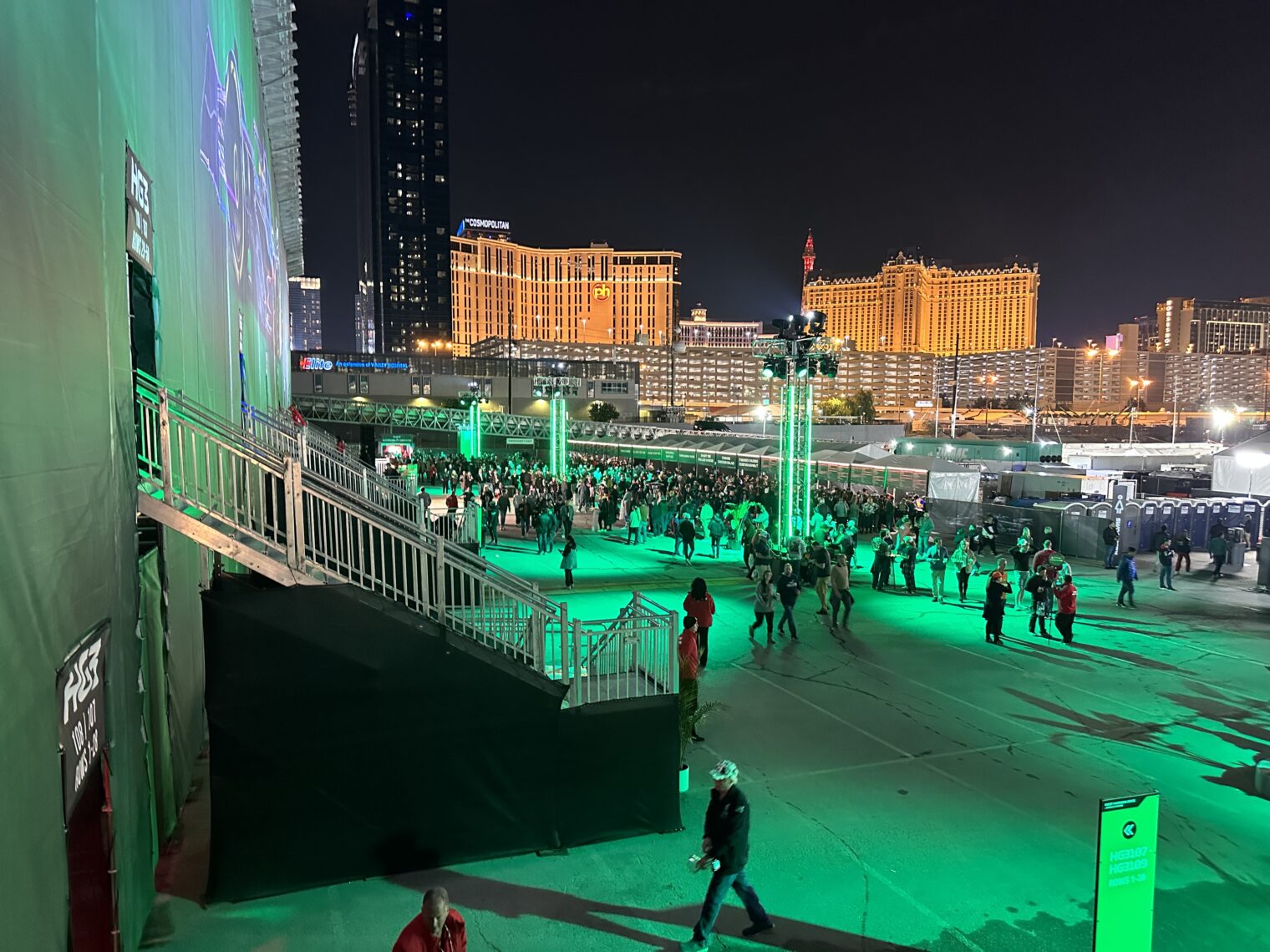 When the cars began zooming by at 8:30 pm, it was impressive to see the showers of sparks from cars scraping minor bumps in the road in front of us. At around 8:39, however, the race was halted because, we were told, a manhole cover's concrete frame had failed. I was deeply confused by this because the course is on a public street. If trucks drive over the manhole daily and don't break it, how could an 1,800 lb. F1 car, even with a downforce multiplier, break it? I haven't figured out the full story. The F1 folks say that a concrete frame failed, but not whether it was a new concrete frame installed for the race or the standard frame put in some years ago by the city. I think that the answer to the "why didn't it fail when a truck drove over it a week ago?" question might be that the F1 car broke the cover/frame with force in the opposite direction. I.e., the cover was sucked up rather than pushed down. This is a force direction for which manhole covers aren't normally engineered.
The second practice was scheduled for midnight. Quite a few people stayed to drink $12 beers and $39 LED-lit trophy-style glasses of booze:
We walked out to the nearby Horseshoe casino (formerly Bally's) and relaxed. Even with the track being hot, people were getting in/out via taxi:
My friends went back to their apartment around 11 pm. They were unconvinced that the midnight practice would happen on schedule and were planning to return for Friday and Saturday. I decided to reenter the fan zone. The monitors displayed messages saying that there would be an update soon. There was no longer a line for podium photos, so I got a picture to take credit for winning the race on the damaged track via rugged Honda Odyssey:
At 12:30 am, the monitors promised that the next practice session would start at 2:00 am. I bailed out because I needed to get on an 11:20 am flight from LAS. What happened to the diehard fans who stayed? The organizers kicked them out of their seats at 1:30 am, then ran the practice beginning at 2:30 am with no spectators. It was like a CIA torture scheme in which the enemy is kept awake for hours and then denied what was promised.
I'm glad that I didn't buy anything at the store because everyone received a follow-up apology email from the F1 folks with a $200 coupon for merchandise as compensation for the missed hours of racing action. Which two hats will I be able to get with this $200 coupon plus $50 for tax and shipping?
The next day I went past the Greenspun College for Urban Affairs and very nearly found the DEI gates: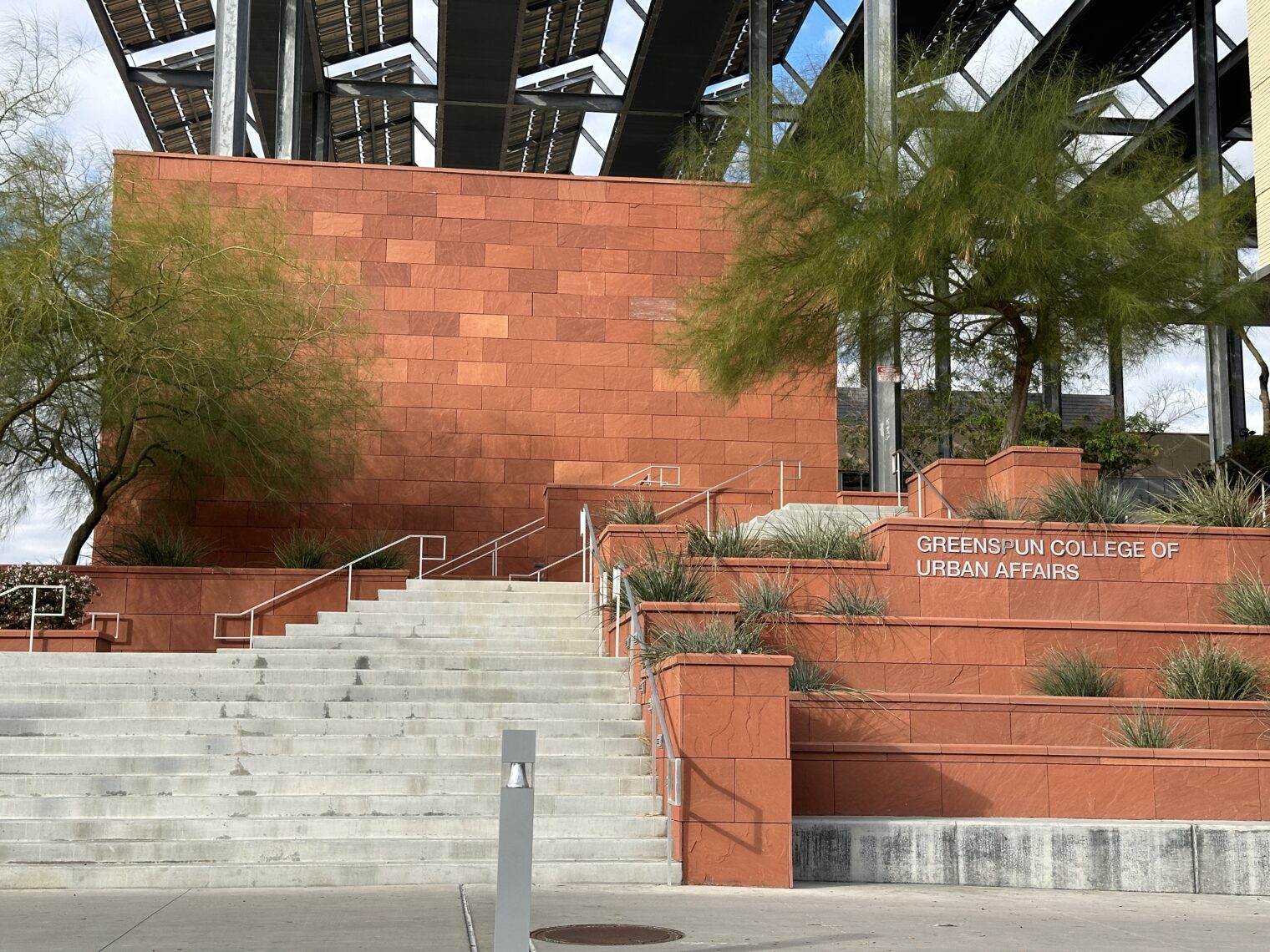 Inside the terminal, I found Sainz's car after the manhole cover encounter: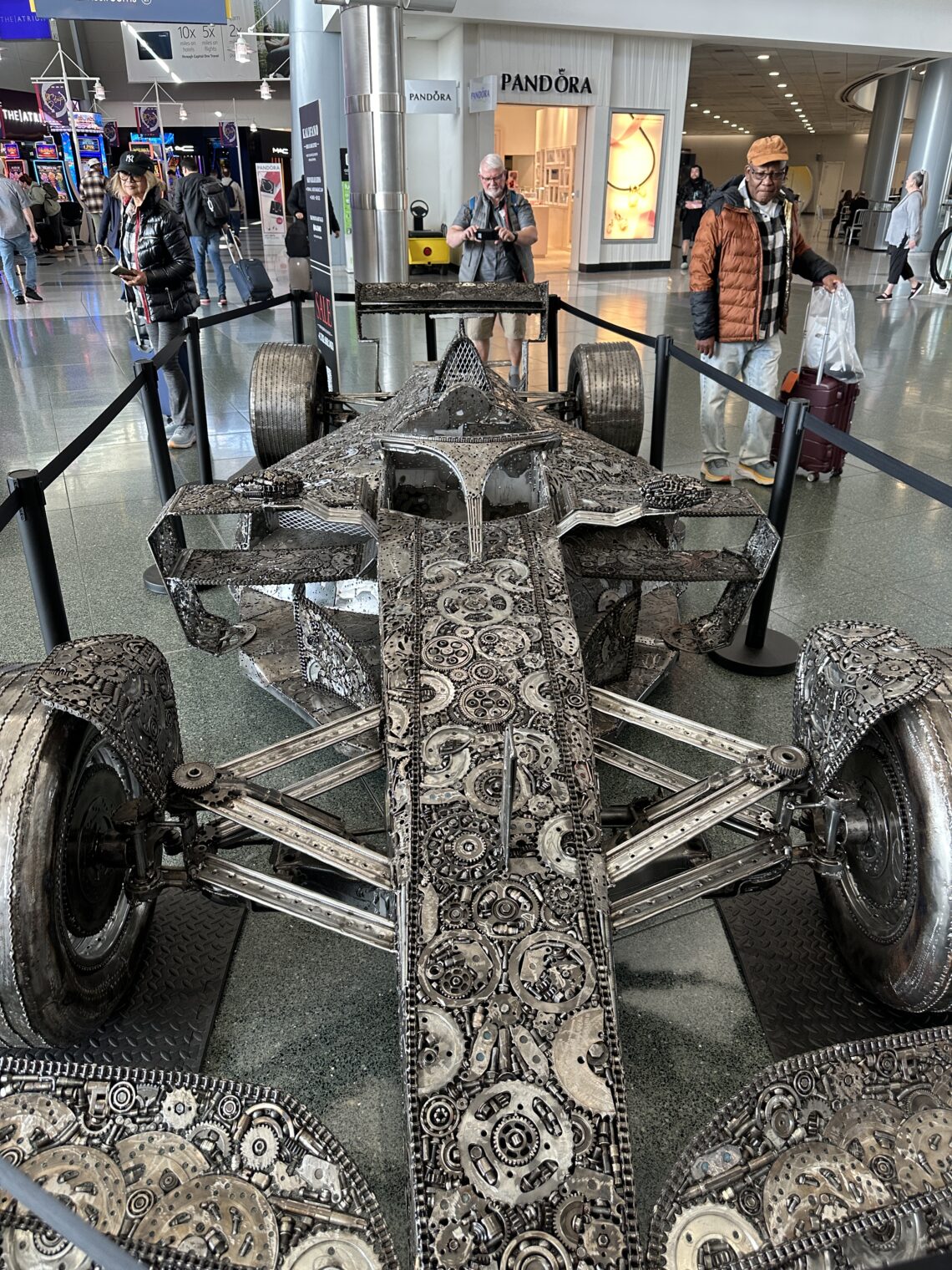 Would I go back? Even with the monitors provided, it was much more confusing to try to follow the race live compared to watching on TV and having things explained. For Jho Low types who don't mind spending $10,000+ on a three-day ticket, I'm sure that the luxury zone with pit tours is fun and comfortable. It's a permanent building so probably they have some decent bathrooms at least. I guess it would be worth it if you're plugged into the international set of other people to whom $10,000 is pocket change and the event would be a chance to see a lot of your friends.
For everyone else, perhaps a last-minute ticket to the Friday evening event would make sense followed by watching the main race on TV in order to (a) save money, and (b) learn what was happening. It is straightforward to go in and out by monorail. If there is a long gap between races, it is easy to go out of the event, find a relaxing place to sit at a restaurant or in a casino bar, and then return.
Readers: Who understands the mechanism via which the manhole cover failed? Also, who enjoyed watching the race on TV?