Don't Look Up is a cautionary tale of what could happen if Trump-supporters were a majority in the U.S. It is an update, to some extent of the 2006 film Idiocracy, whose underlying message is that Nobel-winning transistor developer William Shockley was correct, i.e., that America's destiny is a nation of low-skill people because means-tested welfare programs enable higher fertility for no-income and low-income Americans compared to middle-income Americans (Idiocracy did not cover low-skill immigration, but presumably it can be viewed as an argument against it). Fertility versus household income: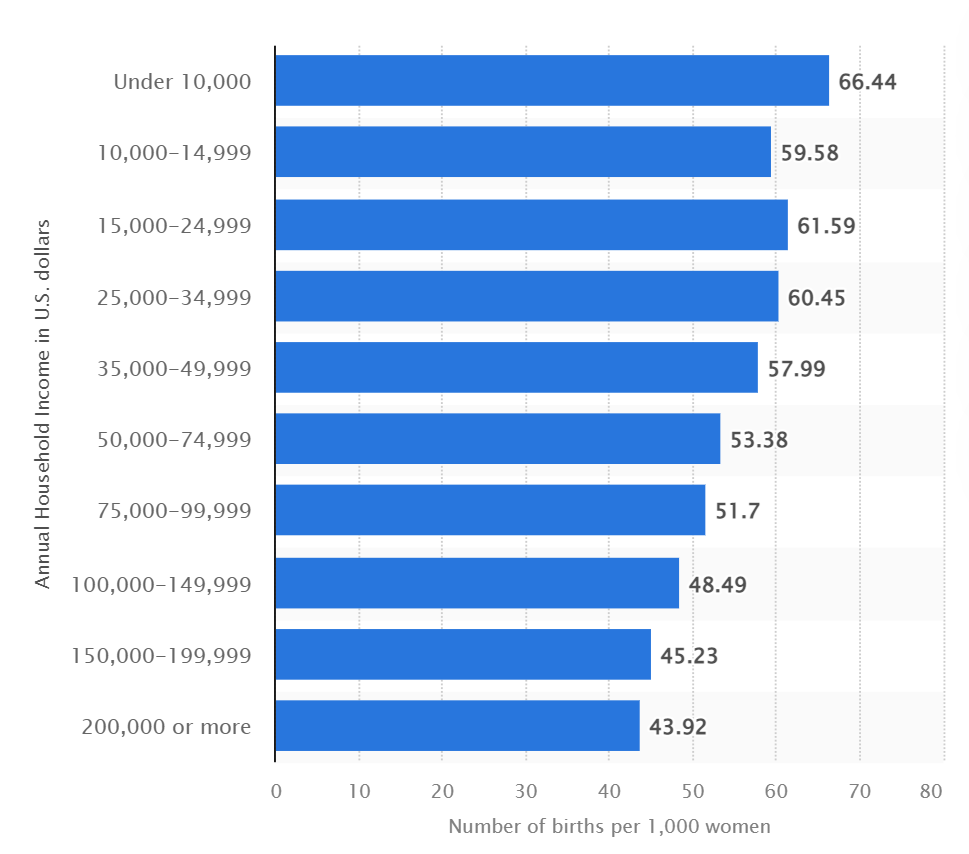 Don't Look Up doesn't address how Americans became stupid enough to vote for a Trump-like president, but reminds us of the terrible costs of denying Science (capitalized like "God") and not trusting Scientists. The entire movie is a not-very-subtle mocking of the Trumpkins for their stupidity in not believing "the Science".
Here's a sample tweet from the writer/director, whose brief Twitter profile includes the phrase "Climate Emergency is NOW".
Related Facebook posts from my friends who vote for Democrats:
It's the most useful movie, because now you can explain how tech works, and journalism and politics, etc.
The movie is sexy and true. Yes, we had everything, and we blew it — in the movie and in real life. It's a critique of our response to climate change, and Covid, and even has a dig at Trump (the president's chief of staff played by Jonah Hill is her son)
… it's [arguably] both the greatest and the most important movie ever made.
If this were a Michael Bay movie, it would make sense to ignore anything incompatible with Physics 101 under the rubric of "artistic license". But Don't Look Up is a political statement, not a work of art, and it is specifically about what could happen if don't deport and/or suppress those who refuse to follow the science.
The Science delivered by this climate change expert-turned-screenwriter starts with a female-identifying astronomer finding a new comet from the Oort cloud. The movie is somewhat, um, retrograde in that she does not explicitly identify as "of color" or 2SLGBTQQIA+. She reports her observation to a male-identifying astronomy professor, played by climate change activist Leo DeCaprio. Within a day, he has calculated that the comet will strike the Earth in 6 months. The rest of the movie explores what would happen if the morons who deny the settled climate change models (and/or assume that some improved tech for dealing with climate change will be developed within the next 100 years, e.g., a solar-powered carbon vacuum) were also to deny orbital mechanics.
How does this compare to lowercase pre-2019 "science"? A 2014 article from the European Space Agency:
In movies about the impending end of the world due to a comet impact, one thing is certain: Detecting the comet and computing its orbit are dead easy. … Computer programs are started, and people frantically hack away at keyboards. In no time at all, they will have identified the fuzzy blob as a comet that is hurtling in from the frozen recesses of space. What's more, in no time at all, they will have determined the comet's trajectory and they can categorically state that it will hit Earth. A few more frantic calculations and they also know the date and time of impact – Quick, call Bruce Willis!

In actual fact, one single picture of a comet is just that: a single picture of a comet. … From one picture, you can't tell where it's heading; you don't know how close it will get to the Sun, nor if or when a close encounter with any other planet is due. To find out these things, you need more observations – many more of images that were taken at different dates, ideally spanning a long time frame. … So you have to make an educated guess at the parameters that describe the comet's trajectory, also known – unsurprisingly – as its 'orbital parameters'. This initial guess (as even the mathematicians rather candidly refer to it) in all likelihood will be quite far off.

This procedure is known as 'orbit determination'. It is very time-consuming and involves a lot of complicated and repetitive mathematical calculations, which is why nowadays we let a computer handle most of it. The entire process is known as 'parametric optimisation' and each step is referred to as an 'iteration'. As the optimisation process goes on and many iterations have been performed, you will see that for the epochs at which the images were taken, the computed locations, based on the current estimate of the orbital parameters, will move quite close to what you can see in the actual images.
The article includes a chart showing that it took 450 days to determine the orbit for a 2013 comet: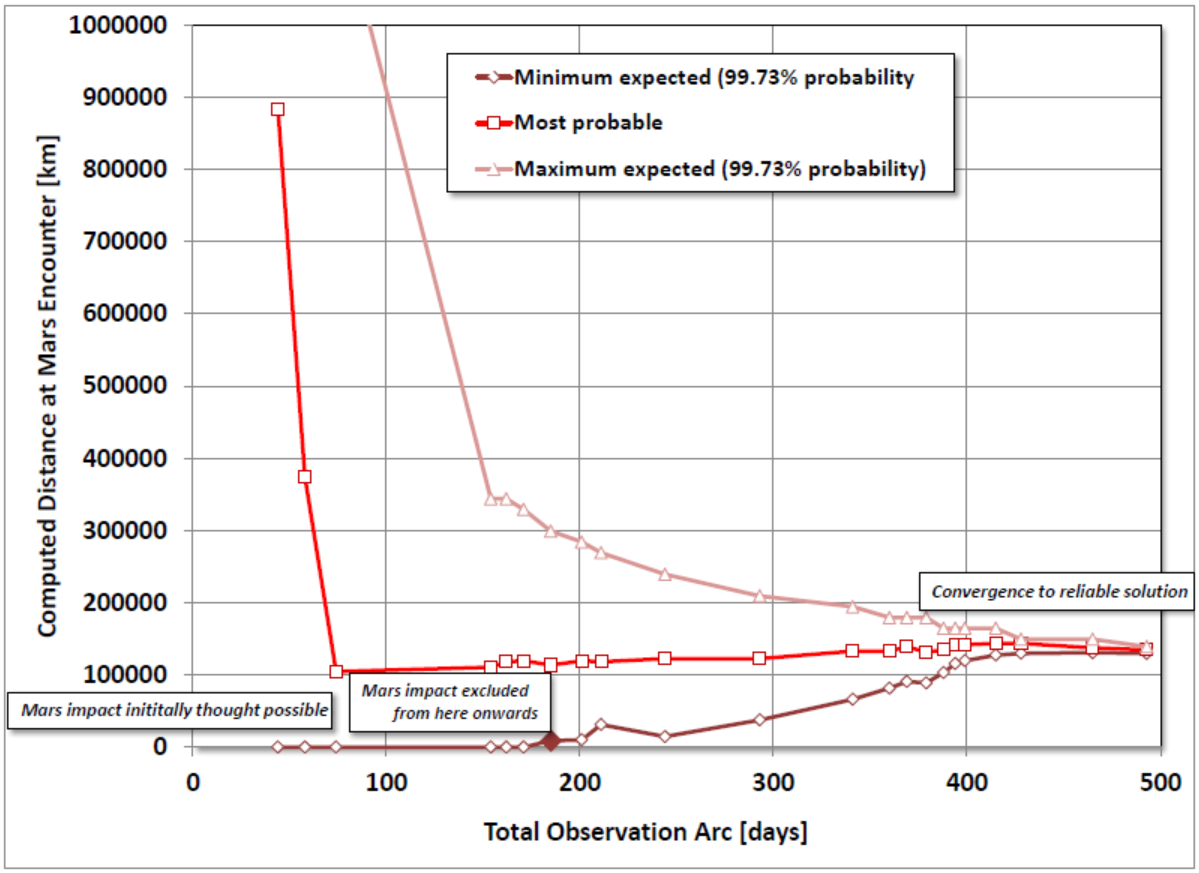 Regarding the above chart:
In the diagram above, it took almost 200 days to find out that comet Siding Spring would not hit Mars. At that time, the uncertainty in the predicted encounter distance still ran into hundreds of thousands of kilometres. Though the most probable encounter distance was established fairly early, the uncertainty was still significant after more than a year of observation. It took 44 days of observation to achieve even a semblance of an orbit determination – one that was still all over the place, with a predicted mean Mars distance at flyby 900,000 km, with a high guess of 3.6 million!
It took seven years of additional observations to identify an object found with one of the world's best telescopes as a (huge) comet (National Geographic).
One open question: even if you had the required 500 days of observations to make a reasonably accurate calculation of a comet's orbit, could you ever know with certainty, six months in advance, that the comet would actually hit the Earth rather than whip around it? (See "Chaos and stability of the solar system" for example and, for laypeople, "Our Solar System's Planetary Orbits Are Ultimately Chaotic, Says French Astronomer" (Forbes)) Paging Dr. Goldbum!
(I emailed a friend who has spent a few decades working with orbital mechanics. To the European Space Agency's "take it slow" point of view, he added the following:
One problem is that comets, unlike asteroids, have significant non-gravitational forces acting on them: They outgas directionally, producing random small thrusts. Thus their orbits are not as precisely determinable as planets or even asteroids.
)
Another aspect of Science presented by the Trump-hating writer/director is that people sitting on Earth are able to figure out that the rock part of the comet is packed with $trillions in valuable minerals. They do this with a "spectrometer", but that instrument would work only on the tail of a comet, not on the rocky core. Although Science could predict that Peru, Czech Republic, Slovenia, and Slovakia would escape COVID-19 deaths due to mask orders and lockdowns and Science plainly has no difficulty predicting Earth's temperature 100 years from now, I am not aware of Science being able to determine, via remote sensing, the composition of a rock in space. NASA has (easily-found-with-Google) some concepts for doing this, but they involve physical contact with the comet or other space rock. There is no instrument that you can set up in your house to determine the composition of a rock in the neighbor's yard, right? Why would you imagine that you can set up an instrument in the Atacama Desert and determine the composition of a rock in space?
[Update: see comments for a potential correction to the above from an astronomer.]
In other words, the screenwriter who purports to educate Americans on how stupid Republicans are was apparently unable to use Google to find these written-for-laypeople articles on orbital mechanics and comets. Nor was he/she/ze/they able to read a NASA org chart. All of the scientists at NASA work at the "Kennedy Space Center" (not at Goddard or JPL). They refer to each other as "Dr. X" and "Dr. Y" rather than by first name or first and last names.
One of the elite accusations about the Trumpkins is that only the elites understand that we share our beautiful planet with a veritable rainbow of other nations (though don't wave that rainbow flag anywhere that it might interfere with elite profits!). Yet the movie makes sense only if we accept that the U.S. is the only country that can act to deflect an incoming comet. If Americans did not exist, the remaining 96 percent of the world's population would take no action in response to scientifically proven impending species-ending doom. The people who invented rockets and who recently landed a robot on Mars wouldn't do anything. The people who kicked off the Space Race and who currently operate their own satellite navigation system wouldn't do anything. The Europeans wouldn't dispatch any Ariane rockets (this last one is more believable since the EU seems to be 100% occupied with coronapanic!).
(Pravda reports that Russia actually has been working on asteroid deflection since at least 2009. China is a comparative newcomer to this specific area (LiveScience 2021). The Europeans have been working in this area since at least 2005 (ScienceDaily).)
Although the movie cannot be recommended as a tutorial on #Science, it does have some fun parts. Ariana Grande appears (and sings) in the role of pop singer whose romantic life is more interesting to a stupefied and stupid population than an impending extinction event. One of the greatest characters, played by English actor Mark Rylance, is kind of a cross between Steve Jobs and Mark Zuckerberg. The unwashed Science-deniers are also fun, e.g., with a range of beliefs from "the comet doesn't exist" to "the orbital mechanics calculations handed down by Science are wrong." They gather in huge rallies in support of their Trump-style president. Some of the comedy is provided by the screenwriter trying to figure out how non-elite Americans speak. For example, he/she/ze/they has a young skateboarder say, "Dr. Mindy, Can I be vulnerable in your car?" (Our apartment in Jupiter, Florida is right near a skateboard park and "vulnerable" is not one of the words we hear from the denizens.)
Don't Look Up is definitely worth watching if you're already a Netflix subscriber, mostly to see just how wrong someone can get all of the science while making a movie about the dangers of letting people who don't understand and respect science vote.
Related:
Project Hail Mary, by the author behind The Martian. This book tackles much tougher scientific challenges than orbital mechanics calculations and the non-scientist author doesn't make too many mistakes, according to a NASA post-doc. The man whom Elon Musk called a "knucklehead" enjoyed it too (GatesNotes).
Alternate theory about why Republicans are so stupid: they're distracted by lust for the Democrats' thought-leader, Alexandria Ocasio-Cortez (Daily Mail)
Full post, including comments