Back in September 2012 I wrote a posting about California's state government spending $327 million to build a seemingly straightforward web site where consumers could go to find health insurance plans. The web site is now up and running.
I told the site that I lived in Berkeley, earned $80,000 per year, and was a single 50-year-old who was neither pregnant nor disabled (click on image below to enlarge):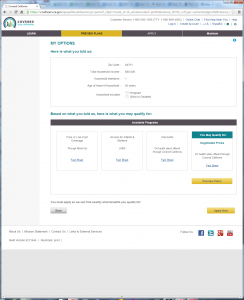 The site helpfully told me that I may qualify for free coverage through Medi-Cal, but the linked-to fact sheet says that it is for "an individual who earned less than $15,856 [per year]". I was also offered "Access for Infants & Mothers" though it was unclear how this could apply to a household with one adult. In any case the linked-to fact sheet says that it is for "income between $3,256 – $4,884 per month for a family of 3."
In other words, for $327 million the government purchased a computer program unable to determine that $80,000 is more than $15,856.