My visit to China coincided with the peak of the "2019 Hong Kong protests". How did the U.S.-owned media outlets available in China cover the story?
Apple keeps it simple, whether roaming on LTE, using hotel WiFi, or a VPN: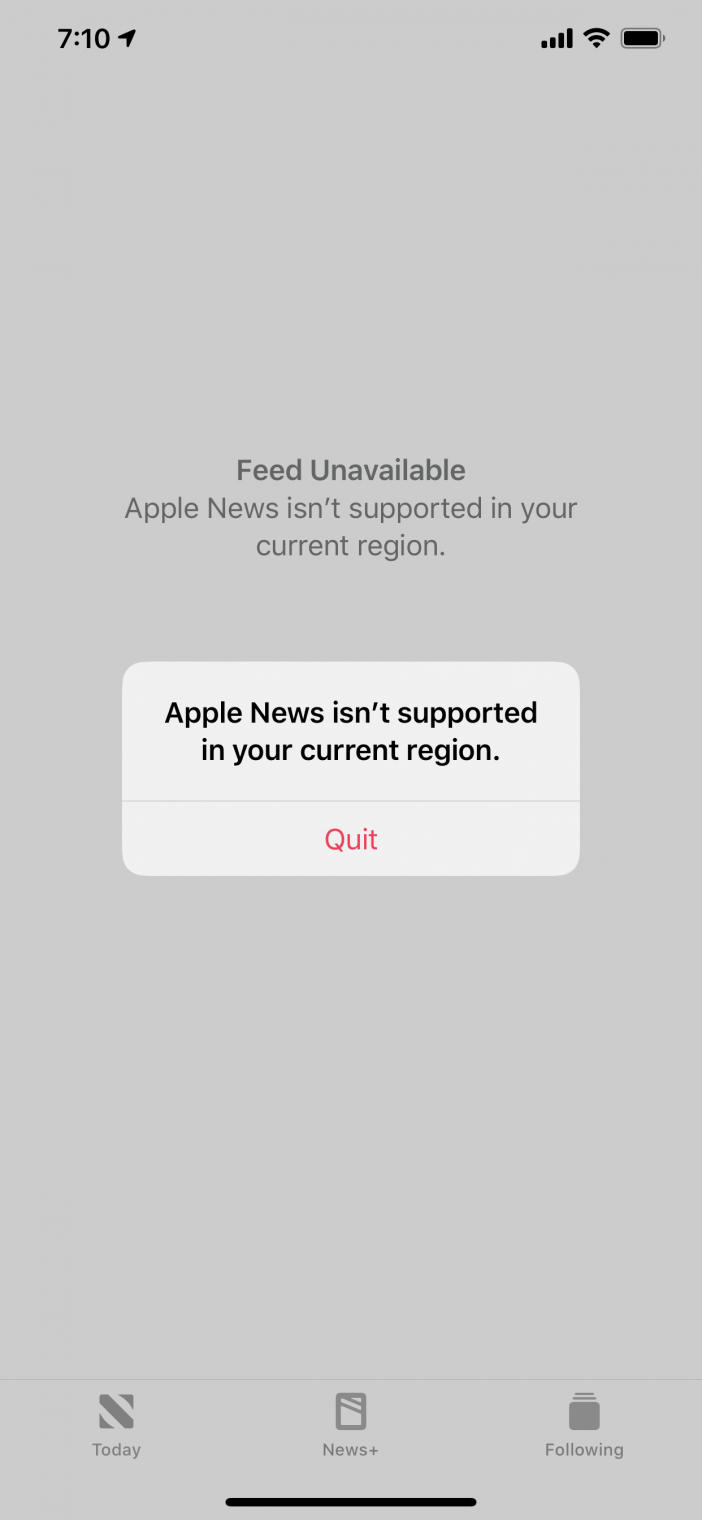 The company is brave enough to attack shareholders who object to "green initiatives" (Tim Cook speech at MIT) and voters in Indiana and Arkansas ("Guy with a "Whites Only" sign in his conference room tells others not to discriminate"). The CEO is also brave enough to fly a rainbow flag (but not the Taiwanese flag on the iOS keyboard or in text displayed in China).
How about the New York Times? My hotel offered a local print version at breakfast. Our brave fourth estate provided readers in China with a half page about books being reshuffled in a library in Idaho, a column on how much tax they'd pay on tampons if they were to travel to Germany, and some material on Puerto Rico, a Siberian island, and Israel (must be true since it is written by a guy smart enough to marry the daughter of a billionaire). There was no mention of anything unusual going on in Hong Kong.
How about CNN? I flipped it on when it was still early morning in the U.S. and therefore hearings had not started at the U.S. Capitol.
I watched it for one hour and learned that I was watching "history unfolding," that the people testifying against Trump are not anti-Trump. They are "devoted to the rule of law." The American experts (how many of them would have been able to find Ukraine on a map a year ago?) explained that the president of Ukraine is lying. Ukrainians aren't actually tired of the Trump impeachment drama. They're only pretending to be tired of it so that they can retain bipartisan support for aid to Ukraine.
CNN had time to break away from the impeachment story to talk about the most important events elsewhere on the planet, e.g., that Italy beat Romania in a game of soccer. And they did slip in two mentions of Hong Kong. First was in a multi-city weather forecast: high temperature tomorrow in Hong Kong would be 25. (American reaction: "7 degrees below freezing on a subtropical island?!? No wonder they're protesting!") Second was in a puffy filler piece on a 100-year-old company that happens to be based in Hong Kong.