I met a lot of people in China who were unhappy with some of the Chinese government's policies, notably the Great Firewall and control of the media (the stuff that is used to whip up Westerners' outrage was not foremost in their minds; nobody mentioned the Uyghurs and when I asked the response was that the potential for domestic jihad required some tough policies, the Hong Kong situation was regrettable, but not obviously the government's fault).
The level of personal bitterness regarding politics was much lower than in the U.S. To the extent that anyone was blamed, it was a handful of leaders at the top of the Communist Party, not fellow citizens. (The Party has roughly 90 million members, or 6 percent of the population, but this includes people with ordinary jobs as farmers, for example.)
Contrast to the U.S. Even in a one-party state, such as California, there is bitterness and hatred. Bay Area Californians, for example, blame the Republican remnant down in Orange County for preventing them from implementing their Socialist dream (somehow a Republican in Orange County is stopping San Francisco from taxing residents to pay for housing for the homeless, universal health care for San Francisco residents, and the rest of the dream? why can't folks in the Bay Area give up their Teslas and foreign vacations and move the tent people into apartments?).
On a nationwide scale, given the roughly even split among voters, we are virtually guaranteed to have 50 percent of Americans blaming the other 50 percent for voting for whichever party is currently in power (see https://philip.greenspun.com/blog/2019/11/22/coastal-elite-hatred-of-trump-voters-explained/ for example). This does not happen in China. One business executive said "I explain our politics to friends from Texas by saying 'imagine that the mafia took over control of Dallas.'" Certainly he seems to have little affection for the Party (referring to them as a "mafia"), but he recognizes that there is nothing he can do to change it and that none of his neighbors are to blame for the Party's control of China. So he concentrates on his business, his family, and his friends, enjoying what he says is a superior lifestyle to what he had in New York City (elite U.S. MBA and job at a top Wall Street bank). He says that there is more practical freedom of speech in China compared to the U.S.: "In China, the Party is clear about what they don't want you to disagree with publicly," he noted. "but in the U.S. the boundaries of acceptable speech change from week to week."
How about freedom of the press? That's an unqualified good, right? We love the First Amendment, I hope (though we don't want "hate speech" or anything that makes us and our allies feel unsafe). Consider the New York Times. They run article after article intended to make the majority of Americans resentful of our richest neighbors. These include statistics on inequality that are cooked by valuing the services that a poor American receives at $0. So a person who is guaranteed the lifetime (and often multi-generational) right to live in a $1 million market-value unit in the center of a gleaming city, guaranteed a $30,000/year market-rate family health insurance policy, guaranteed a lifetime of free food and free smarthphone service, etc. is considered to be poorer than the poorest resident of Malawi.
Even if the data were not cooked to the point of absurdity, an article about inequality in the broad economy has no value to more than 95 percent of Americans. Unless they live in a swing state, their vote does not count and they have no influence on national politics. The English-language media in China contains a lot of puff pieces on the good works done by the Chinese government, e.g., flatland Chinese troops who are stationed in Tibet rescuing injured tourists, but the propaganda angle is clear and the reader can ignore it all if desired. Consider how much time Americans spend obsessively tracking the Mueller report (see my recent bookstore photos from Denver), the quest for Trump's tax returns, the impeachment process soon to be entering its fourth year, etc. Except for those who are in Congress, wouldn't they have been better off using that time for dinner with friends, reading a book, or learning new skill? Here's a selection of English news offered at my hotels: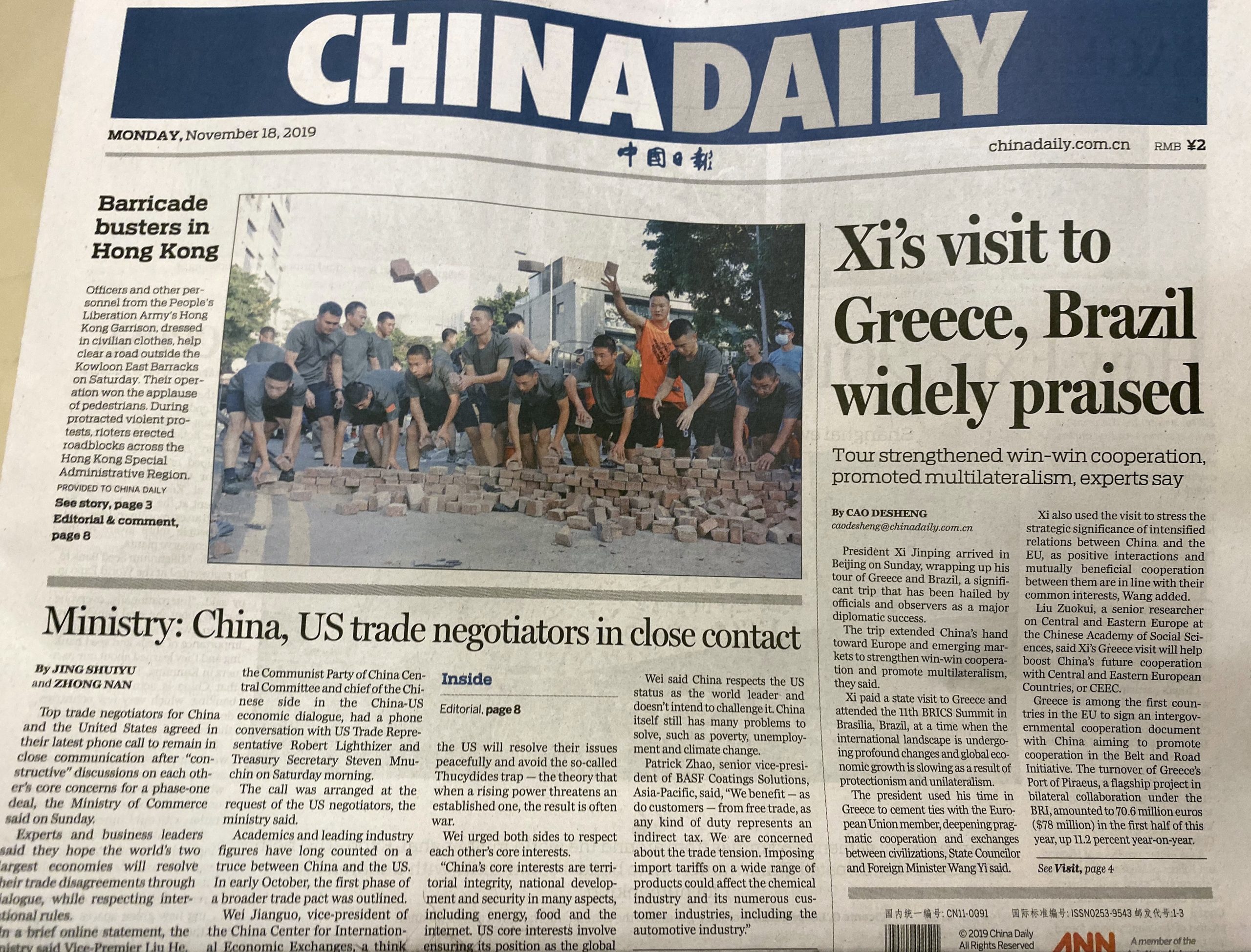 (Note that government control of traditional media has, according to locals, no effect on their practical access to information. "We can learn anything we want about Hong Kong on social media," said a 24-year-old.)
Maybe the system of government as conceived by our Founding Fathers was a good one (especially since it came with the ability to steal the rest of North America from the Native Americans, which the British had prohibited), but stretched from 3 million to 330 million and combined with a reader-hungry media it results in unhappiness? Or maybe democracy itself is inherently a system in which neighbor will end up hating neighbor (or spouse)? Every government policy results in winners and losers (even building a bridge will harm the livelihood of people who previously operated ferries) and therefore every government policy has voters on both sides. Folks who are harmed by a government policy will therefore inevitably come to hate a majority of their fellow citizens on that issue (since presumably it wouldn't be a policy if a majority of voters did not support it)? The mutual hatred level gets amped up considerably when people take the position that their vote on an issue is due to their passion for "justice" (a universal) rather than simply self interest (potentially personal).
Not being a Mandarin speaker, it is a bit tough to say whether people are actually happier in China than in the U.S. overall. Out and about, the Chinese actually did seem more content, consistent with the Gallup Global Emotions survey. 87% of Chinese experienced "enjoyment" versus 82% of Americans, an achievement given that the GDP per capita is lower in China; "worry" was at 29% in China and 45% in the U.S. (imagine how worrying it is for a Californian or New Yorker to think about what crimes Trump might commit next!), "anger" and "sadness" were substantially lower in China as well. Despite consuming more opioids than the rest of the world combined, Americans experienced more "pain" than people in China! Maybe we all need higher doses of fentanyl?
Family life in China seems happier. Maybe it is the one-child convention (no longer a law), but it was common to see married couples out with their cherished offspring as a unit of 3. In the U.S., by contrast, Parent A might be with Child 1 at Activity X while Parent B is with Child 2 at Activity Y. (Or the child might have only one parent, incentivized with welfare and/or child support cash, unlike in China where being a "single parent" from the start is simply illegal.)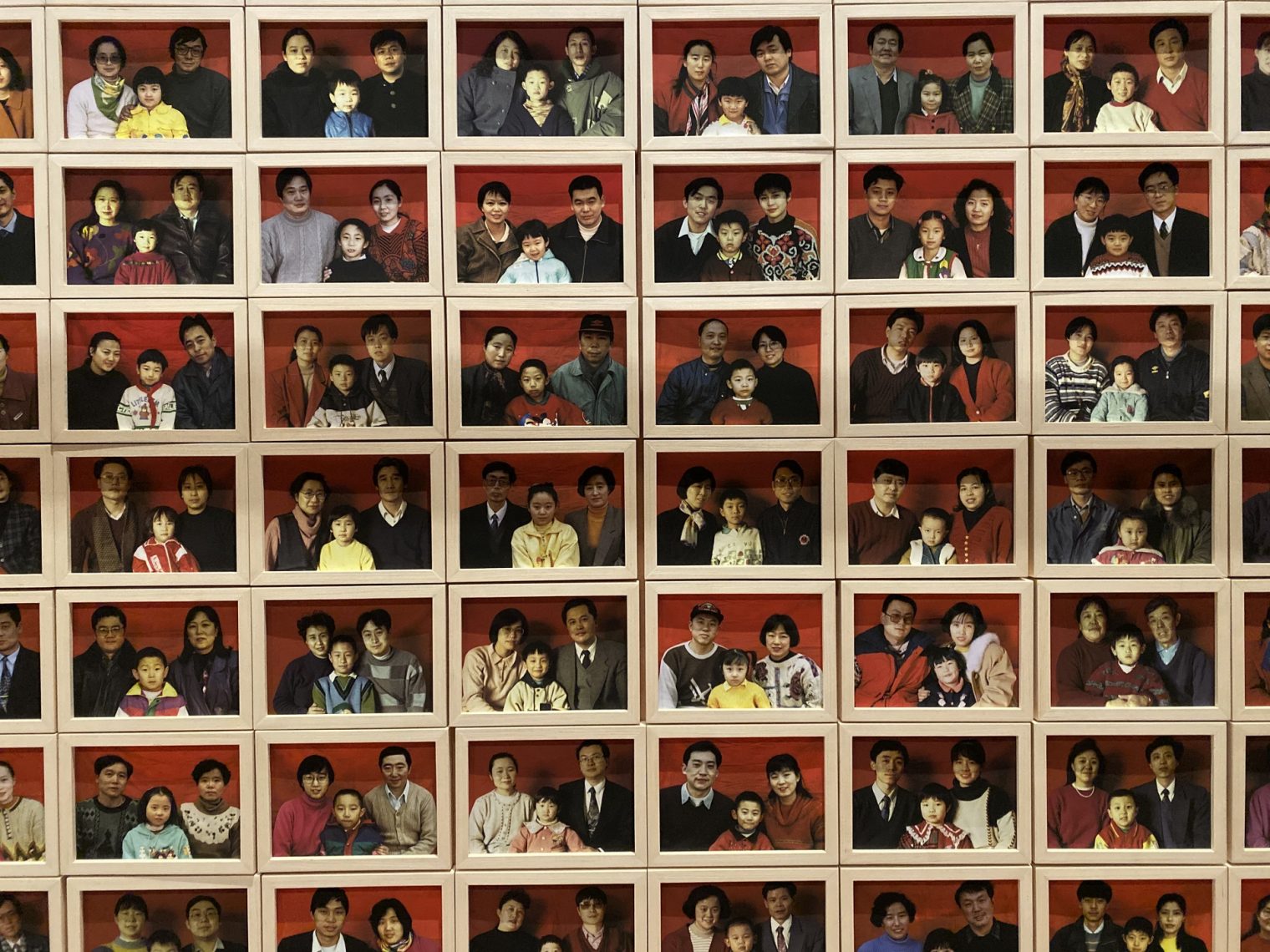 Readers: What aspect of American political and press freedom actually contributes to the happiness of Americans?
Related:
trust in fellow citizens in China versus the U.S. (63 percent versus 38 percent who say "most people can be trusted"; China is at about the same level as Sweden (certainly Shanghai taxi drivers are a lot more trustworthy than their old-school New York counterparts!))