Sweden is geographically close to and tightly connected via commerce and tourism with some of the world's coronavirus hotspots, e.g., Italy, Spain, and Germany. Yet the government in Sweden hasn't closed the schools or done much of anything else about coronavirus. Why don't the WHO COVID-2019 situation reports show a dramatic upward trend for Sweden compared to its European neighbors?
"As the rest of Europe lives under lockdown, Sweden keeps calm and carries on" (Guardian):
While every other country in Europe has been ordered into ever more stringent coronavirus lockdown, Sweden has remained the exception. Schools, kindergartens, bars, restaurants, ski resorts, sports clubs, hairdressers: all remain open, weeks after everything closed down in next door Denmark and Norway.

Universities have been closed, and on Friday, the government tightened the ban on events to limit them to no more than 50 people. But if you develop symptoms, you can still go back to work or school just two days after you feel better. If a parent starts showing symptoms, they're allowed to continue to send their children to school. [!]

Anders Tegnell, Sweden's state epidemiologist, believes it is counterproductive to bring in the tightest restrictions at too early a stage. "As long as the Swedish epidemic development stays at this level," he tells the Observer, "I don't see any big reason to take measures that you can only keep up for a very limited amount of time."

His team at the Public Health Agency of Sweden is critical of the Imperial College paper that warned this month that 250,000 people in the UK would die if the government failed to introduce more draconian measures. A week later Johnson ordered the police to implement a partial lockdown to combat the virus, telling people they "must stay at home".

"We have had a fair amount of people looking at it and they are sceptical," says Tegnell. "They think Imperial chose a number of variables that gave a prognosis that was quite pessimistic, and that you could just as easily have chosen other variables that gave you another outcome. It's not a peer-reviewed paper. It might be right, but it might also be terribly wrong. In Sweden, we are a bit surprised that it's had such an impact."
Is it that the Swedes have so much hospital capacity they don't care how quickly the patients come in? No need to flatten the curve (or remind everyone you know on Facebook to flatten the curve) if an infinite supply of universal health care is available. The World Bank says that Sweden has 2.6 hospital beds per 1,000 population, less than the U.S. (2.9), Italy (3.4), Germany (8.3), or Japan (13.4). Has Sweden been hoarding ventilators? Exactly the opposite: "Sweden's Getinge to deliver 500 ventilators to Italy as demand rockets".
If you believe that hot/humid weather helps keep the virus in check that can't be a factor for Sweden (high of 39F tomorrow in Stockholm). Here they are wearing jackets in summer (from my Sweden photos):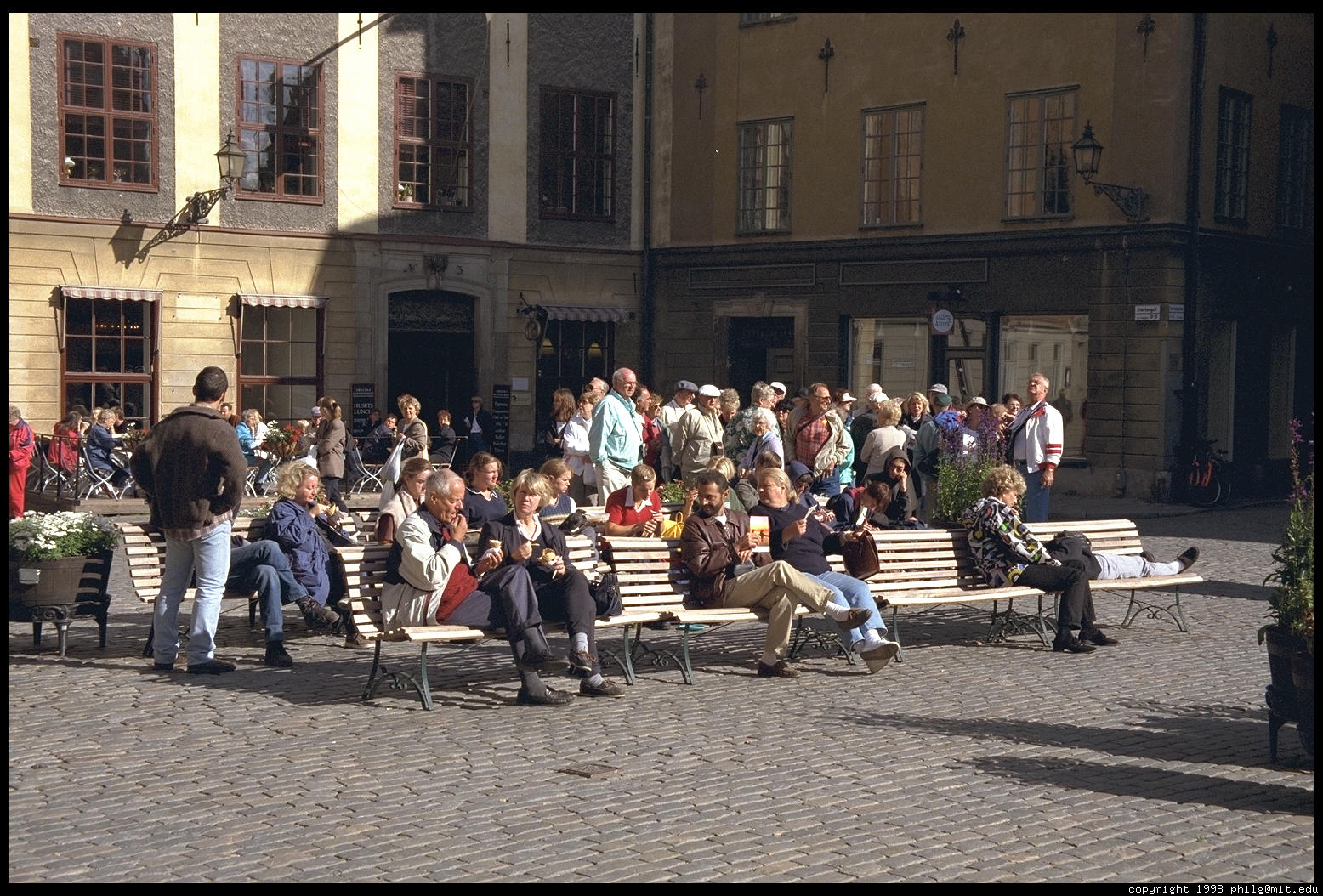 Maybe they've just given up? From the above article:
Tegnell even questions whether stopping the progress of the virus is desirable. "We are just trying to slow it, because this disease will never go away. If you manage, like South Korea, to get rid of it, even they say that they count on it coming back. Stopping it might even be negative, because you would have a pent-up possible spread of the disease, and then once you open the gates, there is a possibility that there would be an even worse outcome."

While Tegnell understands that he will be blamed if Sweden ends up in a similar situation to that of Italy, he refuses to be panicked. "I wouldn't be too surprised if it ended up about the same way for all of us, irrespective of what we're doing," he says. "I'm not so sure that what we're doing is affecting the spread very much. But we will see."
Why haven't we seen the effects already? If a shutdown works, Sweden should have a higher infection rate per capita than Denmark, right, since Denmark is shut down. But WHO reports show Sweden with a lower infection rate (Sweden has twice the population of Denmark).
Why don't we read about overwhelmed hospitals in Sweden? With exponential growth, we've had enough time to see a difference between Germany and Denmark (schools shut afternoon of March 13) and Sweden, no?
(Maybe two weeks isn't enough if Denmark and Sweden are like Massachusetts and don't test people until they've been admitted to the hospital and are at death's door. And then the tests don't get reported out to the public until after they've come back from the lab (can take 2-4 additional days). So Sweden could have been experiencing far more infections during the last two weeks, but it wouldn't show up in the data just yet. Though you'd think we'd see hysterical articles about the hospitals filling up, as we have been getting out of New York.)
Related:
From 2018: "Denmark plans to house the country's most unwelcome foreigners in a most unwelcoming place: a tiny, hard-to-reach island that now holds the laboratories, stables and crematory of a center for researching contagious animal diseases. As if to make the message clearer, one of the two ferries that serve the island is called the Virus." (nytimes)
family law in Sweden (a divorce following a coronavirus quarantine is unlikely to be profitable; alimony is unavailable and child support revenue is capped at about $2,500 per year)
getting to the same place, but perhaps from a less-obviously-informed-by-epidemiology perspective, "Brazil's Bolsonaro makes life-or-death coronavirus gamble" (Associated Press): "Brazilian President Jair Bolsonaro has staked out the most deliberately dismissive position of any major world leader, calling the pandemic a momentary, minor problem and saying strong measures to contain it are unnecessary. "The Brazilian needs to be studied. He doesn't catch anything. You see a guy jumping into sewage, diving in, right? Nothing happens to him. I think a lot of people were already infected in Brazil, weeks or months ago, and they already have the antibodies that help it not proliferate," Bolsonaro said.
my photos from Sweden (back in the film days)