Some data nerds at University of Washington, specifically within the Institute for Health Metrics and Evaluation, have prepared a state-by-state forecast of coronaplague peak and hospital bed/ICU demand/shortage. (See previous post: "Will New York run out of hospital beds?")
They're projecting roughly 80,000 deaths in the U.S. through August 4, 2020, with a range of 40,000 to 160,000. In other words, about as bad as four years of easily preventable deaths due to driving (assuming that half of driving-related deaths could be prevented with improved infrastructure and technology). The peak will be April 14, 2020, just in time for taxes. We will need roughly 1.2X as many ICU beds as we had before any ramp-up (shortfall of 14,000+ ICU beds divided by about 80,000 total ICU beds in 2018). We need only about 19,000 ventilators nationwide (this is completely inconsistent with New York Governor Cuomo's statement that his state alone needs 30,000; the "experts" say New York will need closer to 4,000 and, in a worst-case scenario, no more than 10,000 (this is a situation in which we should listen to politicians rather than "experts"?)).
If you're a New York elite, is it rational to limo out to Teterboro and get into a Gulfstream headed to Florida? Absolutely, says this model. New York has 13,000 hospital beds available and will need 48,000+ on April 6, 2020. The state has 10% of the available ICU beds that it needs. 1/8th of the Americans who are going to die from COVID-19 live in New York (which contains roughly 1/17th of the U.S. population) and presumably the majority of these will be from New York City.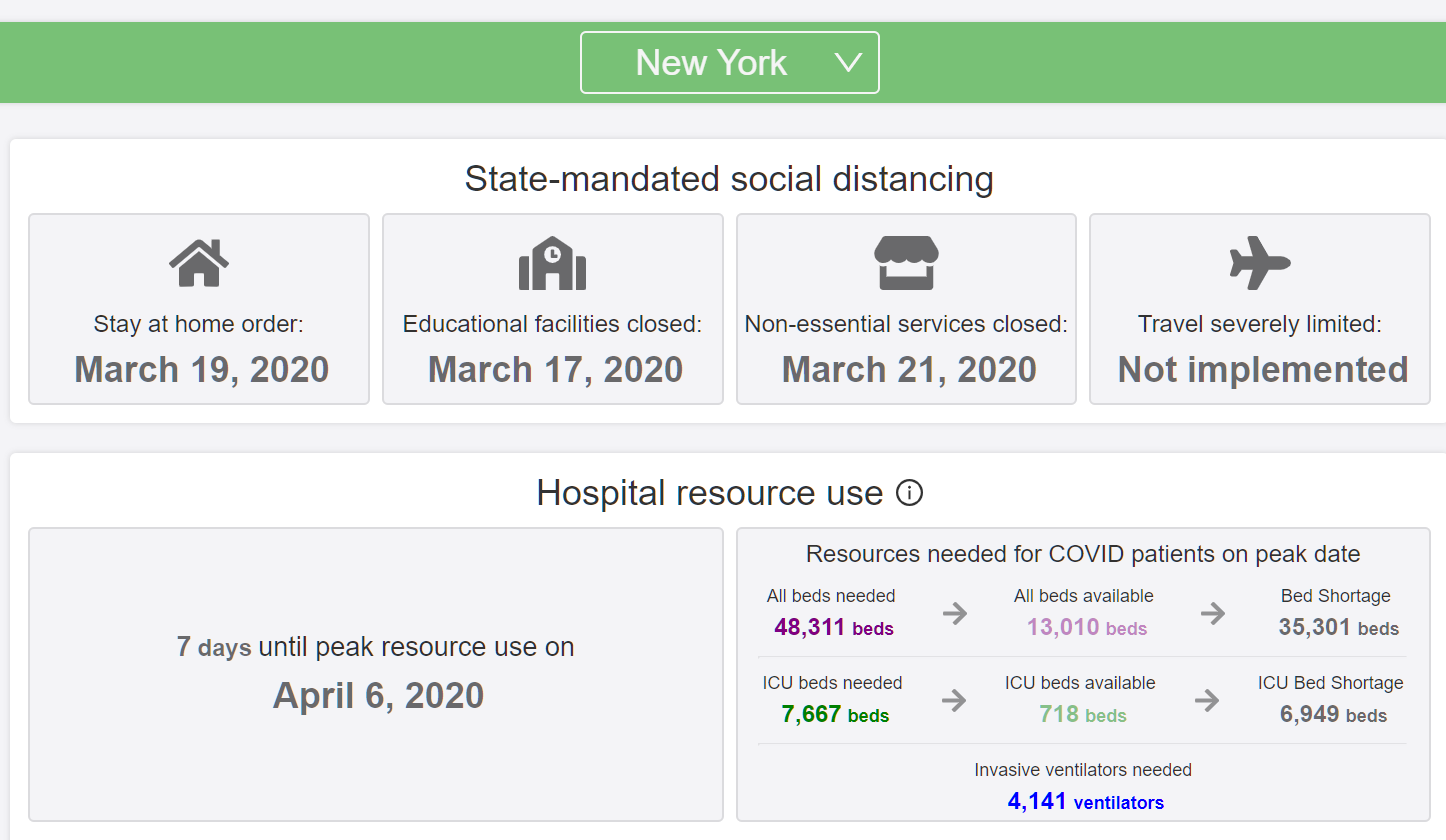 What about Florida, whose tax burden is dramatically lower than New York's (highest taxed state in the union). In this land of minimal government, they will have 4X as many hospital beds as they need, 2X as many ICU beds. Nobody in Florida is going to die from COVID-19 due to lack of health care availability. With a larger population than New York's, Florida will suffer only about 3,300 COVID-19 deaths (not everyone can be saved, unfortunately, even with unlimited health care). The peak in Florida won't come until May 14, 2020 (tough to square with exponential growth).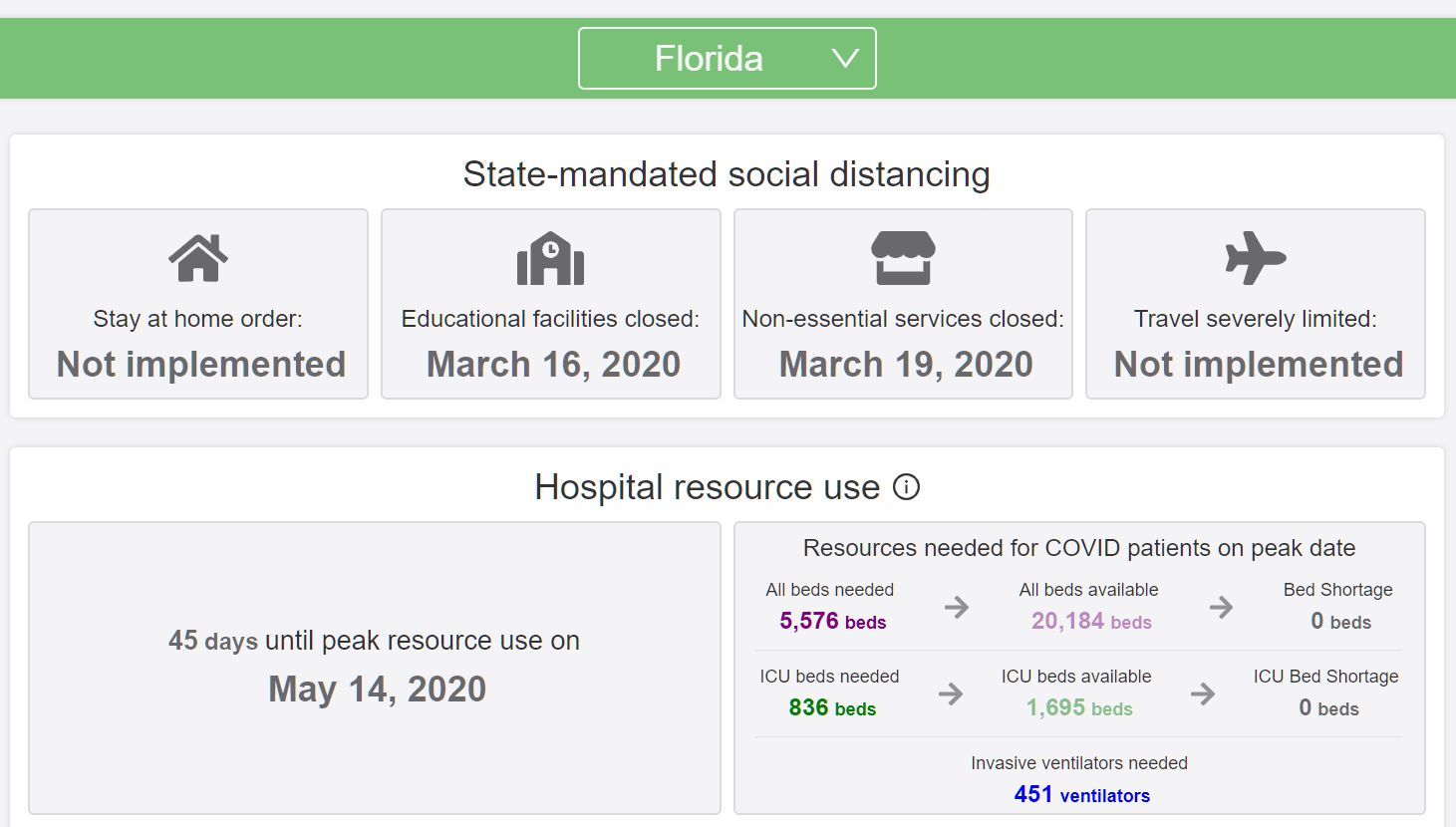 How about the second- and third-highest tax burden states in the union, Connecticut and New Jersey? Both will be disaster areas, project the data nerds, with demand for ICU beds being 5-7X the supply.
How about Massachusetts, where we pride ourselves on science-informed laws made by a legislature untainted by Republicans (the "science-denial party")? Demand for beds will be 2X supply. Demand for ICU beds will be more than 5X the supply. Nearly as many people in Massachusetts will die as in Florida, despite that sun-drenched state having a much larger population.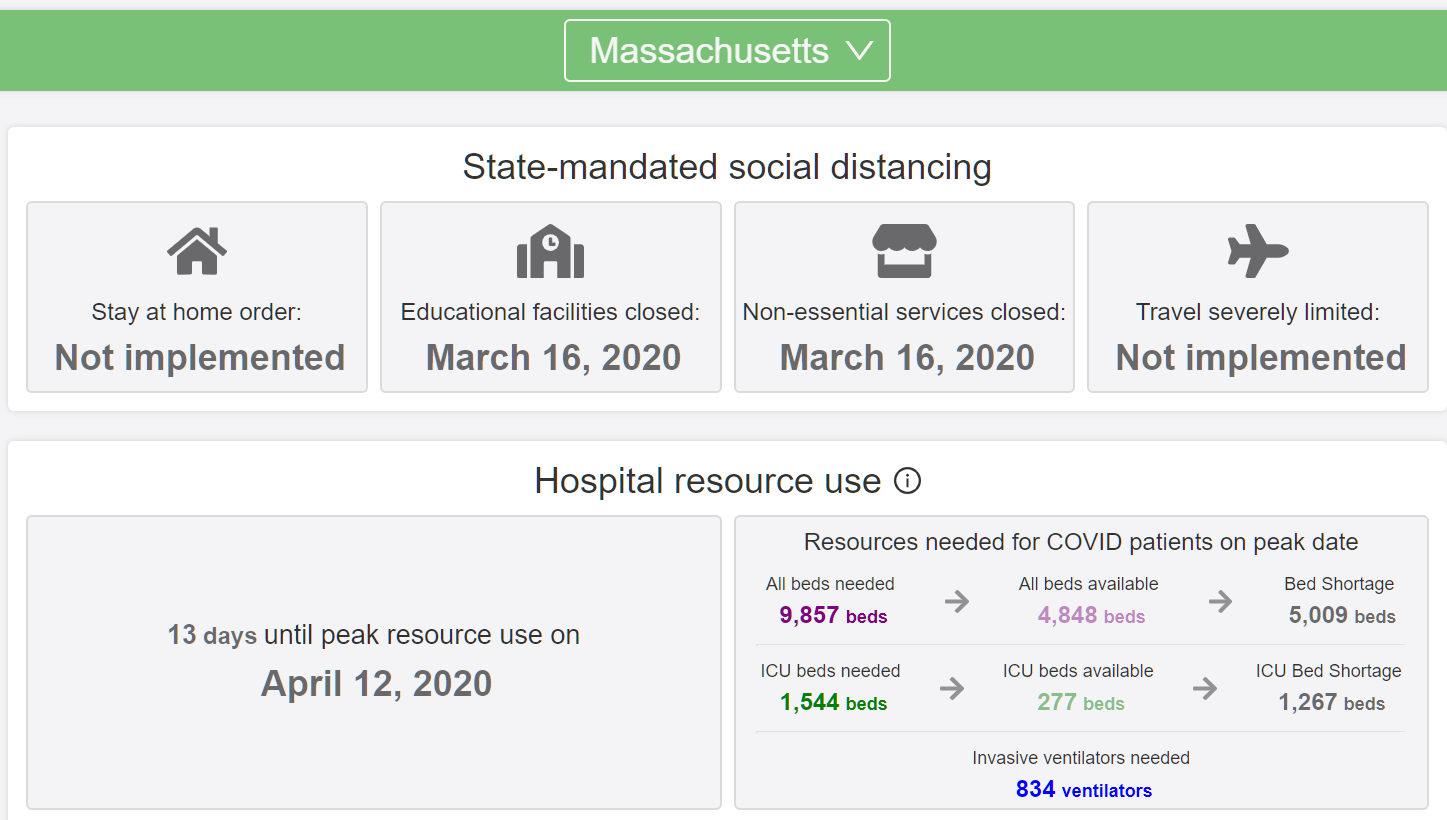 An associated paper explains the model. What's even worse than 80,000+ Americans biting the dust, many because their state's government-directed health care system was pushed over by a slight breeze of excess demand?
State governments have cancelled elective procedures (and many hospitals but not all have followed suit). However, this decision has significant financial implications for health systems, as elective procedures are a major source of revenue for hospitals.
The biggest question mark for me is their forecast of ventilator usage (19,000 best-estimate for peak; 40,000 worst-case). If the data nerds are right, we have way more ventilators in the U.S. than we need to handle this challenge. We had at least 62,000 ventilators in service back in 2009 (source), plus another 100,000 older models in storage. Presumably a lot of the in-service ones are tied up with people who are sick with chronic conditions, but all of the older models should be available and that is a more than adequate resource. If these folks are right, everyone who is freaking out about ventilator supply is wrong.