Massachusetts Facebook friends were gleefully discussing the wave of death that is pummeling Sweden, over a link to "I Just Came Home to Sweden. I'm Horrified by the Coronavirus Response Here." (Slate) As part of strategy to be defriended by everyone, I responded with
Maybe the Swedes would appreciate some advice … on the Massachusetts secret to managing Covid-19. I am sure that they are curious to know how we managed to achieve 2X the Swedish death rate while shutting down schools, offices, restaurants, and gyms (all places that Swedes are still going).
The Church of Shutdown members have a ready answer to this:
And in Sweden, the infection rate continues to grow, while in Massachusetts it is shrinking slowly. MA hasn't done a great job, its biggest mistake being that it did nothing until the rate was high, but its future looks better than Sweden's.
Me:
You're proving my point about the Church of Shutdown. Our religion says that we should be rewarded for our social distancing. Instead, however, we see Swedes partying and Danes sending their children to reopened schools. At some later date, however, ("the afterlife") everyone will get his/her/zir/their just reward. The Swedes will be killed for partying continuously. The Danes will be killed for abandoning the sacrament of school closure before Jan 2021. The righteous of Massachusetts will be spared both infection and death in this afterlife, though it may look dark for us right here and now.
Righteous:
No, in MA we have the opportunity to get the infection rate down to a level where testing and tracking can keep it under control. No need to wait for an afterlife. The IHME model gives June 22 as the date. There's reason to hope our new mask order will accelerate this process.
This prompted me to look at the IHME prophecies. On April 12, in "Everything the gleeful journalists said would happen to Sweden has happened… to Massachusetts", I wrote "The University of Washington right now says that doom is in store for Sweden. They'll have 13,259 deaths through August 4, 2020. They'll have 79 ICU beds and need 3,378(!)." and included a screen shot indicating that peak demand on Swedish health care would happen on May 3 (today!).

Are they, in fact, 3,300 ICU beds short? They have had a total of only about 2,000 critical care "sessions" total for 1,500 patients (official data). ICU occupancy has been steady at roughly 500 patients for the past few weeks.
What do the augurs of University of Washington now say?
Although nothing regarding Swedish policy has changed, despite hundreds of American newspaper articles telling the Swedish how wrong they actually are, the God of Shutdown is now coming for the Swedes on May 22, at which point those who failed to worship Him/Her/Zer/Them will be short 3,711 ICU beds.
After spreading without being constrained by the Miracle of Shutdown since mid-January in Sweden, Covid-19 will finally get organized to kill the unrighteous in Sweden in late May:

(Look at the error bars! They're fairly confident that on May 23, Sweden will have between 11 deaths and… 2,789 deaths.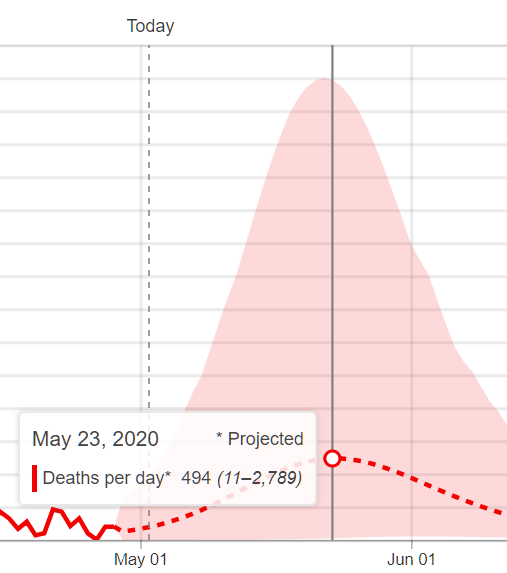 You'd have to be "anti-science" to deny that the number of Covid-19-tagged deaths in Sweden on May 23 will fall somewhere in between 11 and 2,789!)
Separately, how do we enter the Promised Land of "testing and tracking" that has been promised to the Church of Shutdown faithful? The 22 million undocumented will answer their phones and open their doors when the friendly government agent calls or shows up to ask a lot of questions about exactly where they've been? Healthy 20-year-olds will meekly submit to being stuck with needles and swabs? What's in it for them? A resident of Massachusetts can terminate a 23.99-week-old pregnancy (political logic: had the pregnancy terminated in a birth at 22 weeks, for example, taxpayers via MassHealth would have paid $5 million or more, if necessary, to preserve the 22-week "child" rather than paying $1,000 to abort the 23.99-week-old "fetus"), why can't a resident of Massachusetts say "my body, my choice" when the helpful government shows up with needles and swabs?