While the rank-and-file righteous were posting on Facebook their hopes for continued exponential growth through November in American deaths, journalists were publishing their hopes for dramatic near-term exponential growth in Swedish deaths. As infidels against the religion of "saving lives" via social and economic shutdown, the Swedes deserve to experience the full wrath of the coronavirus god:
After 8 days of unimpeded exponential growth since that April 4 article, how many thousands of deaths did 10 million Swedes experience in the last 24-hour period, according to the WHO? 17. Seventeen thousand? No: 17. Locked-down Denmark, with a population size half of Sweden's, had 13.
My latest update to "Number of new COVID-19 cases worldwide is declining now?":
4/12 comment: Sweden has 466 new cases; locked-down Denmark has 177. Sweden suffered 17 deaths; Denmark 13. I.e., adjusted for its 2X population, wide-open Sweden has a higher rate of new cases and a lower rate of deaths. Massachusetts has gone off the rails compared to Sweden. With 2,615 new cases, Massachusetts has 8X the new case rate of Sweden's. With 70 deaths, locked-down Massachusetts has 6X the death rate of Sweden.
In other words, the exponential doom forecast for schools-/restaurants-open Sweden has actually happened, but to schools-/restaurants-/offices-closed Massachusetts. The University of Washington prophets are still showing that Massachusetts will suffer a higher death rate, adjusted for population, than New York (though Sweden's death rate will be yet worse, say these lockdown advocates, roughly twice as high as New York's).
Graphic from today's NYT: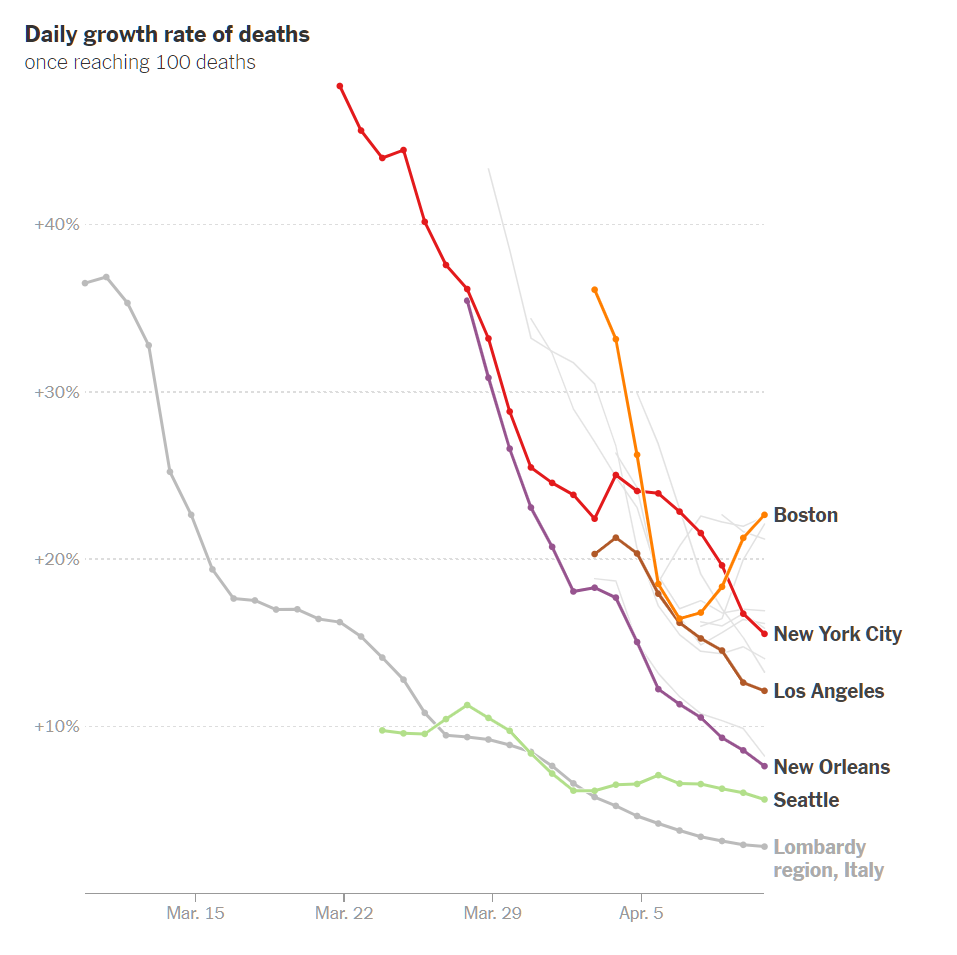 Separately, I still think it is an open question as to whether the number of worldwide new cases of COVID-19 is declining. Testing continues to ramp up, but the number of new cases is only 17 percent higher than it was on April 1.
Certainly the Swedish numbers will not convince Americans who bought into the shutdown religion, any more than a high death rate during the Black Plague sowed doubt in the minds of the Flagellants (if half the people in a town were killed, the Flagellants would say "if we hadn't whipped ourselves, the death rate would have been nearly 100 percent"!).
[Separately, a friend asked privately "What is your ultimate Sweden prediction? It is nice we actually have a control that rational people can look on." So that I can't go back on this and deny him the opportunity to ridicule me later, I will put my answer here. Massachusetts and Sweden are fairly comparable in terms of percentage of the population that live in an urban area. Sweden's population has a slightly older median age, but, perhaps healthier so that's a wash. My prediction is based on the Massachusetts "curve flattening" efforts, including shutting down schools, restaurants, and offices, saving zero lives compared to Sweden's shutting down mass gatherings. Neither Sweden nor Massachusetts will run out of health system capacity and therefore every patient will get whatever medical interventions are available. Sweden spends 11 percent of a lower per capita GDP on health care versus 17 percent here in the U.S., but our incompetence could easily soak up the difference in spending and therefore the systems should be equally effective (actually equally ineffective would be more accurate right now due to the lack of any drug or procedure that seriously impedes the virus). The American system will not let anyone die, regardless of how many organ systems are destroyed, so long as Medicare can still be billed, and this will be the basis of a differential. My prediction is that Sweden's death rate from COVID-19 for all of 2020 will be 1.15X the Massachusetts rate.
(Where are they right now? Sweden has 887 deaths, or 90 per million inhabitants. Massachusetts has suffered 756 deaths so far, roughly 110 per million.)
As long as we're making predictions, what about the total for Massachusetts and Sweden? The University of Washington right now says that doom is in store for Sweden. They'll have 13,259 deaths through August 4, 2020. They'll have 79 ICU beds and need 3,378(!).

Shut-down Massachusetts is forecast to suffer 6,739 deaths through August 4, 2020, out of a total U.S. death toll of 61.545. I.e., with 2% of the nation's population, we will have 10% of the COVID-19 fatalities. This seems like too large a share, even for a population that spends most of its time reflecting with satisfaction on how stupid people in the south and Midwest are (imagine if we'd put that effort into stockpiling masks and coming up with a plan for a flu-like epidemic!). So let's cut this back to 7% of the U.S. fatalities: 4,300 (if we believe the 61,545 prophecy). This implies that Sweden will lose 5,000 citizens by August 4, 2020. I have much less confidence in these numbers than in the idea that the death rates in Sweden and Massachusetts will be within 20% of each other.]
Update 4/14: The latest report for Sweden: 465 new cases and 20 deaths (Denmark was at 144 and 12). Massachusetts had 1,296 new cases and 113 deaths (8X the death rate).
Related: