Want to stop coronaplague? The Church of Shutdown says it is as simple as social distancing. But an analysis of social distancing by the Maryland Transportation Institute shows that the very places that are best at social distancing are the ones that are suffering from the worst coronaplague: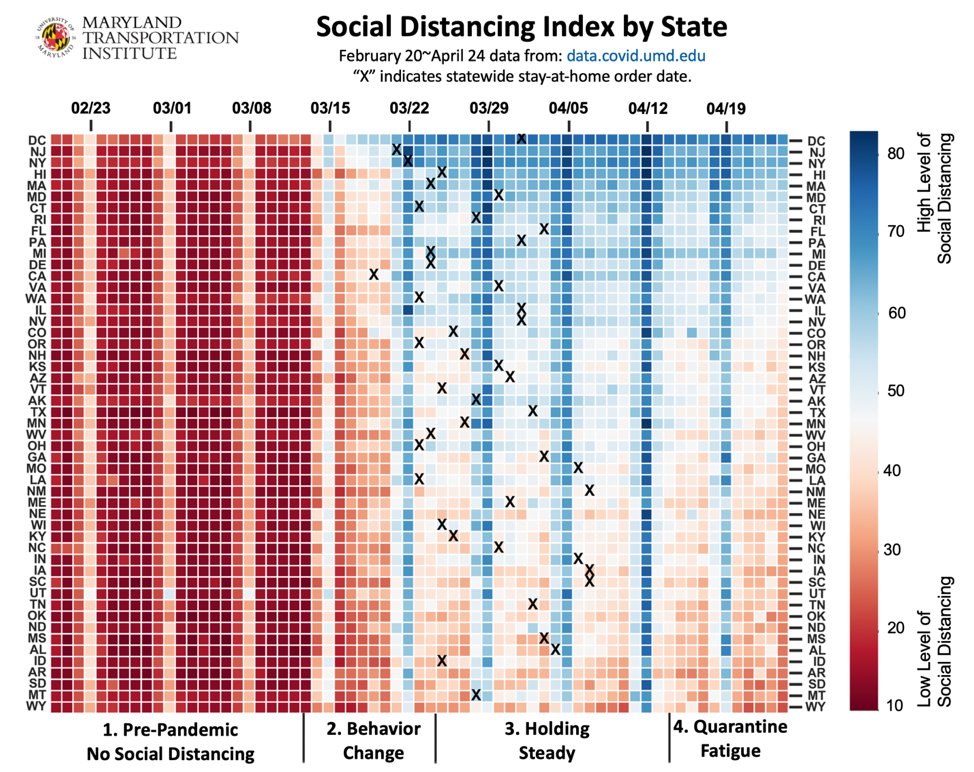 Right near the top, the most plague-ridden states: NY, NJ, CT, MA.
Are the wicked being punished? Wyoming and Montana are at the bottom and people there are not dropping dead.
In "Data on nationwide excess deaths" I wrote the following:
Should we suspect from these data that the problems NYC has had with Covid-19 are idiosyncratic? Some other cities and regions also had exposure starting at roughly the same time (mid-January?) and those places locked down within a few days of the NYC shutdown. Yet excess deaths are fairly low (or actually negative) almost everywhere other than NYC.

Is it possible that we're fighting a nationwide war against a virus that is attacking only a handful of cities for reasons that are peculiar to those cities? Or possibly peculiar to the strain of the virus that has been circulating in those cities? If we take out metro NYC, Detroit, New Orleans (they're not going to have a second Mardi Gras this year, right?), and Boston, does the "U.S." actually have excess deaths or any kind of problem with Covid-19 that couldn't be handled with the most basic precautions?

(And how would we handle the apparently idiosyncratic problems with these cities? Tell New Orleans that Mardi Gras is henceforth restricted to the sober (90% reduction in crowding?). Reopen the United States economy and use the money to pay roughly half of NYC residents to move out to suburbs and other states. The super high density plainly has made NYC a breeding ground for any enterprising virus. Run more subway trains in Boston so that people aren't jammed in like sardines and/or pay people to leave the city, as in New York. I'm at at loss to know what to do about Detroit, I must confess!)
Is the above chart proof that there is something about NYC and Boston that makes them ideal hosts for a viral epidemic? People in these cities have given maximum effort to observe the tenets of the Church of Shutdown, yet Covid-19 continues to infect and kill while leaving nearly the entire rest of the U.S. alone. Could this be just bad luck? France and Spain went off the rails with Covid-19, while Germany, at least if we believe their official death numbers, was barely touched. On the other hand, if we truly have faith in the Religion of Shutdown, aren't we forced to conclude that Boston and New York are simply incompatible with a world of 8 billion humans interconnected by air travel?
(What would be ironic if not sad, at least for people like me who live in Boston, is that when this plague was new people in Boston and New York confidently predicted doom for the Deplorable-infested southern states. Intelligence and virtue would protect Boston and New York while stupidity, racism, and sexism would prevent Florida and Texas from responding competently. Now that Massachusetts has 10X the death rate of Florida and 20X the death rate of Texas, the jeering seems to have stopped.)
Also, does the chart falsify the familiar refrain from self-satisfied Californians that the reason they were substantially spared is that they purportedly shut down earlier than New York? The chart shows that, in fact, New York was socially distanced a week prior to California.
Related: