Professor in microbiology, Hans Jørn Jepsen Kolmos, thinks that facial masks will be a solution to protect ourselves from the coronavirus on multiple segments of the journey. Just not on board the aircraft.

It is important to underline, that only surgical masks and certified respirators are effective. Fabric masks are more permeable for drops and particles, and one should therefore ensure that only masks of documented quality is used.

Infections do not care about rituals, and masks are only helpful in situations with a high likelihood of being exposed to infections. Those could, for instance, be during boarding, while visiting the lavatory, or when leaving the aircraft. During the flight, the mask, however, can cause more damage than it helps.

Masks do not only lose their protective properties by getting wet. Another way to bring down the protectiveness is when you touch the mask or your face. Doing that, bacterias can in even more ways find their way into your body:

When touching the mask – for instance when drinking coffee, repositioning it, etcetera – you can pollute your fingers with virus particals from the mask itself. That way, you neutralise the effect of the mask, in the best case scenario. Therefore masks cant be the only protective equipment used and should be limited to rationally selected tasks and timeframes.
In other words, according now to both the Swedes and the Danes, we are responding to coronavirus in the dumbest ways imaginable!
From Facebook today:
Righteous Person #1: I'm getting used to wearing a mask when I go out. They are not fashionable – but they perform a vital Function to keep other people from catching what I might have.

Righteous Friend #1: more and more, here in Montana where we are down to our last 20 active cases, the mask has become a public symbol of solidarity and neighborliness — and a reminder that lack of vigilance in large public gatherings still holds the threat of a second wave of infection.

Righteous Friend #2: It's the opposite of a MAGA cap.
Expert advice from WHO that should be rejected (while "listening to the experts"):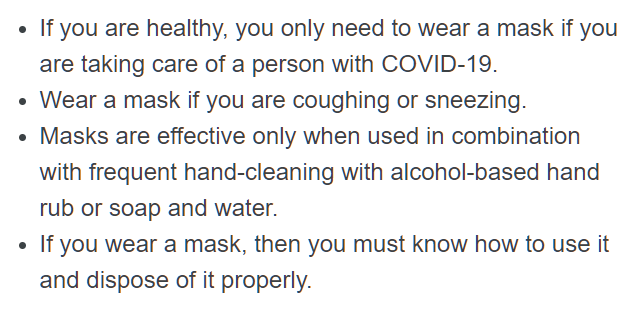 Related: